By Carlos Uribe
Sometimes it's easy to miss the potential of a new idea. Comparisons to similar breakthroughs can be helpful, but they can also be limiting and misleading. Take the advent of the television, for instance. The radio seemed very similar. It was also a broadcast medium powered by electricity. Taking the radio as a model for understanding this new medium, however, led to the first television news broadcasts consisting of a man reading a newspaper aloud to the camera.
In the same way, investors today are trying to understand the potential for electric vehicle [EV] charging infrastructure by making comparisons to the internal combustion engine [ICE] vehicle and the old familiar gas station. Upon closer consideration, the gas station is in fact a poor analogy that could cause investors to miss the unique opportunity presented by the build-out of a nationwide EV charging infrastructure.
Charging for the "Garageless"
The primary difference between EV charging and ICE fueling is of course that an EV can be charged at home. Given this option, it might seem that there is little need for a public EV charging infrastructure to rival the ubiquitous gas station of today. This, however, turns out to be a gross oversimplification, as 40% of U.S. residences lack any sort of private parking space.
Obviously, the build-out of a nationwide charging infrastructure to support the EV must have a substantial public component. The U.S. government recognizes this, which is why it had ECOtality (ECTY) deploy about 25% of the over 12,000 EV chargers installed as part of the EV Project at non-residential locations. Understandably, companies like EVSE (electric vehicle charging equipment) manufacturer Chargepoint, electrical power generator NRG Energy (NRG) and EV charging network owner/operator Car Charging Group (OTCPK:CCGI) are racing to capitalize on the opportunity to build out the public portion of this infrastructure.
Reality Check
In order to appreciate the potential of public EV charging, it is important to resist the urge to judge its efficacy by how well it mimics a visit to the gas station. Candidly speaking, EV charging is nowhere near as fast as filling a gas tank. An ICE vehicle can be filled up in about three minutes. Most EV charging stations are equipped with Level 2 chargers, which require anywhere from three to seven hours to fully charge an EV battery depending on the model. Even if EV owners use public charging stations just to "top-off" (as is widely envisioned), anything more than ten minutes would seem like an eternity compared to the good old gas station.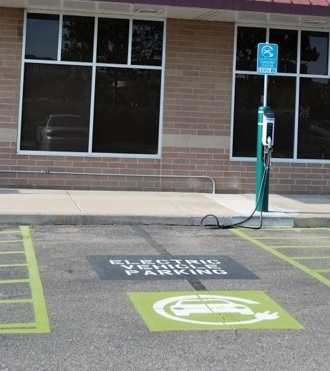 Fortunately, the leading companies in this space understand that it is impractical to think of an EV charging station as a destination unto itself like a gas station. Unlike pumping gas, EV charging is a passive activity. Once charging begins, the driver needs something else to do. This is why none of these companies are establishing anything that resembles the free-standing gas station (complete with restrooms, a car wash, and a convenience store with a cashier inside). What they are doing is seeking to place EV charging stations at a variety of commercial destinations.
A study last year of the financial viability of non-residential EV charging stations found that the most profitable public locations for EV chargers are those with high parking space turnover and/or can be effectively served with slower, less expensive Level 1 chargers. The study in turn suggests that grocery stores and workplaces could be the most successful locations.
The grocery store model already has some precedent in the trend toward grocery store-branded gas stations. Though the workplace model seems to be an obvious choice, such installations are of no use to the large and increasing segment of the workforce that telecommutes or runs a home-based business. In addition, there are a myriad of issues for employers to work through in deciding whether or not to offer EV charging. If an EV owner's employer decides against it, they will need other options, which is where shopping malls, parking garages, government offices, and a variety of other destinations come into play.
Tesla's Gambit
Of course, Tesla Motors' (TSLA) recent announcement of its intention to expand its fledgling network of Supercharger Stations seems to fly in the face of this logic. To the casual observer, it is easy to get the impression that Tesla intends to take over the EV public infrastructure market, installing its own nationwide network of Level 3 chargers which can recharge a Tesla in just over 20 minutes.
Listening to Elon Musk himself speaking on the subject, however, it becomes quite clear that the purpose of the Supercharger Station network is essentially to support "grand touring" for Tesla Model S owners. More than a publicity stunt, it is a dramatic effort to address range anxiety by creating a skeletal network of Supercharger Stations over the next two years that will connect 98% of the North American population and thus "allow you to make the ultimate road trip" (see map of proposed network below).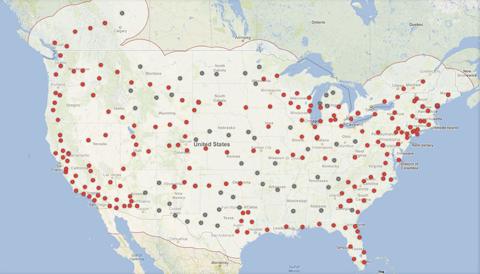 Looking at the project a little closer, there are three good reasons why the Supercharger network will not be a game changer. First, grand touring is quite a bit different from day-to-day commuting and running errands. Even if Level 3 charging becomes ubiquitous, twenty minutes still pales in comparison to a three minute fill-up at a gas station. On a coast-to-coast road trip, however, a stop to refuel is usually taken as an opportunity to "stretch your legs." In that context, an EV charging station that is more or less a destination unto itself starts to make more sense. Second, these stations are only compatible with the Model S (they won't even work with a Tesla Roadster). Third, these stations will be loss leaders for Tesla as usage is being offered "free forever" to Tesla owners. More importantly, at a cost of $150,000 to $300,000 each, it is highly doubtful Tesla will be putting up Supercharger Stations on every corner.
Nevertheless, Elon Musk seemed to double-down on his bet that EV charging could be as fast as a gas station when he announced in June that Tesla will also be offering battery switching (for a fee) at its Supercharger Stations. This sounds eerily similar to the business model of bankrupt Better Place. Though both concepts were only designed for one type of vehicle, Tesla is at least making a much better bet on its own Model S than Better Place made on the Renault Fluence Z.E. Regardless, this is quite a bit of trouble to go through to force a square peg into a round hole and make the EV charging station feel like a gas station.
It's Okay to be Different
Even if they never match the speed of the gas station or bear much resemblance to one, EV charging stations are bound to share in the success of the EV itself. Like any other innovation, sooner or later the EV will diffuse into the mass market creating more and more demand for alternatives to home charging. When that happens, EV owners won't mind if their charge doesn't come with a Big Gulp and a car wash.
Disclosure: I have no positions in any stocks mentioned, and no plans to initiate any positions within the next 72 hours.
Business relationship disclosure: Market Exclusive is a team of analysts and writers. This article was written by Carlos Uribe, one of our Group contributors. We did not receive compensation for this article (other than from Seeking Alpha), and we have no business relationship with any company whose stock is mentioned in this article.