Banking giant JP Morgan Chase (NYSE:JPM) posted strong second-quarter results. Revenue exceeded consensus expectations at $25.2 billion, 14% higher than the year-ago period. Earnings per share climbed 32% year-over-year to $1.60, also better than consensus estimates. Return on tangible common equity increased 200 basis points year-over-year to 17%.
Mortgage king Wells Fargo (NYSE:WFC) also reported solid second-quarter results. Revenue was up approximately $89 million year-over-year to $21.4 billion, a touch better than consensus expectations. Earnings per share surged 20% year-over-year to $0.98, several cents better than consensus estimates. Pre-tax pre-provision profit increased 3%, to $9.1 billion. Return on equity advanced 116 basis points year-over-year to 14%.
Capital levels at both firms continue to be more than adequate. Wells Fargo had a Basel I Tier 1 common capital ratio of 10.73% at the end of the second quarter, above the minimum threshold. JP Morgan's capital reserves are similarly robust at 10.4%. Wells Fargo and JP Morgan are notorious for having strong balance sheets. JP Morgan raised its quarterly dividend 26% in May, to $0.38 per share, while Wells Fargo increased its quarterly dividend 20% in April, to $0.30 per share.
JP Morgan's diverse businesses showed relatively strong performance across the board, though the company announced there would be no additional dividend increases during 2013 (Wells Fargo hinted at continued buybacks the rest of the year). On the consumer side, JP Morgan continued to cement its position among the top banking firms with its robust ATM and branch network. Even though net interest margins of 2.31% are near all-time lows, the company continues to parlay its success in the consumer banking space into positive activity elsewhere. Investment assets under management jumped 16% year-over-year, and investment sales activity jumped 53% year-over-year, reflecting the company's ability to win assets.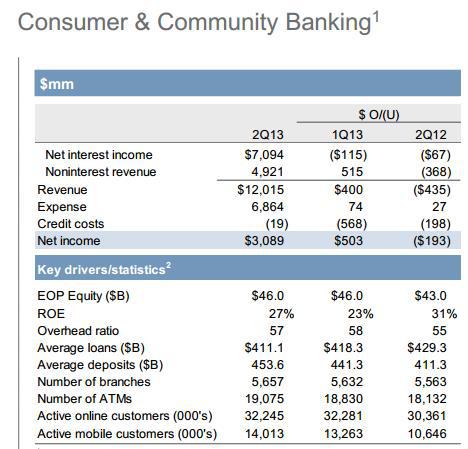 Image Source: JPM Q2 FY2013 Investor Presentation
Cross-selling isn't anything new in the banking industry; in fact, Wells Fargo pioneered the process and now sells 6.14 products per customer. This helped propel earnings at Wells Fargo's retail banking operations to advance 28% year-over-year to $3.2 billion. With zero interest-rate policy (ZIRP) firmly in place, both banks will retain a low cost of funds.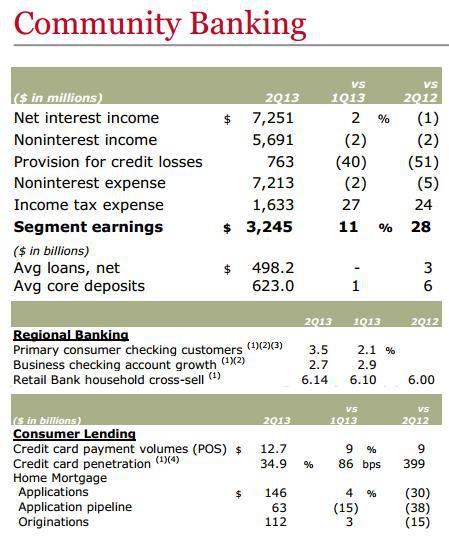 Image Source: WFC Q2 FY2013 Investor Presentation
Mortgage originations at JP Morgan grew 12% year-over-year, but fell 7% sequentially, reflecting the upward rise in interest rates we saw toward the latter half of the quarter. Refinancing activity has been the major mortgage driver during the past few years, but JP Morgan noted that purchasing origination (as opposed to refinancing origination) jumped 50% year-over-year and 44% sequentially. Higher interest rates may mean lower refinancing growth, but the velocity of the interest rate change may have spurred some short-term home buying increases. Nevertheless, the shift will hurt JP Morgan's profitability, as CFO Marianne Lake noted:
"Think about it this way, I think that revenue margins will be down on competitive pressures. Volumes are down, and expenses may go up, because volumes are down for a couple of quarters…expense margins would go up."
In fact, CEO Jamie Dimon added that the slowdown in refinancings likely means a reduction in mortgage profitability. While we think most of the banking industry would be happier with a steepening yield curve, and thus higher net income margins, higher interest rates may actually hurt profitability in the near term (given activity). Still, JP Morgan continues to work to reduce its mortgage cost structure and sees significant future reductions ahead.
For Wells Fargo, the mortgage business is incredibly important. Originations were down 15% year-over-year, applications fell 30% year-over-year, and the firm's application pipeline dropped 38% year-over-year (see graphic above). As with JP Morgan, Wells Fargo cited declining refinancing activity as the main driver, with home purchases remaining strong.
Compared to JP Morgan, Wells Fargo left open the prospects of a brighter future for mortgage originations in the near term. CFO Tim Sloan added some helpful commentary on the conference call, saying:
"We believe [mortgage originations] are going to be lower in this quarter and one of the things that we've learned in the mortgage business is, it's probably not a good thing to think, six months out or nine months out because there can be so much variability."
Though Sloan acknowledges the inherently difficulty in predicting the trajectory of interest rate changes and refinancing/purchasing activity, he seems to think the mix of mortgages will tilt more towards buying activity (the current mix is approximately 2/3 refinancing, 1/3 home purchasing) as prices recover--suggesting purchasing activity might compensate for a decline in refinancing activity.
On the investment banking side, investment banking fees at JP Morgan jumped 38% year-over-year to $1.7 billion, as the company held its number one ranking in the global investment banking business. The second quarter was a relatively volatile period for global capital markets, so we think some stability in the third quarter could lead to increased IPO activity.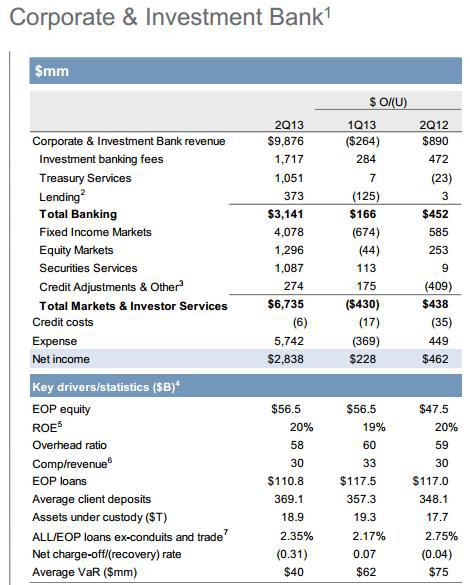 Image Source: JPM Q2 FY2013 Investor Presentation
On the commercial banking side, revenue declined 2% year-over-year, leading net income to fall 8% year-over-year to $621 million. JP Morgan's CFO Marianne Lake wasn't too optimistic about the deal pipeline going forward, though she did note the pipeline seems to be getting stronger.
Much of the JP Morgan conference call revolved around potential new banking regulations, including Warren-McCain-an attempt to revive the infamous Glass-Steagall. For once, Dimon didn't steal the show with his critiques of government regulations that could put JP Morgan at a competitive disadvantage. Instead, Lake fired back against the possible legislation saying:
"My comment on that is that Glass Steagall didn't have anything to do with the crisis, and our business model allowed us to be a port in the storm. Our customers like doing business with us in the model that we have now, so we don't spend time thinking about it."
While JP Morgan can assert that it doesn't think about new regulations, we're sure the company plans extensively for what must be done in the event that new regulations strike.
On the other hand, Wells Fargo's capital markets business is far less important than its asset management business, which continues to thrive thanks to capital market inflows and cross-selling. We're very pleased with Wells Fargo's performance in wealth management, and we think it will help pick up the slack if/when the mortgage business slows.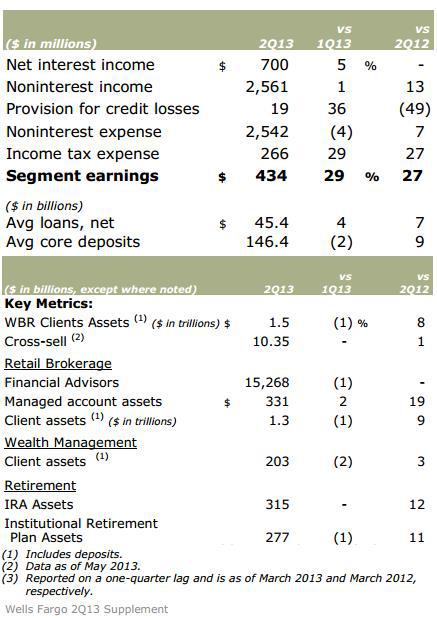 Image Source: WFC Q2 FY2013 Earnings Supplement
Valuentum's Take
It appears almost certain that refinancing activity will decline in the coming periods, but we do not see that as a major headwind for JP Morgan and Wells Fargo. If interest rate expenses decline for families, we could see further consumer credit leveraging or additional dollars allocated toward investments, helping to offset this weakness at both JP Morgan and Wells Fargo. We hold shares of the SPDR Bank ETF (NYSEARCA:KBE) and the Financial Select SPDR ETF (NYSEARCA:XLF) in the portfolio of our Best Ideas Newsletter.
Disclosure: I have no positions in any stocks mentioned, and no plans to initiate any positions within the next 72 hours. I wrote this article myself, and it expresses my own opinions. I am not receiving compensation for it (other than from Seeking Alpha). I have no business relationship with any company whose stock is mentioned in this article.
Additional disclosure: KBE, XLF are included in our Best Ideas Newsletter portfolio.