Internet users in China increased 10% year-over-year in June 2013 to reach 591 million. A 20% rise in the number of people who surf the web on smartphones is the primary reason for this growth. The country's major online player Youku Tudou (NYSE:YOKU) will benefit from the growing Chinese market. The figures below show Youku's market dominance in terms of number of online video viewers in China.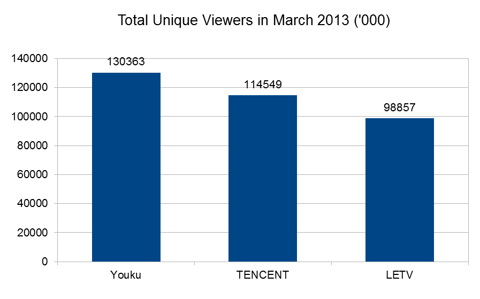 Source: China Internet watch
The company registered 21% growth, year-over-year, to reach $83.1 million in total revenue in the first quarter of 2013. The merger of Youku and Tudou last year propelled the growth in this quarter. Due to the merger, Youku added around 109 advertisers in the first quarter of 2013, which includes big local brands of China. Going forward with the acquisition, Youku will increase advertisers at 50% CAGR from 2013-2015.
What will drive the future upside for Youku?
Focusing on cutting content cost
In the last three years, the cost of professionally produced content increased five to ten times in China. The content cost rapidly surged because online distribution rights of professionally produced content were lagging behind TV distribution rights. To cut down this surging price, the company decided to focus more on its in-house production. This will also help Youku to diversify away from crowded, costly professional content viewership.
I think reduction in dependence on professionally produced content will allow Youku to remain competent in terms of head content. Head content is the cost per thousand video views. It is higher for professionally produced content. The in-house produced drama shows, movies, and sponsored events are now using a higher share of Youku's content spending. Currently, in-house content development use around 10% of the content budget, which will reach 25% in the next few years. With focus on in-house content development, the content cost of the company will decline from 47% of revenue in 2012 to 33% of revenue in 2015.
Growth from mobile monetization
Youku's daily mobile video views increased 800% year-over-year to approximately 100 million by the end of 2012. It registered this growth because it provides the most up to date content, user friendly interface, and its brand image is quite strong in China. The company registered maximum downloads last year. Looking at the increasing number of views from mobiles, Youku planned to provide multi-screen advantage to advertisers. The company recently started mid-roll advertisements in long videos, which when viewed from mobiles will generate mobile monetization revenue opportunities. These advertisements occupy 15-second slots and occur once or twice in a long video.
In addition to mid-roll advertisements, Youku is testing the advertisements on iPads. The company registered the highest number of video application downloads from iPads last year. I expect Youku to launch advertisements on a large scale, on iPads, by the end of second quarter of 2013.
The number of mobile video views will reach 200 million this year and 300 million next year. With the growth opportunities from mid-roll advertisements, increasing number of mobile views, and wide launch of advertisements on iPads, the mobile monetization opportunity will generate incremental revenue and EPS of $23 million and $0.03 in fiscal year 2013, and $77 million and $0.15 in fiscal 2014, respectively.
Cost synergy from merger
With the increase in mobile viewer traffic, the cost of bandwidth will also increase. Moreover, to enhance high quality user experience, the company is spending more on bandwidth purchases. As more online viewers prefer high definition content, the bandwidth cost will continue to increase.
Therefore, to cut down the increasing bandwidth cost and content licensing cost, Youku acquired its Chinese rival Tudou last year. Due to the acquisition, Youku became the market leader in China with 32.4% market share last year. The acquisition led to integration of the content distribution network, or CDNs, of the two companies, reducing bandwidth cost. The company deploys CDN in servers in multiple data centers to distribute high quality content to end users.
As a result of acquisition, the bandwidth cost was quite flat in the first quarter of 2013, despite continued increment in mobile traffic. The bandwidth cost accounted for around 31% of revenue in the first quarter compared to 43% of revenue in the first quarter of 2012.
I think, the bandwidth cost will reduce further from 29.2% in fiscal year 2012 to 25% in fiscal year 2013. Moreover, the merger will increase the total revenue 30%, year-over-year, to $125.5 million in the second quarter of 2013.
Growth prospects from domestic advertisers and low tier cities
Another catalyst for Youku is video advertising from domestic advertisers. Youku noted increase in demand for video ads in user generated content advertisements category in May 2013. The company's continuous acquisition of domestic advertisers and expansion of industry coverage beyond the Consumer goods sector were responsible for this significant growth. Currently domestic advertisers contribute approximately 60% of Youku's TV advertising revenue. I think, the growth from ongoing acquisition of domestic advertisers will continue through the next two years. Domestic advertisers are comparatively more flexible than international ones in terms of advertising spending and supporting the content of the company's video advertisement.
Additionally, the company's penetration in lower tier cities is increasing. Tier-1 urban cities contribute 40% of Youku's revenue, and the low tier cities generate the rest. Youku has saturated the video advertising market of tier-1 cities with a selling rate of 90% in tier-1 cities like Beijing and Shanghai, compared to 30% saturation in lower tier cities. Due to this market saturation, tier-1 cities grew less than 10% year-over-year in the first quarter of 2013.
This shows video advertising inventory in low tier cities is still underutilized and provides growth prospects for the company. To grow in these untapped regions, Youku is progressing with acquisition of local advertisers through its own sales team and cooperation of local partners in low tier cities. To register further growth, the company will provide flexible pricing policies to local advertisers. The policy includes placing low tier cities' inventory into Youku's in-house advertisement production.
With the progress in acquisition of domestic advertisers and penetration in low tier cities, total revenue will increase to $147 million in the third quarter from an earlier consensus estimate of $143 million in the third quarter of 2013.
Collaboration to increase online traffic
Last month, Youku announced collaboration with Sina (SINA), an online media company of China, to increase its viewership of its online videos on the social networking platform. Under the collaboration, Sina will promote Youku's video content on its microblog, Weibo. This microblog is a hybrid of Facebook and Twitter and is one of the most popular sites in China. Weibo had around 503 million registered users in December 2012, which will increase the viewership of Youku's online videos.
The close relationship between Youku and Weibo users is the basis for this collaboration. Sharing of Youku's videos on Weibo has been very popular. According to the April 2013 report of Deutsche bank, videos from Youku represented around half of the total videos shared on Weibo, the highest share for any online video site in China. The collaboration will also draw huge traffic on mobiles for both companies, as 76% of daily active users of Weibo access it through mobiles and Youku also draws huge mobile traffic with around 170 million mobile views at present.
The cooperation of the two giants will help them to compete against their biggest rival Baidu (BIDU), which recently acquired two online video sites. With such collaboration deals of online giants, China's online video business revenue will increase 12 fold to $2.6 billion in 2014 from 2009.
Investors' take away:

Source: Ycharts.com
Looking at the above stock price chart, Youku widely outpaced its competitors at the start of the year, due to the immediate effect of cost synergies from its merger with Tudou. This merger cut down on content cost and bandwidth cost.
The stock price of Youku lulled between March and May due to uncertainties regarding the company's revenue generation from mobile monetization opportunities. The cloud of uncertainties withered away with the growth registered by the company in mobile monetization after May. To maintain the momentum it planned to increase its viewership for its online videos on the social networking platform, thus collaborating with Sina. Owing to collaboration, stock price of Youku increased 14.9% in June as against major competitor Baidu's 2.37%. Moreover, the online distribution cost of professionally produced content in China surged in last few years, so Youku is focusing on in-house production. With this, Youku hopes to cut down its content cost.
I think the company will keep on outperforming its competitors due to its new growth strategies. It is also working to increase its video advertising with domestic advertisers and penetration in low tier cities. Youku is continuously acquiring domestic advertisers, as they are more flexible in terms of advertising spending than their international counterparts. Youku has saturated the video advertising market of tier-1 cities so, the company is betting on revenue generation opportunities from low tier cities.
Disclosure: I have no positions in any stocks mentioned, and no plans to initiate any positions within the next 72 hours. I wrote this article myself, and it expresses my own opinions. I am not receiving compensation for it (other than from Seeking Alpha). I have no business relationship with any company whose stock is mentioned in this article.