On Monday afternoon, news broke that Spain's Telefonica (NYSE:TEF) was in advanced talks to buy KPN's German business E-Plus for about US$8bn.
There would be some element of cross-shareholdings complicated by the fact that Telefonica Deutschland - the German unit of Telefonica which was mooted as the vehicle for the deal - was itself partially spun-off by the Spanish group in the last year.
The deal was well-received on Monday in the European markets (KPN shares up 11%, Telefonica Deutschland shares up over 6%) and superficially the deal makes sense, creating the biggest market share (although not service revenue) player in the German telecoms market. It would also make the German market much more of a three player market with Vodafone (NASDAQ:VOD) and Deutsche Telekom (OTCQX:DTEGF).
This is generally good for margins for all players.
You can see the competitive match-up below between ePlus (KPN) and 02 (Telefonica Deutschland). It is a good fit in theory.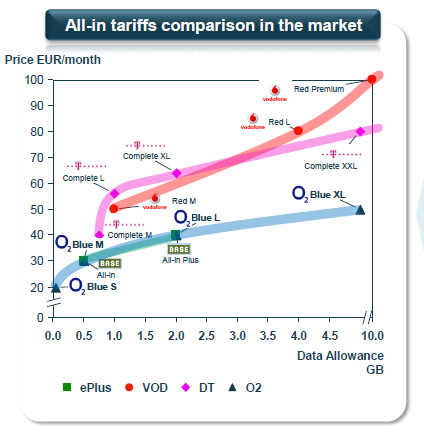 The terms of the deal were announced this morning (Tuesday). They can be summarised as:
Euro8.1bn EV for deal
X9 anticipated 2013 ebitda of E-Plus
KPN retains a 17.6% value in the combined entity which by my rough estimates would have a value of around Euro15-16bn. Call it a Euro2bn+ stake value.
The new entity is hoping for Euro5-5.5bn+ of synergies, Euro800m pa and 75% of synergies by the fifth year. Telefonica Deutschland bought E-Plus on a premium to its own value of c. x7 ebitda.
So what should we think of this deal? I think the summary one-liner should be: they need to get the synergies to really make the deal work.
The trouble is that whilst Germany has always been perceived as an attractive market, like many European telecoms markets, profits have not been going anywhere fast. This is from the just released Q2 Telefonica Deutschland presentation for example:

KPN also had corporate results today (simultaneous with the announcement of the E-Plus/Telefonica Deutschland deal). Unsurprisingly, today's E-Plus results from KPN show lower profits year-on-year due to 'higher customer acquisition and marketing costs'.
I also note that the anticipated FY13 E-Plus ebitda was around Euro900m. Q2 ebitda was Euro275m. This company is not growing.
If we generously put the combined E-Plus/Telefonica Deutschland ebitda at Euro2.2bn this year (Euro1.2bn+ for Telefonica Deutschland, Euro900m odd for E-Plus), a zero growth entity should be valued at x6 ebitda (at least you can manage it for cash). That's just over Euro13bn. If they get Euro5bn of synergies that gets you up to Euro18bn in value. Well today we are in the Euro15-17bn valuation range. On that basis we maybe have 5-10% upside and - of course - time value of money to consider. It will take time to get these synergies.
So no need to buy Telefonica Deutschland shares. I was not surprised to see them down in German trading today.
Let's think about KPN quickly. Euro7.6bn market cap at the close of business on Monday. After they apply the monies for E-Plus above debt goes to around Euro4.5bn. And they have that useful Euro2bn new German entity stake above too.
EV will be around Euro12bn (Euro7.6bn + Euro4.5bn circa). Using the Q2 numbers ebitda for the Benelux businesses is around Euro760m. They will do well to keep this flat. Annualise this and you get Euro3bn+. So an EV of Euro12bn, ebitda of Euro3bn means the company will be trading on X4 ebitda which is quite low but maybe about right given the ebitda numbers will probably decline. Some of the other support elements are better given the net debt: ebitda of x1.5 and that they hope to restart a dividend next year.
To me though, the upside is that Euro2bn+ worth stake in Telefonica Deutschland/E-Plus new entity. This is what creates the opportunity.
On this basis I get a new share price target for KPN of Euro2.27, 26% above the current share price…although to put it another way: where the share was at the end of last year!
In summary I think the market has factored in quite aggressively even synergies from the E-Plus/Telefonica Deutschland deal, for the Telefonica Deutschland share and upside is not that exciting to me.
By contrast KPN has got a lifeline from this deal. The share has upside if you accrue a value to its ongoing holding in the E-Plus/Telefonica Deutschland entity and apply a low valuation to the ongoing Benelux telecoms business. To me that's much more interesting risk-reward.
KPN offers good upside to that Euro2.27 target price.
Disclosure: I have no positions in any stocks mentioned, and no plans to initiate any positions within the next 72 hours. I wrote this article myself, and it expresses my own opinions. I am not receiving compensation for it. I have no business relationship with any company whose stock is mentioned in this article.
Additional disclosure: I have initiated a position in the Dutch bourse listed KPN stock today. Please note this article has a price target for this Dutch listed stock. Please adjust accordingly for the KPN US listing.