SandRidge Energy (SD) conducts oil and gas exploration activities, like drilling services, oil field services, and mid-stream services, in its various on-shore and off-shore oil basins. Its assets list includes 6,082 producing wells, 39 rigs drilling, and over 4.2 million acres under lease.
Despite having an attractive asset base, the company is falling short of cash liquidity, which has led to reduced production guidance and capital expenditure for the year. This was mainly to avoid excess debt, as it already had a debt to equity ratio of 4 times. Therefore, it pressured SandRidge to utilize the cash generated through asset sale, which helped it in reducing the ratio by 50%, to around 2 times, and also fund its capital expenditure for the year.
Permian sale benefiting the funding gap
Based on the company's guidance and commodity price changes, SandRidge will post roughly $700 million of discretionary cash flow this year. This will lead to a funding gap of about $1.1 billion after adjusting the preferred dividends worth nearly $60 million and trust distributions of $186 million.
To cover this gap, the company is using funds of $1.3 billion, received from Permian asset sale, post debt reductions. It also obtained an additional $775 million of undrawn credit facility. Through this, the company attained an overall liquidity of $2.1 billion in the first quarter this year.
SandRidge is expected to spend $440 million on drilling carries under its two joint ventures with Atinum Partners and Repsol. A drilling carry means that SandRidge will finance the drilling activity for its joint ventures for a specific period. There was an additional $490 million of drilling carry remaining during the start of the second quarter this year. The company will complete this activity by the end of third quarter of 2014. I think this delay will lead SandRidge paying more per well, despite these carries beginning late next year.
Looking at the company's guidance report, it is clearly showcased that SandRidge will mainly concentrate its capital expenditure, in its operational areas like the Mississippian Oil Play and the Gulf of Mexico. The two factors for this strategy is that these areas have good production rates, and also in line with the available liquidity.
Mississippian
SandRidge has approximately 1.85 million net acres in the Mississippian. Of these acres, the company is presently focusing on the Upper Mississippian. The reason being, Mississippian wells in Kansas commence production at rates about 30% less than those wells drilled in Oklahoma, which later lead to only 10%-20% recoveries. To capitalize on this, it plans to conduct a 25-rig program and drill roughly 425 horizontal wells in Oklahoma.
Therefore, the company has brought down the capital expenditure through reduced well cost in this region. It decreased by 32% from the same quarter last year, to $389 million in the first quarter this year. SandRidge drilled 122 producing wells in the first quarter this year, compared to only 68 wells in the first quarter last year.
Through spending just 7% more of capital expenditure, it drilled 85% more producing wells. This shows SandRidge has improved in terms of cost savings and capital efficiency.
Its horizontal wells average nearly 340 barrels of oil equivalent, or boe, per day in the first 30 days. This production rate suggests an average recovery of around 300 million boe. In the first quarter of this year, the company's net production from the Mississippian averaged 39.5 million boe per day, representing an increase of 10% quarter-over-quarter, supporting the above projected production rate.
SandRidge has around 130,000 net acres in Grant and Garfield counties in Chester Stone, Middle, or Lower Mississippian, and Woodford formations. Four of the recent horizontals tested in these areas produced nearly 460 boe per day in the first 30 days. This higher production rate suggests recovery of nearly 400 million boe. Overall, these production rates will lead the company to drill 10 to 20 appraisal wells this year.
Lease expirations: SandRidge's lease of roughly 547,000 net acres will expire during this year, along with other 810,000 net acres that will expire in 2014. However, the company can re-acquire these acreages at cheaper rates, as winning an acreage lease requires significant infrastructure, which the company possesses. Looking at the year to date figures, the company has already acquired 35,000 net acres at the price of $400 per acre. I assume it will acquire a lease of acreage in core area, as the non-core acreage expires. Additionally, SandRidge can also renew half of the acreages expiring this year, since these will be available at a nominal rate of $130 per acre.
Gulf of Mexico
SandRidge has about 490,000 net acres in the Gulf of Mexico. Oil reserves from this area comprise nearly 50% of its properties. In the first quarter, the production from this area was 32.4 million boe per day. It represents nearly 46% of the company's total oil production.
Based on overall reduction, the company has decreased its capital expenditure for the Gulf of Mexico from $200 million to $160 million. This will be spent on activities like
· Recompletion of 19 wells, and 4 non-operating wells
· 7 drilling projects
· 2 non-operating projects
Most of these activities are low risk developments in drilling and recompletion work.
Overall, the net offshore production will be approximately 30 million boe this year. According to my analysis, its overall production this year will decline at a higher single-digit rate. The reason to this valuation includes the potential impact from the upcoming hurricane season, which falls between June and November. Even in the coming two years, a similar declining rate is anticipated, based on correlating with its spending levels. Henceforth, SandRidge's revenue will be around $1.7 billion - $1.75 billion levels this year.
Capital expenditure for the coming year
Based on this year's capital expenditure structure, SandRidge will set capital expenditure for 2014 at roughly $1.5 billion. This should help the company in increasing its production by 30% from the Mississippian alone, which is expected to accelerate by the end of this year. Though it has cut capital expenditure by 17% this year, it has revised the plan for the Mississippian, which will reflect in the coming year. This plan includes spending reductions on drilling and completion activities, and also on land, midstream, and other expenditures in the process. Based on the past two year's trend, SandRidge is expected to plan capital spending of around $5.1 billion, for the coming five years.
SandRidge will also focus on geologies, where it can use its existing saltwater disposal and electrical infrastructure. This will help the company's drilling program improve capital efficiency. Henceforth, this will support the company in producing approximately 5 million boe per day in the first quarter of 2014, alone from Mississippian.
Still, with lower spending, the production will decline by 10% to 12% in the coming year. The reason for this negative possibility is that the company is scaling back activities, but production will accelerate only by the end of this year, as soon as the declining rate stabilizes.
Balance sheet
SandRidge's total debt stayed at $3.2 billion, leading to a debt to capitalization ratio of 37.1%, and net debt to capitalization multiple of 1.64. It has $719 million of cash flow left over from the total $984 million for spending this year.
Therefore, by the end of this year, SandRidge will have a net debt to capitalization ratio of 54.6%, along with a net debt to EBITDAX multiple of 2.99x. EBITDAX includes earnings before interest, taxes, depreciation, depletion and amortization, and exploration expenses. The management's decision to spend no more than the cash flow available will help the company in mending its balance sheet in the future.
With low cash flow spending of approximately $789 million, SandRidge will have net debt to capitalization of 73.2%, and net debt to EBITDAX of more than 4 times in 2014. Only the monetization of Mississippian acreage, which is held for sale, and other sources for funding, will bring the company's debt to a manageable level. This will lead the cash flow per debt-adjusted share of SandRidge to decline by an average of approximately 19% per annum for the period of 2012-2015.
The NYMEX assumes oil and gas prices of $90 per barrel, and $4 per million metric British thermal unit, or Mmbtu for the remaining year. Based on these prices, SandRidge will experience a cash flow deficit of roughly $680 million this year. It will fund this amount through cash in hand. In 2014, it will generate about $860 million in operating cash flow.
Conclusion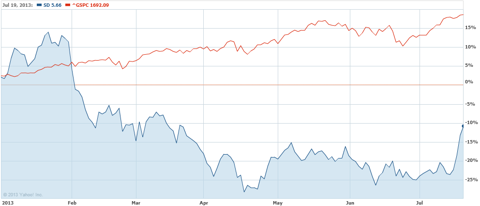 Source: Yahoo Finance
Looking at the market price performance of SandRidge, a falling trend is noticed since February this year. Year to date, the share price has fallen by around 20%, while the S&P 500 grew by 13%. This was due to the company's increasing debt and furthered by other catalysts such as a change in management, cut in production outlook, and replaced capital guidance for 2013.
The price to book ratio of SandRidge stands at 1.3, while the industry price to book ratio is 1.8. This shows that SandRidge is an undervalued stock.
With trading at low levels over the past five months, there is room for the company to grow in terms of market price. However, with no near-term growth opportunity in business, the chance of upside movement is considerably less. With changes to the management team and possession of attractive assets, SandRidge has now become a high risk and return stock, making me feel bearish about the stock.
Therefore, I suggest holding this stock, in order to recover from losses incurred due to fall in the market price and long-term possibility for upside movement.
Disclosure: I have no positions in any stocks mentioned, and no plans to initiate any positions within the next 72 hours. I wrote this article myself, and it expresses my own opinions. I am not receiving compensation for it (other than from Seeking Alpha). I have no business relationship with any company whose stock is mentioned in this article.