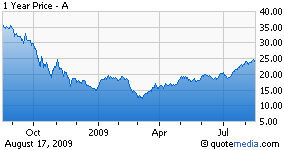 Agilent Technologies (NYSE:A) is expected to report Q3 earnings after the market close on Monday, August 17, with a conference call scheduled for 4:45 pm ET.
Guidance
The consensus estimate is 11c for EPS and $1.02B for revenue, according to First Call. Management has not provided EPS guidance for the quarter.
Analyst Views
FBR Capital is modeling for 13c EPS on a 25% organic revenue decline, driven by declines in the company's late-cycle technology, telecom, and electronics markets which make up 58% of total revenues. Similar to its test and measurement peers, FBR expects Agilent to report some indications of stabilizing in its life sciences and academic/R&D-related markets, but continued deterioration in the industrials and communications markets, which comprise 35% of Agilent's total portfolio. Pricing pressure started to build last quarter, particularly in Agilent's weaker Electronic Measurement markets but also on the Bio-Analytical Measurement side.
FBR will continue to carefully watch for signs that pricing power is becoming a larger issue for Agilent. With its predominately mid/late-cycle mix, Agilent's results tend to lag a macroeconomic recovery by six to nine months, and FBR still prefer stocks with more defensive early-cycle exposure, such as 3M (NYSE:MMM) and Tyco (NYSE:TYC). Looking forward: FBR expects Q4 EPS guidance of 15c - 20c versus FBR's estimates of 17c and 20c for consensus. The firms estimate includes a 24% Q4 organic revenue decline, in line with the Q3 decline. The seasonal sales increase into Agilent's Q4 should be a plus. FBR Capital is positive on the pending acquisition of Varian (VARI), which the firm believes should complement Agilent's life sciences product offering. The pending acquisition has been an impressive catalyst for the stock since it was announced on July 27. FBR believes its initial FY10 accretion estimate of 15c-20c could prove conservative. The firm also understands that Agilent management will not be able to discuss anything regarding the pending acquisition on the conference call due to regulatory restrictions. Key issues for the conference call: forward guidance, commentary on market share and pricing, an update on the company's restructuring initiatives and most noteworthy would be any commentary regarding the pending Varian acquisition and its impact on Agilent. Management did provide FY09 revenue guidance on its last earnings call of down roughly 25% from the reported FY08 $5.77B.