It is one of the biggest company turnarounds since the end of the Great Recession. Krispy Kreme Doughnuts, Inc. (KKD) was left for dead but defied naysayers, and is expected to see double-digit earnings growth in fiscal 2014.
Krispy Kreme makes donuts and sells coffee in over 770 locations in 22 countries. It has an extremely loyal fan base for its signature product: the Original Glazed donut, which is usually served warm, directly out of the oven.
Overexpansion early in the last decade tarnished the brand, but it has slowly been able to turn it around. On July 15, as a testimony to the strength of the company, it announced that it had refinanced its secured credit facilities and retired the entire $22 million outstanding balance of its term loan. The retiring of the loan and the refinanced facilities was expected to save about $1 million in the first 12 months.
As of July 12, it had a cash balance of $55 million and an unused borrowing capacity on its revolving credit facility of $31 million. It will also begin a new $50 million share repurchase program. That's significantly higher than the previous $20 million program that was completed in 2012.
Zacks Consensus Estimate Rises
Analysts like what they see. In the last 60 days, three analysts' estimates have risen for fiscal 2014 while only one has been lowered. The 2014 Zacks Consensus has risen to $0.62 from $0.57 in that time. That is earnings growth of 31.9%.
However, analysts don't expect that to be the end of it. They also forecast an additional 13.4% earnings growth in fiscal 2015.
Big Earnings Beats
Krispy Kreme isn't expected to report earnings until Aug. 28. It has really turned around its earnings track record as well. After a history of misses, the company recently started posting big beats. It has surprised three out of the last four quarters by an average of 38%.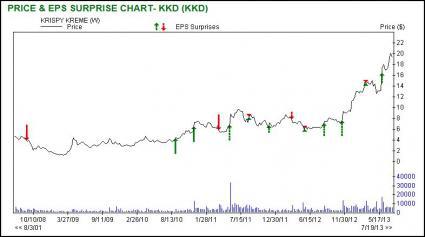 This Zacks Rank No. 1 (Strong Buy) isn't cheap. It has a forward P/E of 31. But an investor is paying for the big EPS growth and is not looking for value.
The consumer is still splurging on food and Krispy Kreme has a loyal following. It has over 4 million likes on Facebook and 61,000 followers on Twitter, many of which share their tales of driving for miles just to indulge in one of its donuts. That's the power of the Krispy Kreme brand. For investors looking for a restaurant chain that still has its mystique, look no further than Krispy Kreme.
Krispy Kreme: Free Stock Analysis Report (email registration required)