It's been a while since I last covered Coca-Cola (NYSE:KO). I had argued that Coca-Cola was then slightly overvalued. I was proved somewhat right. In the 8 months since that article was published, Coca-Cola has lagged the market, gaining only 8% compared with about 20% gains for the S&P 500 and DJIA. However, Coca-Cola fundamentals have since improved. The company has managed to lower its debt, increase its dividend, and improve its ex-currency EPS consistently. Coca-Cola is well known among dividend growth investors for its many years of consecutive annual dividend increases and frequent share buybacks. Coca-Cola currently offers a $0.28 per share quarterly dividend and yields about 2.70%.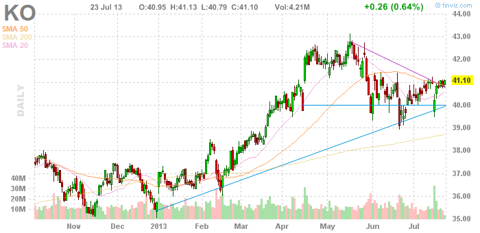 Click to enlarge
Overview
Coca-Cola is well regarded among investors for its stability, consistent growth, and annual dividend increases. Coca-Cola is the world's largest non alcoholic beverage company in terms of volume and market share. Its products are extremely well-known, with its namesake brand nearly synonymous for carbonated beverages in some regions. Coca-Cola currently has 15 brands with generate over $1 billion a year in revenues. Coca-Cola products are sold in nearly every country worldwide and have extreme brand loyalty in certain regions.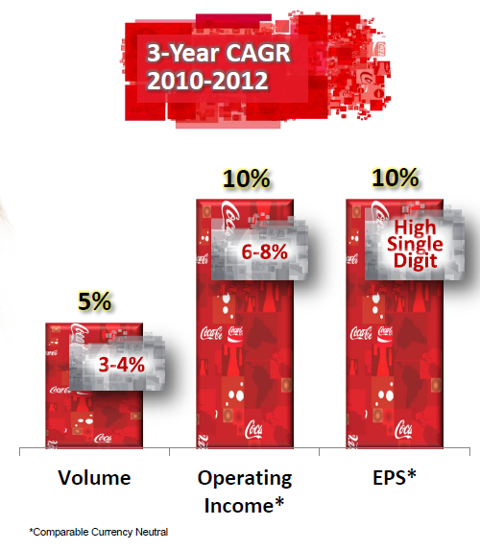 Click to enlarge
Q2 2013 Recap
Compared to its typical performance, Q2 2013 was a weak quarter for Coca-Cola. The company reported global volume growth of 1%, with the Americans growing 1% and Coca-Cola international growing 2%. Operating income came in weak, declining 2% from Q2 2012 levels. However, excluding certain items and adjusting for currency, operating income actually would have grown 4%.
Coca-Cola reported Q2 2013 EPS of about $0.59 per share, down 3% from the year ago level. However, when adjusting for currency, adjusted EPS would have been $0.63, up 4% from last year.
Coca-Cola's results were impacted by economic turmoil affecting Europe, slowing growth in Asia, political turbulence in the Middle East, and some weather related issues in North America. In addition, the strong dollar and weaker overseas currency gave Coca-Cola's metrics a massive 3% headwind on operating results. As a long-term investor, I tend to ignore these quarter to quarter currency fluctuations and instead focus on results on a currency neutral basis. YTD, Coca-Cola's currency neutral revenues have been flat while EPS and operating income are up 4%.
Historical Revenue and EPS Growth
Even with its weak Q2, Coca-Cola has shown impressive growth over the past 5 years. Since 2008, Coca-Cola's revenues per share are up over 50% while EPS has grown at a slightly slower pace of 46%. Do note that the "bump" in Coca-Cola's EPS in 2011 was due to a one time benefit related to a debt re-financing. Coca-Cola has clearly shown steady and stable growth in both of these key metrics.
Dividend, Dividend Growth, and Share Buybacks
No discussion on Coca-Cola is complete without mentioning its long history of dividends and dividend growth. Earlier this year, Coca-Cola boosted its dividend 10% to $0.28 per share from the previous level of $0.255. This represented Coca-Cola's 51st consecutive year of annual dividend increases. This is quite a feat which only a few other select companies have achieved.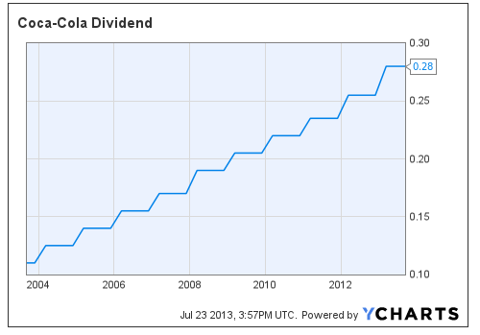 Click to enlarge
Dividends are not the only avenue in which Coca-Cola returns capital to shareholders. The company also buys back a large amount of stock quarterly. YTD, Coca-Cola has repurchased nearly $2B worth of stock. Coca-Cola anticipates repurchasing around $3B to $3.5B under its current share buyback authorization. Since 2004, Coca-Cola has repurchased nearly 10% of its shares outstanding, or about 450M shares.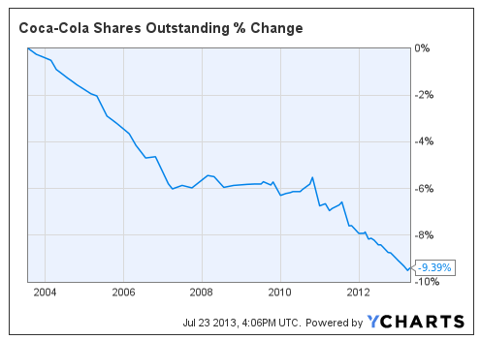 Click to enlarge
Coca-Cola's total shareholder returns, which is a metric that combines dividends paid and cash spent on share buybacks, has consistently risen over the years. Over the past 12 months, Coca-Cola has returned over $8B via share buybacks and dividends, which equates to a total shareholder return yield of about 4.5% at its current market cap.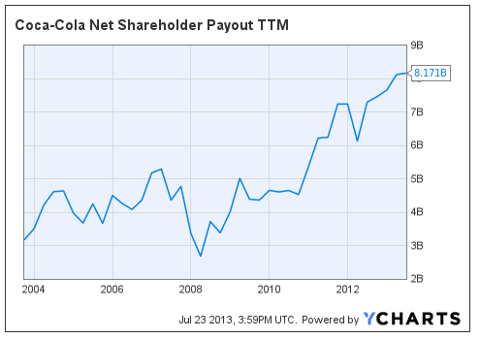 Click to enlarge
Free Cash Flow
As a precaution, it is always good to check a stock's free cash flow, or FCF, metrics. For Coca-Cola, we can clearly see that the company has for years generated healthy and growing FCF. Over the past 12 months, Coca-Cola has generated $7.9B in FCF, or about $1.73 per share. Over 10 years, Coca-Cola has grown its total FCF by about 70%. On a per share basis, FCF has grown 84%. This difference is due to the effects of Coca-Cola's share buyback program.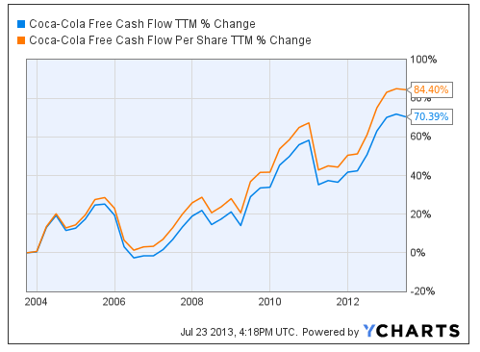 Click to enlarge
Debt and Cash Metrics
Lastly, let us look at Coca-Cola's debt and cash metrics. Coca-Cola increased its debt load substantially in 2010 related to an $13B acquisition of North American bottling assets from Coca-Cola Enterprises (NYSE:CCE). Coca-Cola is still digesting this acquisition and is slowly paying off the added debt. Over the past few months, Coca-Cola has lowered its debt by around $1B. When subtracting cash, Coca-Cola only has around $9.8B in net debt, which is barely 6% of its total equity value.
Conclusion
Coca-Cola is as high-quality as stocks get. The company has proven itself a winner, with a globally dominant brand, growing revenues, and a massive world-wide footprint.
For those seeking a low-risk dividend growth stock with large share buybacks, Coca-Cola seems to be a good fit. While this stock is unlikely to move the needle much, it is also unlikely to give its shareholders much hassle.
Disclaimer: The opinions in this article are for informational purposes only and should not be construed as a recommendation to buy or sell the stocks mentioned. Please do your own due diligence before making any investment decision.
Disclosure: I am long KO. I wrote this article myself, and it expresses my own opinions. I am not receiving compensation for it (other than from Seeking Alpha). I have no business relationship with any company whose stock is mentioned in this article.