Florida based Spirit Airlines (SAVE) is an ultra-low cost carrier operating in the U.S., Latin America, and the Caribbean. Presently, the company operates approximately 200 daily flights covering 50 destinations. One unique feature that distinguishes Spirit from its competitors is its ticket pricing strategy. Unlike its competitors, which incorporate a charge for different services in the overall ticket price, Spirit separates the price allowing customers to avail different services as per their need. This pricing strategy attracts price sensitive consumers and increases its market penetration.
In this article, I have explained different factors that will influence Spirit's future performance and drive its stock price.
1) Fuel pricing
For aircraft operators, fuel cost forms a major part of the cost of operations. Therefore, it becomes necessary for the airline companies to forecast the fuel cost in order to adopt a proper pricing mechanism. The most important factors affecting jet fuel prices are the overall outlook for crude price, the refinery cost incurred to convert crude into jet fuel, and the strategy used by companies to hedge against the volatility of jet fuel prices.
The crude prices will soften in 2014 and 2015 and will trade in the range of $95 per barrel to $100 per barrel, compared to current trade at approximately $104 per barrel. This decline in the crude prices will decrease the acquisition cost of crude for the refineries, which in turn will reduce the selling price of jet fuel. Analysts expect refiners' acquisition cost to decrease by an average of 7.3% annually through 2015. Spirit has hedged its estimated consumption of 170 million gallons of fuel in the current year and will gain $9 million from its hedging strategy from the movement of crude oil prices.
IMF Crude Price Outlook (in $ per barrel)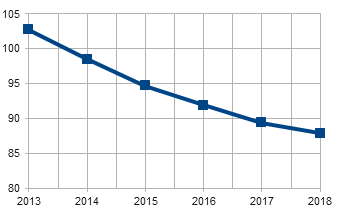 2) Capacity expansion
Recently, the company ordered 20 new A321 aircraft which will be delivered between 2015 and 2017. Additionally, it modified its previous order of 10 A320 aircraft, scheduled for delivery in 2017 and 2018, changing it to A321. The A321 aircraft has 219 seats as compared to 178 seats in the A320. Spirit will increase its fleet strength by 20% in 2013, 13% in 2014, and 16% in 2015.
I can see the tailwinds from the air traffic in the U.S. that will increase gradually due to the improving economy. It will reach approximately 800 million passengers by 2016, up from 700 million passengers in 2012.
For the next few years, Spirit will focus on expanding its reach in Dallas-Fort Worth, Texas, which is currently its second largest destination in terms of passenger traffic. Last year, Spirit focused on its growth in the Western U.S. This expansion trend started in 2011, when the company began to explore new destinations in the U.S. outside its legacy Florida route network. The expansion in the Dallas-Fort Worth route will account for nearly 22% of Spirit's expansion in the current year. Further, Spirit recently made an announcement regarding the start of service between Dallas and Mexico. The passenger traffic in Mexico increased 6% in June this year on a year-over-year basis and will continue the momentum for the remainder of 2013. This is a step forward to capture the increasing traffic in these areas by offering lower fares.
3) A change in accounting
Unlike its competitors which are heavily funded by debt, Spirit has no debt on its balance sheet. This gives the company better financial leverage than its peers.
Presently, the majority of Spirit's lease arrangements are operating leases. Under this arrangement, the company doesn't show aircraft taken on lease as assets on its balance sheet, but it accounts for the lease rentals in its income and expenditure account. In 2012, Spirit paid aircraft rentals of $144 million, which will increase to $175 million and $206 million in 2013 and 2014 respectively. Under such circumstance, there is a possibility that the Spirit can change its accounting for further aircraft leased. If it starts accounting under the finance lease method, it will lead to an increase of tangible fixed assets on its balance sheet, and the company will no longer charge lease rentals on its income and expenditure account.
By the current year end, Spirit will have 54 aircraft which will increase to 61 in 2014. Correspondingly the lease rentals are also expected to increase to $175 million in the current year and $206 million in 2014 from $144 million in 2012. If the additional seven aircraft scheduled for delivery in 2014 is accounted under finance lease method rather than operating lease, there can be a reduction of $31 million in its lease rentals. This will reduce the company's operating expenses and result in an increase of nearly 1.6% in its operating margin.
4) Opportunity from ancillary revenue growth
Spirit offers an unbundled ticket component to its passengers, which allows them to pay for the services they require. The extra service charges are ancillary to the base airfare and include charges for services like checked baggage, advance seat selection, and itinerary changes. These ancillary services accounted for 41% of the company's total revenue in 2012, which totaled $536 million.
Going forward, Spirit plans to continue to innovate new ancillary revenue opportunity and enhance existing offerings such as a call center, which will increase the number of travel packages sold directly to the passengers. This initiative will improve the company's revenue from ancillary services, which will contribute significantly to the company's ancillary services revenue generation of $680 million in the current year.
Valuation
Generally, an airline company is valued on the basis of its enterprise value to earnings before interest, taxes, depreciation, amortization and rental expenses, or EBITDAR, multiple, because the lease rentals form a significant portion of the cost of operations for airlines. However, since Spirit's EPS is expected to grow at a higher rate (a CAGR of 25% through 2015), it is appropriate to apply an equal weight mix of the company's enterprise value and its earnings to arrive at the valuation.
To arrive at Spirit's intrinsic value, I have used the following figures:
Expected revenue of $1.68 billion for 2013
Average expected Gross Margin of approximately 17%
Depreciation of $40 million
Tax of $90 million
To arrive at EBITDAR, the lease rental of $175 million is added back to the gross profit. This gives EBITDAR of $462 million and with an enterprise value of $2.58 billion by the end of 2013 gives us an enterprise value to EBITDAR multiple of 5.58 times. With 72.53 million shares outstanding at the year's end, Spirit's EBITDAR per share comes to $6.37. Further, the company is expected to generate EPS of $2.10 in the current year and trade at a price to earnings multiple of 20 times.
So, applying a 5.58 multiple to EBITDAR per share and a price to earnings multiple of 20 times to the current year EPS, the company's stock should trade at $38.77.
= (6.37*5.58) *0.50 + (2.10*20) *0.50
= $38.77.
Assumptions:
1) I expect the company will not make any fresh issue of equity shares in the current year and the shares outstanding will remain at 72.53 million.
2) An equal weighted average is used to calculate the share price. This is because the company's earning is expected to rise proportionately with its enterprise value in the current year.
Stock price movement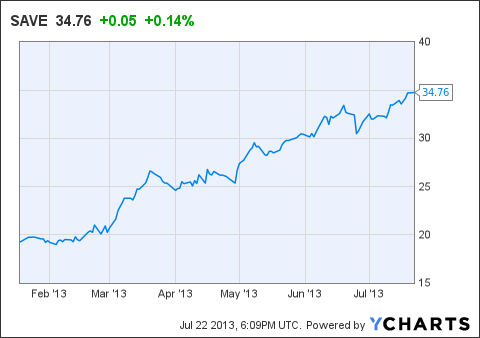 Since March 2013, the company's stock price has seen a consistent rise due to its future growth potential. The trend will to continue for the remainder of 2013. One thing the investors should keep in mind is that the company does not have any long term debt and preference shares outstanding, which implies that all the earnings of the company are attributable to its equity shareholders. Also, due to a debt free balance sheet, the company will be able to raise fresh equity, without any restrictions, at a cheaper rate.
Note:
These factors account for an even higher multiple for valuing the company (which if taken into consideration can further increase the company's stock price).
On July 2, 2013, an aircraft of Spirit airlines avoided a collision with a skydiving plane in the skies over Michigan. The matter is under investigation with the Federal Aviation Administration, or the FAA. If Spirit is at fault, the incident could hurt passenger sentiment, which could affect immediate demand. Therefore, the company's stock price has some potential for volatility when the assessment by the FAA is complete. Though the company's stock may exhibit some volatility, investors shouldn't panic and should continue to hold their position in the stock, as this will just be short term volatility.
Conclusion
Spirit has a strong fundamental base that will drive its future growth potential. The expected decline in the crude oil prices will benefit Spirit, as its operating margins will improve. Further, the recent order placed by the company with the Airbus, its expansion in the Dallas Fort-Worth route, and the start of different routes highlights the company's future expansion plans and it is optimistic about its operations. These expansions coupled with the increasing opportunity from ancillary services will increase the company's overall revenue. Its debt free balance sheet gives it the best leverage position among its peers, which will also support the easy raising of funds for the company. Also, the huge cash balance gives the company flexibility to change its method of accounting for airplanes leased.
Taking into account the above-mentioned factors, and increasing consumer spending in the U.S., I assume the company's stock will see a further upwards trend in 2013 (though it may experience some volatility) and will trade in the range of $35- $40 for the remainder of 2013. Therefore, I recommend "buying" this stock with a target price of $39.
Disclosure: I have no positions in any stocks mentioned, and no plans to initiate any positions within the next 72 hours. I wrote this article myself, and it expresses my own opinions. I am not receiving compensation for it (other than from Seeking Alpha). I have no business relationship with any company whose stock is mentioned in this article.