We looked at ICICI Bank (NYSE:IBN) Jun FY10 results last week. This week let's look at HDFC Bank (NYSE:HDB) which continues its solid performance. We will look at FY09 performance first and follow it up with a glance at Jun FY10 results.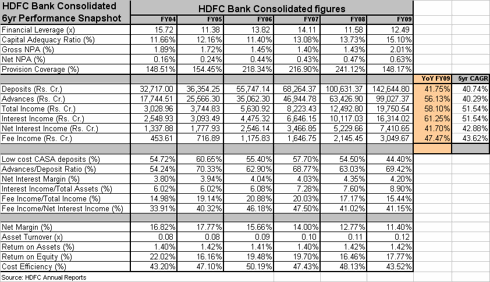 Strong Capital Base
A strong capital base is the number one issue to consider before investing in a lender
HDFC Bank has its Capital Adequacy ratios at 15.10 percent much above the mandatory 9% requirement stipulated by RBI. Net NPA at 0.63 percent is also among the best in the industry.
Return on Equity (RoE) and Return on Assets (RoA)
These metrics are the defacto standards for gauging bank profitability.
RoE improved to 17.7 percent in FY09 from 16.4 percent a year ago successfully reversing the gradual declining trend of the last few years. Generally investors are advised to look for banks that can consistently generate mid to high-teens return on equity. Coupled with this it has been maintaining RoAs consistently over 1.4 percent –that's a super track record, as generally for the banking sector, a top RoA is in the 1.2 to 1.4 percent range.
Efficiency Ratio
The efficiency ratio measures non-interest expense, or operating costs, as a percentage of income. Basically it tells you how efficiently the bank is managed. Many good banks have efficiency ratios under 55% (lower the better)
Cost-efficiency ratios are down to the low 40s, which is a good sign. But what is more commendable is that it is becoming more efficient at utilising the Assets for generating Interest Income (Interest Income/Total Assets)- see the gradual improving trend and the marked jump in FY09 over FY08.
Net Interest Margins (NIM)
Another simple measure to watch is net interest margin, which looks at net interest income as a percentage of average earning assets. Track margins over time to get a feel for the trend.
It is one of the few banks that have held the net interest margins at over 4% for the last few years and gradually improving. This is a commendable job in a rising interest rate scenario that we witnessed in the last few years. No other Indian Bank comes even close to it on this front.
Strong Revenues
Historically many of the best-performing bank investments have been those that have proven capable of above-average revenue growth
It has a very consistent track record in growing the Balance Sheet and Revenues. While deposits and advances have grown at a 5yr CAGR of over 40%, Incomes have grown at a 5yr CAGR of over 50%. Net Interest Income has been growing at a healthy 5yr CAGR of over 40 percent. Fee Income has also grown at a similar 43 percent CAGR over 5 years. This is an impressive record when seen together with the high NIMs at over 4%.
Year on year growth in FY09 significantly betters even this record!
I don't have anything to complain about! Do you?
And how about the latest June Quarter performance. Let's check that out now.
HDFC Bank (HDB) Quarterly Performance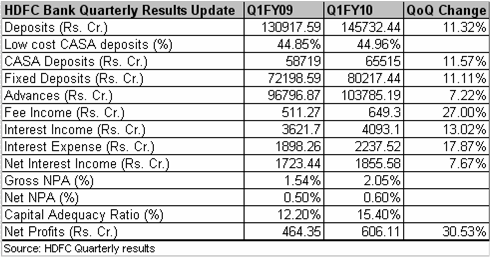 That makes for a decent if somewhat unspectacular picture, with growth being mostly in the low teens. However you can put this in perspective when you compare the results of the other leading Indian Bank ICICI Bank (IBN) June FY10 performance.
You might be asking already - well with a solid performance like above, it must be priced expensively, right. Let's go onto Valuations, next.
HDFC Bank - a look at Valuations



You bet it is priced expensively - currently priced above its historical P/BV and P/E ranges, as you can see from the above table.
We missed a trick or two in Mar 2009, did we?
My experience has been that solid stocks like HDFC Bank are usually the first to bounce back.
You may like to check out what we said on HDFC Bank's valuation on Mar 9 2009!
Disclosures: I hold HDFC Bank