On Tuesday, July 23, Norfolk Southern Corp. (NYSE:NSC) announced a quarterly dividend increase of $0.02/share, bringing its upcoming dividend payout to $0.52/share. It should be noted that this boost represents a 4% increase from its prior dividend of $0.50/share, which was paid on June 10. In the wake of NSC's dividend increase, I wanted to not only examine the company's recent performance but take a look at several catalysts behind my decision to establish a long-term position in the company.
Performance & Trend Status
On Tuesday shares of NSC, which currently possess a market cap of $24.18 billion, a P/E ratio of 13.85, a forward P/E ratio of 12.07, and a forward yield of 2.70% ($2.08), settled at $76.87. Based on Tuesday's closing price, shares of NSC are trading 3.64% above their 20-day simple moving average, 1.00% above their 50-day simple moving average, and 10.39% above their 200-day simple moving average. These numbers indicate a short-term, mid-term, and long-term uptrend for the stock, which generally translates into a buying mode for traders.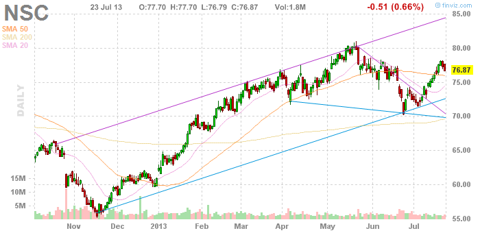 Click to enlarge
A Weak Second Quarter Is Fueled By A Reduction in Coal Revenues
For the shareholders of Norfolk Southern, Tuesday's dividend news was about the only bright spot on the agenda, as the company's Q2 Earnings came in a bit weaker than what the street had expected. Estimates were calling for the company to earn $1.49/share on revenue of $2.85 billion; however, NSC only earned $1.46/share on revenue of $2.80 billion.
So what caused the company's results to come in below expectations? After reviewing the company's earnings report and conference call transcript, the answer comes down to a year-over-year decline of 3% in Railway-based operating revenues and a year-over-year decline of 17% in Coal-based revenues, which was subsequently caused by a 4% drop in volumes and a decline in average revenue per unit. In my opinion, the methods by which Norfolk Southern generates its revenue will need to come under some serious scrutiny so that management isn't faced with a similar performance in the next 6-12 months.
What can investors expect with regard to export coal in the near term? According to the company's Executive Chairman and CEO, Charles W. Moorman, "Norfolk Southern continues to face a difficult environment in export coal, with loadings down 16% in the quarter. In addition to the decline in loadings, the company also experienced a $65 million dollar headwind associated with the fuel revenue lag, which was $4 million dollars higher than the second quarter of the previous year." If these types of headwinds continue to increase at-or-near the pace that was generated during the second quarter, I'd begin to consider adjusting the size of my position or better yet shifting my strategy from a growth-based strategy to an income-based strategy.
Recent Dividend Behavior
Since May 4, 2012, Norfolk Southern has increased its regular quarterly distribution four times in the last ten payable quarters. From an income perspective, the company's forward yield of 2.70% ($2.08) coupled with its continued distribution increases make this particular stock a very viable income option for long-term investors in search of a moderate-yielding play in the railroads sector.
Conclusion
When it comes to those who may be looking to establish a position in Norfolk Southern Corp., I'd continue to keep a watchful eye on not only the company's dividend behavior over the next 12-24 months but what improvements and/or changes the company makes to enhance both its near-term earnings growth and long-term revenue generation. Coal revenues will continue to weigh heavily on the company's earnings performance, and if things don't improve, investors may begin to take a cautious approach when it comes to investing in the company's stock.
Disclosure: I have no positions in any stocks mentioned, but may initiate a long position in NSC over the next 72 hours. I wrote this article myself, and it expresses my own opinions. I am not receiving compensation for it (other than from Seeking Alpha). I have no business relationship with any company whose stock is mentioned in this article.