Oclaro, Inc. (NASDAQ:OCLR) is among the largest suppliers of modules, optical components and subsystems, as well as consumer and industrial laser applications in the global optical communications market. The company has maintained the most extensive and vertically integrated product portfolios in the fiber optics industry through in-house development and strategic acquisitions and mergers.
Oclaro's broad product portfolio covers both terminal (transmit and receive components, transponders) and line (amplifiers, pumps, passives) applications as well as industrial and consumer lasers and data communications.
OCLR Products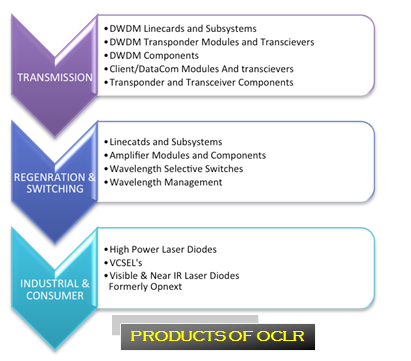 Oclaro has been successful in introducing new products such as the 80 W high brightness fiber laser pump module, the 1060 nm DFB seed laser, the high-power 633 nm and 638 nm single-mode red laser diodes for the measurement of biomedical and inspection applications, the 150 mW single-mode red laser diode in a 3.8mm package destined for surging laser display applications in early May this year.
Cost Reduction
With a declining revenue, Oclaro has successfully achieved reduction in its operating and other overhead costs. If Oclaro succeeds at further reducing its costs and leveraging its product line ahead of schedule, it would be successful in recording profits sooner than expected. If this happens, the stock may experience solid price gains.
The losses are expected to persist until 4Q14, which is an unacceptable outcome. The company needs R&D expenditure to improve gross margins and launch new products in order to achieve a sustainable income.
Debt Ratio
It is generally desirable that a greater proportion of equity than debt finances a company, as the former provides a cushion against potential losses and demonstrates its financial strength. If the company has high gearing/leverage coupled with declining revenues and earnings, it is more vulnerable to business cycle downturns. OCLR has a debt ratio of 0.20 with a total debt of $100.17K against total assets of $494.47K as reported in 3Q13.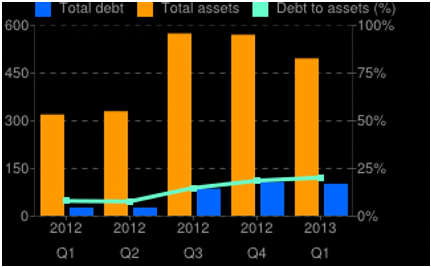 Plummeting revenues
OCLR has posted weak 3Q13 revenues, expecting to generate $132 million to $144 million of revenue for 4Q13. This fall has subsequently generated lower gross margins. The company has failed to reduce costs in proportion to the decline in revenues, whereas losses are expected to widen in the forthcoming year, a fact that may adversely affect the company's financials.
The company has failed to record sufficient gross margins, ranging from 10% to 14% in the last three quarters and is now expected to post 9% non-GAAP gross margin, along with $17-$30 million of EBITDA losses.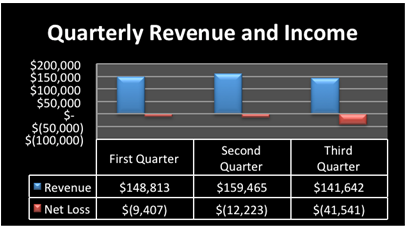 In 2014, the company's revenue and net income are expected to further decline, eroding shareholders' wealth. The projected revenue along with operating and net margin are laid out below by Thomson Reuters.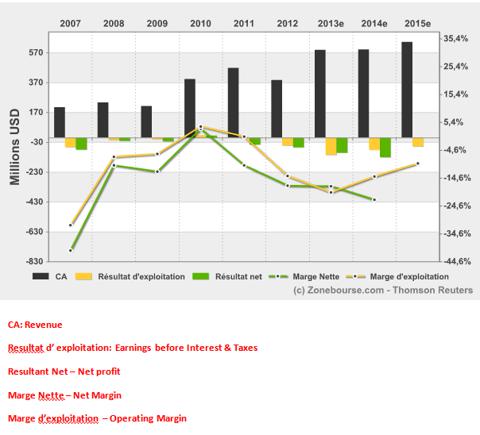 Click to enlarge
Cash position strengthened by the extension of the bridge loan, but burn rate is alarming
It is hard to not be concerned with Oclaro's poor results, shaky guidance and eroding cash position. Although the company did announce expanding banking credit lines, it burned a considerable portion of its cash position.
Oclaro has recently secured a $25 million bridge loan. The company's cash position is now $100 million against a net debt of $100 million. The company intends to sell some of its assets later in the coming year in order to repay its debt. However, disposing off assets to repay debts with no earnings can lead the company to financial instability. The sale of these assets is likely to result in opportunities to cut costs through restructuring, but it will probably weaken the strategic positioning of the company.
Oclaro had earlier announced in 2012 that it has entered into a definitive agreement with a wholly owned subsidiary of II-VI, Inc., Photop Technologies, Inc., to sell the assets of its thin film filter business located at Santa Rosa. According to the terms of the agreement, the company's interleaver product line is sold to a wholly owned subsidiary of II-VI Inc., Photop Koncent, Inc. (FuZhou).
Economic weakness
The weakening economic backdrop is a challenge to Oclaro as the company merges with OpNext. The wealth of the two companies is eroding since they are exposed to the industry's pricing pressures, a fact that has drastically decreased growth and gross margins. Moreover, a prolonged weakness in the economy could hurt Oclaro's financial condition.
The company can outperform if the economy improves, until then investors need to sit on the fence and wait for the stock price to show some fluctuations.
Conclusion
The current cash position and gross/operating margin structure is alarming and puts the organization's viability in question. Oclaro needs to manage its debt and cash positions efficiently in order to avoid any kind of liquidity problems. Although Oclaro seems to be struggling to control its operating and other costs, the above eroding conditions may offset these benefits and keep the company mired at a loss position. In my view, the stock of Oclaro should be sold.
Disclosure: I have no positions in any stocks mentioned, and no plans to initiate any positions within the next 72 hours. I wrote this article myself, and it expresses my own opinions. I am not receiving compensation for it (other than from Seeking Alpha). I have no business relationship with any company whose stock is mentioned in this article.