Benjamin Graham, the father of value investing and much of modern security analysis, recommended in his treatise, The Intelligent Investor, that investors stay away from all initial public offerings. Why? Because during an IPO, the previous owners are attempting to raise capital for expanding the business, cash out their interest for estate planning, or any other myriad of reasons that all result in one thing: a premium price that offers little chance for buying your stake at a discount.
Graham often argued that some hiccup in the business could cause the stock price to collapse within a few years, giving the value minded investor an opportunity to load up on the company he or she admires. As Graham taught, the problem comes from the fact that if you find a truly outstanding business - one that you have conviction will continue to compound for decades at rates many times that of the general market; even a high price can be a bargain.
Some New REITs Are Coming Today
I'm in New York this week and I plan on touring the Empire State building today. As much as I have visited the City, I have never taken the time to inspect the iconic tower. Since the ownership group, Empire State Realty Trust Inc. (ESB) is moving closer to its IPO, I wanted to get familiar with the 102-story landmark tower and begin to build a research model for the new public platform. I'm also in town putting together an article on New York City commercial real estate where I will be examining the office and retail market and writing on Vornado Realty (NYSE:VNO) and SL Green (NYSE:SLG).
In addition to the Empire State Realty Trust IPO (coming soon), there are two other REITs hitting the market today.
New IPOs Today
Physicians Realty (NYSE:DOC) has priced its IPO of 10,434,782 common shares at a price of $11.50 per share. Net proceeds are expected to total roughly $109 million after discounts and commissions. The initial portfolio consists of 19 medical office buildings located in ten states with around 528,048 net leasable square feet. The portfolio (as of March 31, 2012) was 83.1% leased with a weighted remaining lease term of 7 years.
I looked over the management team bios and it appears that the senior leadership team has some level of experience in healthcare; however, I was not overly impressed. Also as I glanced over the modest portfolio of assets, it seems that the facilities are "scattered" across the US in markets like Phoenix, Atlanta, El Paso, Milwaukee, Portland, Chicago, and Tampa. Bottom line: I'm not overly impressed with the management or the assets, and I don't see the value in taking a small portfolio of $100 million to market. I would wait this one out.
Rexford Industrial Realty (NYSE:REXR) also hits the market today. The Los Angeles-based company priced its 16 million shares at $14.00 and that should net the company around $202.8 million in proceeds (after underwriting and commissions). Rexford's initial portfolio consists of 61 properties (6.7 million square feet) located in Southern California infill markets.
Rexford's portfolio is around 60% multi-tenant industrial and 40% single-tenant industrial and the portfolio has 693 tenants. I like Rexford's business much better than Physicians Realty since Rexford has a more focused investment strategy that includes executing in an established trade area where the management team has deep experience (Rexford's management team have decades of experience).
Some REIT IPO Trends
According to SNL Financial, year-to-date as of June 11, there had been five equity REIT IPO completions in the U.S., which have raised more than $1.2 billion in aggregate.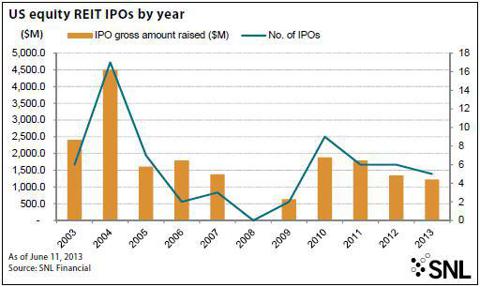 From 2003 to June 11, REITs have raised roughly $18.57 billion cumulatively through completed IPOs. The year 2004 was a banner year for equity REIT IPOs, with 17 offerings raising more than $4.5 billion in total. This is the highest one-year total for REIT IPOs over the last decade in terms of both volume and aggregate proceeds and is indicative of the general strength of the REIT market during that time. The largest IPO that year was completed by BioMed Realty Trust, Inc. (NYSE:BMR), with an IPO priced at $15 per share raising $465.8 million in gross proceeds (see my article on BioMed).
The second-highest aggregate amount raised by REIT IPOs in a given year over the last decade occurred in 2003, when six IPOs raised a cumulative total of more than $2.4 billion. American Financial Realty Trust, which was acquired in 2008 by Gramercy Capital Corp. raised more than $800 million in its IPO that year - see my article on Gramercy Property Trust (NYSE:GPT) here. MPG Office Trust Inc. (NYSE:MPG-OLD) was second that year in regard to IPO size, with $797.7 million raised through an IPO priced at $19 per share.
Brixmor Could Be One of the Biggest IPOs In Decades
Brixmor Property Group owns 522 shopping centers with 87 million square feet (8.1 million square meters) of space and the New York-based company could soon list shares on the New York Stock Exchange. The assets that form Brixmor's core were acquired in Blackstone's $9 billion purchase of U.S. shopping centers from Centro Properties Group (Australia) in 2011. Brixmor is second to Kimco Realty Corp. (NYSE:KIM) among U.S. shopping-center landlords by number of properties.
The initial public offering by Brixmor could prove to be the biggest REIT IPO since Simon Property Group Inc.'s (NYSE:SPG) IPO 20 years ago. Brixmor will likely raise around $700 million or more making the shopping center REIT one of eight REITs that have raised over $700 million in an IPO; definitely one to watch.
Chambers Street Looks Cheap
As I mentioned above, Graham was never a big fan of IPOs since he found that it was difficult to "buy into" a new company without a track record of value creation. For that reason, I can't get too excited about the above IPOs that are hitting the market today.
However, I do like Chambers Street Group (NYSE:CSG). As I wrote a few weeks back (article here), the company started out as a non-traded REIT and on May 29th the Princeton, N.J.-based company listed its shares on the NYSE. I also followed Chambers Street to the opening bell and interviewed the CEO, Jack Cuneo, on the day of the listing. (See the video here.)
Chambers Street invests exclusively in larger "big box" industrial properties and many of the assets are new (less than 10 years old). Chambers has a total capitalization of $2.027 billion and the shares closed at $8.57 -- over 17% below the listing price of $10. The dividend yield is 5.83%. Simply put, Chambers is cheap.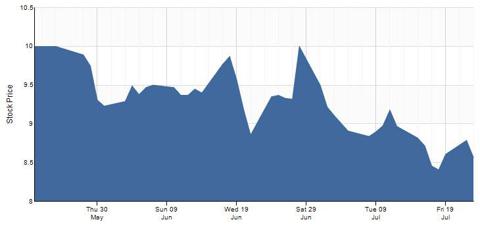 Source: SNL Financial
Note: This article is intended to provide information to interested parties. As I have no knowledge of individual investor circumstances, goals, and/or portfolio concentration or diversification, readers are expected to complete their own due diligence before purchasing any stocks mentioned or recommended.
Disclosure: I have no positions in any stocks mentioned, and no plans to initiate any positions within the next 72 hours. I wrote this article myself, and it expresses my own opinions. I am not receiving compensation for it (other than from Seeking Alpha). I have no business relationship with any company whose stock is mentioned in this article.