Canadian Oil Sands (OTCQX:COSWF) represents a pure play on the Alberta Oil Sands, offering a strong balance sheet and a reasonable 7% dividend at current levels. The company has one asset, a 37.4% interest in the Syncrude oil sands project which is operated by Exxon (NYSE:XOM) subsidiary Imperial Oil, which holds a 25% interest in Syncrude. The remaining interests in Syncrude are owned by Suncor (12%), Sinopec (9%), Nexen (7%), Mocal (5%) and Murphy Oil (5%).
The stock price of Canadian Oil Sands has fallen from over $30 to the $20 range in the past two years, in my view a result of fears that pipeline access to U.S. markets for its light sweet synthetic crude oil may be limited or delayed as the U.S. government mulls the Keystone XL pipeline project and prices paid in Alberta for synthetic crude have come under pressure.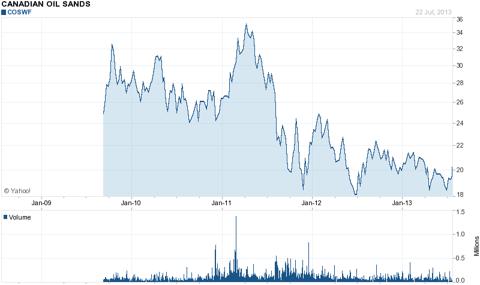 In my view, this presents a buying opportunity.
Since its inception, Syncrude has produced almost 2.5 billion barrels of synthetic oil and has proven, probable and contingent reserves of at least another 10 billion barrels. At $100 per barrel of oil, this represents revenue of $1 trillion over the remaining life of the project.
For 2013, Canadian Oil Sands' share of Syncrude will see it produce an estimated 105,700 barrels of synthetic oil at an operating cost of $38.41 per barrel producing cash flow from operations of $1.1 billion or $2.26 per COS share based on a selling price net to COS of $85.00 per barrel based on the company's recent presentation.
The Syncrude operation is highly levered to oil prices. COS estimates that its own cash flows would rise to well over $3.00 per share with West Texas Intermediate oil prices of $105 per barrel, close to where they are today.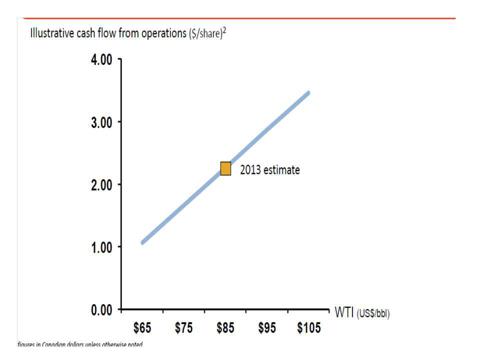 Syncrude in total has averaged 290,000 barrels of light sweet crude oil a day since 2001. At its current market capitalization, it is attractively valued relative to other oil sands plays based on the company's estimates.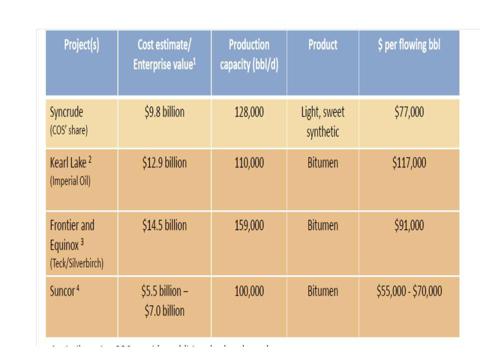 Canadian Oil Sands has been a steady performer for many years earning investors an average return on investment of 17% since 2003 versus a 10% average return for S&P/TSX Oil & Gas index and 9% for the S&P/TSX composite.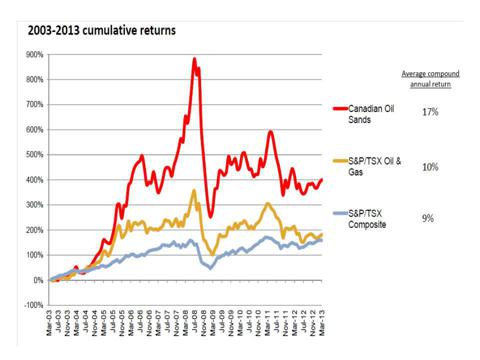 Since 2001, Canadian Oil Sands has paid out over $6 billion in dividends.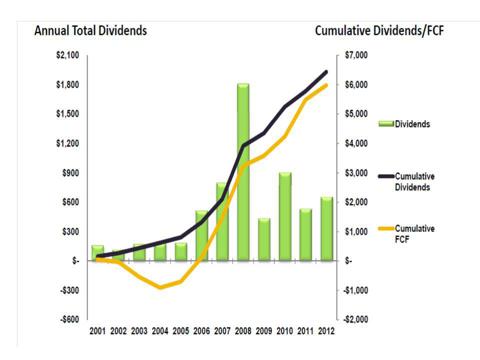 With 485 million shares outstanding trading at price of $20, Canadian Oil Sands market capitalization is about $9.7 billion.
In summary, Canadian Oil Sands represents a reasonably valued income oriented investment likely to provide steady income over many years and in many ways represents a call option on future oil prices. The company's major risk is lower commodity prices but with an operating cost of less than $40 per barrel and a strong balance sheet with $1.2 billion cash and only $1.5 billion debt, income investors can sleep at night with COS as part of their portfolio.
I am long COS.
Disclosure: I am long OTCQX:COSWF. I wrote this article myself, and it expresses my own opinions. I am not receiving compensation for it (other than from Seeking Alpha). I have no business relationship with any company whose stock is mentioned in this article.