Apple (NASDAQ:AAPL) just released their earnings report for their Fiscal Q3. While the report beat average estimates, overall the picture is not ecstatic.
Summary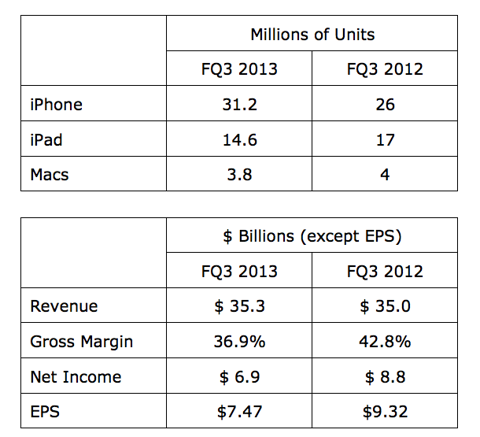 The Obvious
So once again, as in last quarter, the slight rise in revenue was more than offset by a steep drop in margins. At least the drop is not what it was in Q2, only 6 percentage points, not 10.

Even fans, at least the rational ones, have always realized that Apple's growth could not continue at the pace it has been since the iPhone was introduced, and then the iPad. That cannot go on forever. But for the growth to come to a screaming halt was not what people expected. Yet this is what has happened over the past couple of quarters. A year ago, FQ3 revenue grew by more than 22%. Year over year growth this quarter stagnated at just 1%!
This is troubling, because while the margins seem to be stabilizing, Apple's estimate for next quarter is about the same as this one, we do not see the earnings growth here that we expect from Apple.
The Hidden Good News
Or has it?
The hidden fact that is revealed in the conference call, is that there was a lot more sell through than is apparent in the summary figures. It all centers around the inventory fluctuations. If you are filling up your channel inventories, then, by definition, you are making more products than you are selling to customers. If the channel is the same at beginning and end of a period, then for every unit you put in, you have sold one out. If inventory is being drawn down, then you are selling units that you are not replacing in the channel, i.e. you are earning dollars that will not show up on your income for that quarter.
As explained by Peter Oppenheimer, in the call:
Channel inventories declined sequentially by $1 billion during the June quarter this year meaning that sell-through was $36.3 billion. In contrast, channel inventory increased $700 million from the beginning to the end of the June quarter last year meaning that sell-through was $34.3 billion in that quarter. As such, our June quarter sell-through increased by $2 billion, or 6% year-over-year ahead of our 1% selling and revenue growth.
So actually, there is $2 Billion that did not show up in Apple's revenue that might otherwise have been there. This is hardly the 22% growth of last year, but still much better than the 1% reported. What company of this size would be disappointed with 6% growth?
This is not a huge amount relatively speaking, but it does add up to roughly $0.43 per share.
Disclosure: I am long AAPL. I wrote this article myself, and it expresses my own opinions. I am not receiving compensation for it (other than from Seeking Alpha). I have no business relationship with any company whose stock is mentioned in this article.