Apache Corporation (NYSE:APA) is divesting its Gulf of Mexico Shelf operation. The development is significant not only in light of the transaction's sheer size - $5.25 billion, including asset retirement liabilities - but also in that it involves one of Apache's foundational assets.
The divestiture is not unexpected. Apache previously announced plans to divest $4 billion in assets by year-end 2013 as part of its announced portfolio refocusing. The direction of Apache's strategic shift has also been clearly indicated: the company sees onshore unconventional plays as its new priority in North America, with particular emphasis on its core positions in the Permian and Anadarko basins.
The Gulf of Mexico Shelf transaction highlights what has been a major frustration to the company and its shareholders: poor valuation metrics relative to peers and weak stock price performance.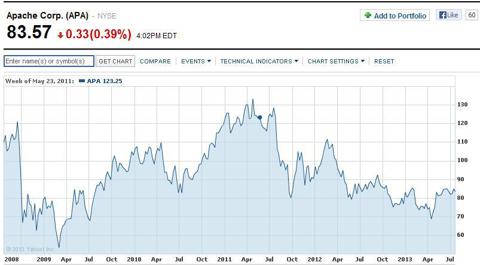 Click to enlarge
(Click to enlarge)
(Source: Yahoo Finance)
As illustrated on a slide from Apache's April presentation, the company's stock has been trapped in the valuation range of 3x-4x estimated 2013 EBITDA and Cash Flow. The very low multiple range is quite remarkable for a leading oil and gas operator of Apache's size.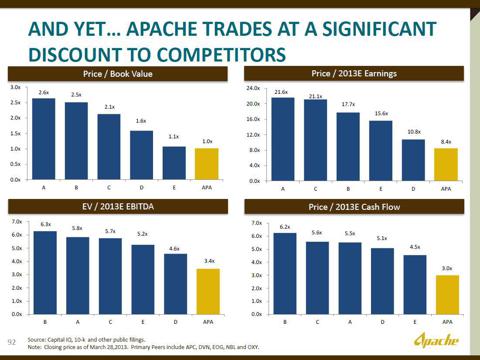 Click to enlarge
(Click to enlarge)
(Source: Apache Corporation April 2013 Investor Presentation)
The Gulf of Mexico transaction's metrics help one understand some of the factors contributing to Apache's valuation discount. The Gulf of Mexico properties are being sold at an estimated multiple of less than 3x 2013E EBITDA, reflecting fast natural declines of existing production, challenges of generating competitive returns from what is an increasingly mature asset base, and massive P&A liability (which is not included in the calculation of the multiple).
Despite a very high level of capital spending in the GOM Shelf division ($1.0 billion originally planned for 2013), Apache's production from the Gulf of Mexico region has been in a steep decline. I estimate double-digit decline in 2013 to extend the 14% decline posted in 2012.
A New Era for Apache?
Within the industry and investment community, Apache has a deserved reputation for being a standard-setter as it relates to operating efficiencies, technical expertise and organizational effectiveness. However, the company's very diverse portfolio has generated only moderate production growth rates that often compare unfavorably to results posted by some of its North American competitors. While Apache deserves credit for "living within cash flow," the 6% per share production growth rate that the company has achieved over the past ten years is underwhelming, taking into account exceptional strength of oil prices and, until recently, gas prices that the industry has enjoyed during the period.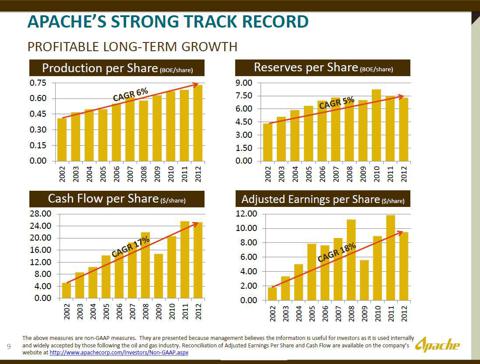 Click to enlarge
(Click to enlarge)
(Source: Apache Corporation's June 2013 Investor Presentation)
In North America, the company's cornerstone "acquire and exploit" strategy has been challenged by the rapid proliferation of high-growth, high-return shale plays. Similar to many other operators in the sector, Apache sees unrivaled growth prospects and investment returns in onshore horizontal oil and liquids-rich plays. On the other hand, as comes clear from the slide below, the Gulf of Mexico Shelf is not the only operating region where Apache is facing growth and profitability challenges.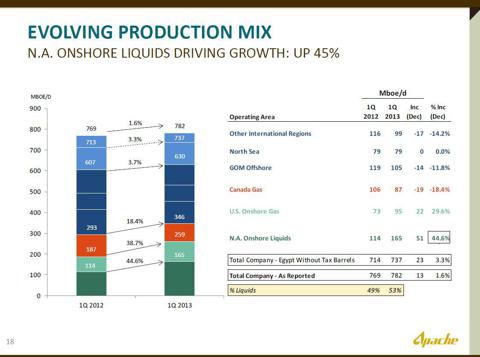 Click to enlarge
(Click to enlarge)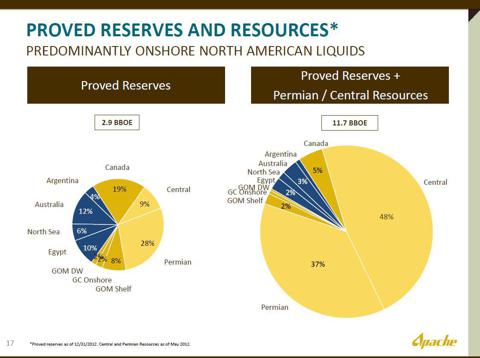 Click to enlarge
(Click to enlarge)
(Source: Apache Corporation's May 2013 Investor Presentation)
The announcement on July 18 did not lead to immediate stock price reaction. The bigger question remains, will Apache's divestiture program - which will likely involve additional assets sales - help redefine the company's valuation in the longer run? The answer will likely depend on the decisiveness with which Apache's management continues to streamline the company's very broad asset portfolio and redirect capital towards a focused set of the highest-return opportunities. This week's announcement certainly looks like an important big step in a right direction.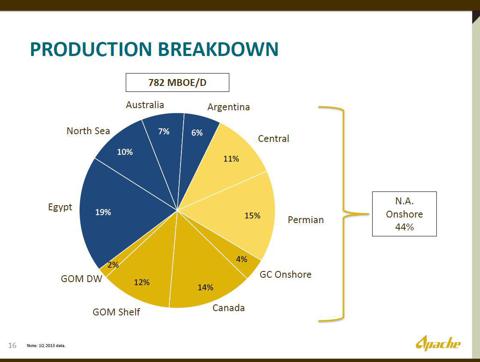 Click to enlarge
(Click to enlarge)
(Source: Apache Corporation's May 2013 Investor Presentation)
Apache announced that it intends to use proceeds to reduce debt and to repurchase common shares. It would be logical to expect accelerated development in the company's Permian and Central operating regions. Acquisitions also cannot be ruled out.
The Divestiture
On July 18, Apache announced that it has agreed to sell its Gulf of Mexico Shelf operations and properties to Fieldwood Energy, a portfolio company of Riverstone Holdings, a major energy-focused private equity firm, for cash proceeds of $3.75 billion. Fieldwood will assume all asset retirement obligations for these properties, which, as of June 30, 2013, Apache estimated at a discounted value of approximately $1.5 billion. As part of the transaction, Fieldwood hopes to retain substantially all of Apache's Gulf of Mexico Shelf employees.
Additionally, Fieldwood and Apache have agreed to jointly participate in deep exploration opportunities on the acquired assets, targeting high-potential prospects including subsalt horizons around known producing fields. Apache will retain 50 percent of its ownership interest in all exploration blocks and in horizons below production in developed blocks, where high-potential deep hydrocarbon plays are being tested. Apache's press release stated:
We remain excited about the potential associated with the emerging plays under existing salt domes, which is why we retained 50 percent of the deep rights on 406 blocks held by production and 50 percent of all rights in 146 primary term blocks.
Apache's Shelf portfolio - the largest operated asset base in Gulf waters to 1,000 feet deep - comprises more than 500 blocks with 1.9 million net acres and year-end 2012 estimated proved reserves of 133 million barrels of oil and natural gas liquids and 636 billion cubic feet of natural gas, of which over 75% is developed. In the first quarter of 2013, the fields averaged net production of approximately 50,000 barrels of oil and NGLs and 254 million cubic feet of natural gas per day. Over 90% of production is operated.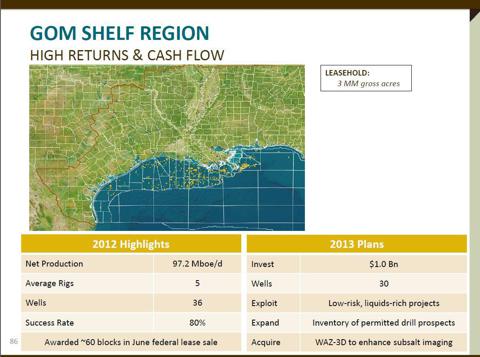 Click to enlarge
(Click to enlarge)
(Source: Apache Corporation's April 2013 Investor Presentation)
Fieldwood is led by CEO Matt McCarroll and other former senior executives of Dynamic Offshore Resources. This venture represents the second partnership between Riverstone and the Fieldwood management team, who previously partnered successfully to build Dynamic Offshore Resources into a significant operator on the Gulf of Mexico Shelf. Dynamic Offshore operations and assets were sold to SandRidge Energy (NYSE:SD) a year and a half ago in a cash and stock deal valued at $1.28 billion. Riverstone is an energy and power‐focused private investment firm with approximately $25 billion of equity capital raised across seven investment funds.
Disclosure: I have no positions in any stocks mentioned, and no plans to initiate any positions within the next 72 hours. I wrote this article myself, and it expresses my own opinions. I am not receiving compensation for it (other than from Seeking Alpha). I have no business relationship with any company whose stock is mentioned in this article.
Disclaimer: Opinions expressed in this article by the author are not an investment recommendation and are not meant to be relied upon in investment decisions. The author is not acting in an investment advisor capacity. The author's opinions expressed herein address only select aspects of potential investment in securities of Apache Corporation or other companies mentioned and cannot be a substitute for comprehensive investment analysis. Any analysis presented herein is illustrative in nature, limited in scope, based on an incomplete set of information, and has limitations to its accuracy. The author recommends that potential and existing investors conduct thorough investment research of their own, including detailed review of the company's SEC filings, and consult a qualified investment advisor. The information upon which this material is based was obtained from sources believed to be reliable, but has not been independently verified. Therefore, the author cannot guarantee its accuracy. Any opinions or estimates constitute the author's best judgment as of the date of publication, and are subject to change without notice.