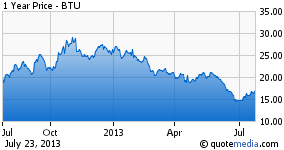 Earlier this month, I wrote up Peabody Energy (BTU) as being a perfect example of contrarian commodity investing, and this article is meant to be an update on the progress the company is making. While the desirability of coal as an energy fuel is justifiably tainted due to environmental concerns, the reality is that we have limited carbon fuels, which are vital to civilization, and coal is, and will be a huge part of the long-term solution. The current slowdowns in China and the U.S., in addition to the steep recession in Europe have temporarily decreased demand, but by the time these issues turn much more positive, Peabody could easily be trading at two times the current price. Many of the same analysts and market participants that are bearish at $17, will be bullish at $30, when the outlook for Asia in particular, is more optimistic. Long-term investors would be well-advised to build a position when pessimism is still near its peak, or risk paying up when the outlook gets cheery.
There is no doubt that coal demand growth has been constrained from the difficulties in Europe, and the slowdown that is occurring in China. The industry has faced excess supply in seaborne coal due to projects that were initiated when the environment was more robust. These symptoms seem to be more than priced into Peabody's stock at this juncture, so very little credit is being given to the longer-term outlook. China and India imports have risen 15% YTD to record levels, while Japan and Germany are increasingly shifting from nuclear to coal. Natural gas prices have risen considerably, making coal once again much more competitive than it had been last year.
Peabody expects seaborne thermal coal demand to increase from 50MM tons in 2013, to support the approximately 75 gigawatts of new generation that was initiated during this year. China and India are also expected to increase Metallurgical coal imports by 10% this year, and over the long-term there is very little doubt that these positive trends will continue. Of course it will ebb and flow but these countries have needs for carbon fuels that would be impossible to quench without coal, and Peabody Energy plays a critical role in that infrastructure. Low prices are making it exceptionally difficult for the high-cost producers to stay in business, which is causing producers in the two largest coal producing nations, China and the United States, to slow reduce production. Peabody management mentioned in the conference call that industry reports note that some 45% of the Shanxi producers are unprofitable at current prices. U.S. coal exports declined 30% in June as contracts continue to roll off and similar events are unfolding across the major producing countries.
In the United States coal markets, improving fundamentals are paving the way for brighter days. Natural gas generation, which was so in vogue in 2012, is actually down 15% YTD, as natural gas prices are up 50% YoY. U.S. coal generation is up 11% with industry shipments down 5% this year. Customer inventories for Powder River Basin coal are more than 25% below last year, to just over 60 days of supply. The company believes that there will be significant coal demand growth in both the Powder River Basin and the Illinois Basin, as some plants in the Eastern U.S. are retired. This trend bodes particularly well for Peabody, due to its heavy concentration in these areas. The company has reduced costs to sustain capital levels below the low-end of its traditional range of $1.20-$1.75 per ton, and can then invest for growth according to market conditions moving forward.
On July 23rd, Peabody Energy reported 2nd quarter revenues declined by 13% to $1.73 billion, and adjusted EBITDA of $254MM including $33MM in adverse one time charges, which was down from $450.1MM in the year ago period. This resulted in income from continuing operations of $101.4MM, or diluted earnings per share from continuing operations of $0.39, and adjusted diluted earnings per share of $0.33. The primary culprits for the decline in earnings were lower realized pricing from Mining Operations and lower Trading and Brokerage Results. Importantly, the company was able to reduce debt by more than $100MM in the quarter, while still retaining $518MM of cash at quarter end. Capital expenditures were $93MM, or less than half prior year levels. Peabody has taken painful steps to removed $130MM from the cost structure over the first half of 2013 and isn't done yet.
Source: BTU 2nd quarter 2013 Press Release
Australian Mining adjusted EBITDA was $112.5MM on a 5% YOY increase in production, and was impacted by roughly $200MM from lower pricing. Spending reductions and the positive impact of a declining Australian dollar drove a 6% improvement in costs per ton. The company's efforts to convert to owner-operated status and the completed remediation efforts at the PCI mines have actually lowered operating costs by 20% on a combined basis in relation to 2012 levels. During the quarter, Peabody shipped 4.1MM tons of met coal at an average price of $123 per short ton, and the company sold 2.6MM tons of seaborne thermal coal at an average price of $77 per short ton. Costs were $73 per ton.
U.S. Mining adjusted EBITDA was $261.7MM, which was roughly flat YoY, as a 6% decline in average unit costs mitigated lower realized pricing. Resource Management adjusted EBITDA was $42.4MM following the completion of land and reserve sales located primarily in the Midwest. Trading and Brokerage adjusted EBITDA was impacted by a court judgment resulting from a 2006 contract dispute, as well as price volatility and unfavorable mark-to-market movement on economic hedges. The company believes that these hedges should reverse in the 3rd quarter of 2013 as the underlying shipments are delivered. Peabody's management is forecasting that full-year costs will be 2-3% lower than the prior year.
Peabody forecasted 3rd quarter adjusted EBITDA of $210MM-$270MM and adjusted diluted earnings per share of ($0.16) to $0.09. These targets incorporate expected seasonal increases in U.S. volumes, carryover geologic issues in Australia and lower coal pricing. For the full-year, BTU expects to sell 230-250MM tons, including U.S. sales of 180-190MM tons, Australian sales of 33-36MM tons, and the remainder from Trading and Brokerage activities. The company expects that revenues per ton will be 5-10% higher than 2012 levels. Capital targets for the full-year were lowered by approximately 20% to $350-$450MM, highlighting the company's focus on disciplined capital allocation during this difficult period for the company.
With 267.5MM diluted shares outstanding and a recent price of $17.14, Peabody Energy has a market capitalization of roughly $4.585 billion, which is slightly greater than book value of $4.551.1 billion. The company ended the quarter with $5.962 billion of long-term debt, which is slightly offset by $518MM of cash and equivalents, for an enterprise value of $10.03 billion. At current prices, investors are paying just above $1 per proven and probable tons of coal. Even in a dismal pricing environment, BTU should do well in excess of $1 billion of adjusted EBITDA and peak adjusted EBITDA potential is greater than $2 billion. Peabody has an enormous ability to grow production over time and pricing will improve, but when it will and to what degrees it will are extremely difficult to forecast. This is the time to buy Peabody, when there are so many headwinds creating tremendous uncertainty, but due to the low price, I don't believe the risk is very great.
Disclosure: I am long BTU. I wrote this article myself, and it expresses my own opinions. I am not receiving compensation for it (other than from Seeking Alpha). I have no business relationship with any company whose stock is mentioned in this article.