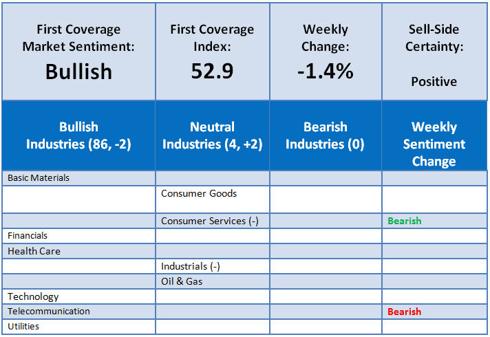 Click to enlarge
Sell-side taking cautious stance in dog days of summer
Recognize that headline above? The one about a "cautious stance?" You should; it's the same as last week. In fact, if we had to summarize the sentiment of the sell-side in one word, it would be… "cautious."
The sell-side is not just hesitant to allocate more capital to this market, but also extremely hesitant to call the rally over and take money off the table. In short, they're doing their best impersonation of a deer in headlights.
Just over one month ago, the sell-side turned bearish and got burned as the market rallied against them. This time, even as the market falls over 2% on Monday, the sell-side doesn't break ranks.
And while this is the third down sentiment week in a row, the sell-side seems hesitant to completely capitulate and change their advice to their buy-side clients. Sentiment remains just out of the bearish camp and in a neutral to bullish stance.
Sell-side waiting for data to be "beyond a reasonable doubt"

Last week we talked about the sell-side waiting for a catalyst, and it's hard to think they didn't get it in the data over the last seven days. July retail sales coming in at a negative 0.1% when all were expecting a positive number should have been enough to rock the boat…but it didn't. Consumer sentiment showing a decline on Friday when most again were expecting a positive trend to continue also should have been a "catalyst," but it wasn't.
So, clearly the sell-side was not simply waiting for a "catalyst"…they are waiting for THE Catalyst.
The sell-side has clearly moved from bullish to befuddled, and few are willing to demonstrate their forecasting ability and risk being burned for the second time in a month. Being early to a future market decline will just be remembered as being wrong.
For months, from March until July, the sell-side existed in a "Benefit of the Doubt" mode. During this period, all data was given the benefit of the doubt and used to justify a bullish market regardless of the underlying information. Clearly, the sell-side was right in positioning their clients to view the world through these rose-colored glasses.
But those days are behind us, and now it appears the sell-side is in the "Beyond a Reasonable Doubt" mode. Until the market data is so overwhelmingly bearish that they have no choice but to adjust their position, it is likely that the sell-side will continue to suggest clients already in the market stay long and those out of the market stay cautious.
While the sell-side will not likely be quick to turn on this bull market once they do switch, it is likely they will stay bearish for an extended duration of either time or decline depending on which comes first.
What tickers matter most?
While the overall sentiment might be stuck in neutral, that doesn't mean opinions about individual tickers aren't moving. Below are the tickers that underwent the largest bullish and bearish sentiment shifts during the last week.
Bullish shifts:

Bearish shifts:
Until next week …