Gold to Rally? "No," Says India
Gold prices are moving higher as markets price in the possibility the US Federal Reserve will hold its quantitative easing programs in place at their current rate, supporting stock markets and weakening the US dollar. Initial market reactions following Ben Bernanke's Congressional testimony last week led to renewed pressure on gold prices. This was based largely on the uncertainty present in Bernanke's comments, which essentially suggested that all options are still on the table and that further action will depend on the strength or weakness that is present in the economic data. These short-term trends reversed, however, as investors grew more accustomed to the fact that this also means the Fed could extend or even increase its pace of monthly asset purchases at a time when most of the market was positioning for quantitative easing cutbacks to be seen as early as September.
The result, this week, has been price moves into critical resistance levels closely watched by the market. Highs in the region of $1,340 have already been pierced, and this turns the short-term bias positive as long as we do not see any major failures here. This week, we have seen daily gains of more than 3%, and moves like this size have not been seen since for more than a year. As these moves are seen, holdings in the largest bullion-backed ETF, the SPDR Gold Trust ETF (NYSEARCA:GLD), continue to fall, and are now seen just above 930 metric tons (the lowest they have been since early 2009).
Potential Rally Limitations for GLD
Now that we have traveled through some important valuation levels in GLD, it is vital for those considering bullish exposure to look at potential factors that could limit the upside in any rallies seen into the end of the year. One of the first places to look is India, which was the world's largest gold consumer in 2012, and is currently implementing measures to limit imports (and, by extension, consumer demand) for the metal. The Reserve Bank of India (RBI) has placed most of its concerns on its widening current account deficit and plummeting currency, as the rupee hit new record lows against the U.S. dollar earlier in the month. Part of the central bank's strategy for dealing with these trends is to require stricter limitations on gold imports.
Recent measures enacted by the RBI require Indian gold importers to set aside 20% of all gold shipments for re-export. These requirements will apply to gold in all its reforms (unrefined materials, coins, etc.), with the remaining allotment held in customs bonded warehouses until at least 75% of the original shipment is sold overseas. Until this happens, the buyer will not be able to make additional gold purchases from foreign sources. These conditions will hand-cuff many buyers and reduce a large part of the incentive to buy gold in the first place. Demand constraints in the world's largest gold market create a scenario where prolonged rallies in gold are unrealistic. These measures from the RBI will remain in place as long as the problems in the current account deficit (now seen at $87.8, which is 4.8% of GDP) remain India's central economic obstacle.
Chart Perspective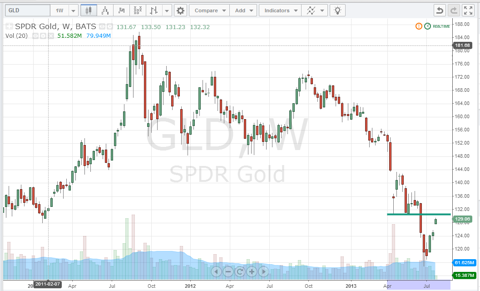 GLD is on the verge of carving itself into a new and higher trading range. A clear break of 130.40 suggests an elevated range defined by the aforementioned support and new resistance at 136.30. We will need to see a weekly close inside this range in order to confirm the bias.
UUP, which is a correlated indicator for new developments in GLD, is looking stronger based on its new series of higher lows stemming from the beginning of last year. A clear break of 22.95 suggests a long-term uptrend is in place.
Disclosure: I have no positions in any stocks mentioned, and no plans to initiate any positions within the next 72 hours. I wrote this article myself, and it expresses my own opinions. I am not receiving compensation for it (other than from Seeking Alpha). I have no business relationship with any company whose stock is mentioned in this article.