After the bell on Tuesday, Apple (NASDAQ:AAPL) reported its fiscal third quarter results. This third quarter was a throwaway quarter in my opinion, something I explained in my official Apple earnings preview. Apple reported an okay quarter for Q3, beating analyst estimates for revenues and earnings per share. However, the beat was not very convincing. After these results, I still like Apple for its future potential, but was a little disappointed with Apple's quarter.
Q3 Results:
The following table shows an overall breakdown of Apple's results over the past three fiscal Q3 periods.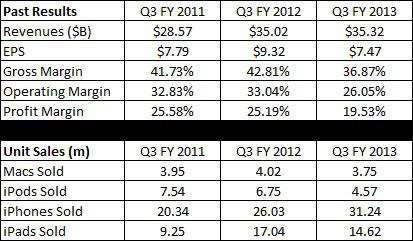 Apple's revenues of $35.323 billion were $50 million ahead of my estimate for $35.273 billion, so this was a slight beat. In terms of analyst expectations, analysts were looking for $35.01 billion. However, it is important to note that just one week ago, that estimate stood at $35.18 billion. Even the day before Apple reported (Monday), the average was $35.09 billion. So a lot of the beat had to do with analysts cutting their estimates into this report, something I said would happen. Apple had guided to revenues in a range of $33.5 billion to $35.5 billion, so they were at the upper end of their range.
Earnings per share came in at $7.47, which beat analyst estimates for $7.32. I was looking for $7.34 in earnings per share, based on a diluted share count of 939 million. Apple's diluted share count for the quarter was only 924.265 million, as Apple bought back $16 billion worth of stock during the quarter. I was counting on a fair amount of shares to be bought back, so if you were to use my diluted share count prediction, Apple would have come in at $7.35, a penny ahead of what I expected. Thus, this earnings beat was largely fueled by the buyback, and not operating results.
It is also interesting to note that if Apple had maintained the same diluted share count as Q2, 946.035 million, earnings per share would have come in at $7.29. That would have been a three cent miss. So in total, you are looking at a roughly 18 cent impact on earnings per share from the buyback. Analysts will now need to adjust their models going forward, reducing their share counts. I'll have more on the buyback in the balance sheet section.
Product Breakdown:
Let's first start with the iPhone. Apple sold 31.24 million iPhones, well more than the 26-27 million analysts were looking for, and the 27.65 million I was looking for. That is an extremely positive number on the face of it, meaning the iPhone drop-off was not as much as expected. However, this good comes with a bad. The average selling price for the iPhone was just $581.10, down more than $32 sequentially from the $613 plus we saw in fiscal Q2. I was looking for an average selling price of $595, so Apple was about $14 below that. What is the importance there? Well, there are a few factors at play. Apple either discounted a number of phones to generate sales, they came from markets where Apple does not generate as much revenues from the phone, or Apple sold many older models of the phone (4 and 4S). It seemed mostly due to the last point, higher sales of older phones, but it also appears that there was some discounting. If the 5 is not selling very well, Apple may be losing pricing power on newer phones, meaning Apple may be forced to come out with a cheaper, and lower margin, iPhone.
The second one I'll focus on is the iPad, which was a tremendous disappointment. I was looking for 17.6 million iPads with an average selling price of $435. Many saw my unit sales estimate as conservative, as the average street expectation called for about 18 million units, with many people higher than that. Apple came in at 14.62 million, three million below my "conservative" number. Apple did not refresh the iPad in March this year, which is why the sales number was so light, along with some channel inventory issues. The average selling price came in at $436.07, about a dollar higher than my estimate, and down $13 from Q2. We knew that the average price would come down thanks to the iPad mini, but it would have come down even more if Apple was at 15 or 16 million unit sales with a majority of those extra sales being from the mini.
Next we will move to the Mac line. Apple sold 3.754 million Macs, better than my 3.7 million expectation but a little below the 3.8 million or so analysts were looking for. Additionally, like the iPhone, the average selling price dropped. In Q3, the average Mac was sold for $1,303.41, down about $75 from the Q2 average. That is a huge drop, almost six percent, and I was looking for about a one percent drop to $1,365. We know that the PC industry is a bit weak right now, but that's a large drop in selling prices.
While the iPod is not the revenue driver it used to be, it still does count for the business. Apple sold 4.57 million iPods in the quarter, a bit below my 4.85 million estimate. The average selling price declined by more than $10 to just over $160. I was hoping for $168.
Apple also reported $5.169 billion of "other revenues", which includes iTunes, accessories, and other items. Revenues from iTunes, software, and services were up 25%, but accessories revenues were down 4%. This is probably due to the fact that three of Apple's product lines reported year over year unit sales drops. I was looking for $5.3 billion in "other revenues", so I was a little disappointed here. These numbers were a little hard to predict due to the new accessories revenue category, which is a change in reporting that Apple recently made.
Overall, I think you have to be a little disappointed here. Even though the iPhone reported 20% unit growth year over year, revenue growth only came in at 15%. Also, the iPad had a 14% drop in unit sales, but a 27% decline in revenues due to the iPad mini. Across the board, except for the iPad, selling prices were very weak. With such a large iPhone unit sales number, I would have expected a lot more from Apple.
Margin Analysis:
The following table shows Apple's three primary margin categories, which I will further use to analyze the quarter's results. Numbers may appear slightly off due to rounding.

Apple reported gross margins of 36.87%, which was at the higher end of their 36% to 37% guidance range, and above the 36.40% I was looking for. This is because the iPhone generated a higher percentage of revenues (51.39%) than what I modeled (46.64%), and the lower margin iPad had a lower percentage (18.04%) than what I modeled (21.70%). That seems all and well, but if you had told me ahead of time the unit sales numbers for the iPhone and iPad, I would have thought gross margins would have been much higher, maybe 37.50% or higher. Again, this was due to the low average selling price of the iPhone, which took a chunk out of margins.
On the operating side, Apple reported operating margins of 26.05%, which beat my prediction by 51 basis points. That's a little more than the 47 basis points Apple beat my gross margin forecast for. This is due to the fact that Apple came in slightly better than my expectation for operating expenses, as they reported $3.823 billion, and I was looking for $3.83 billion. Apple guided to $3.85 billion to $3.95 billion for Q3, so they came in under their guidance as well.
A little further down the income statement, things got a little worse. Apple reported other income of $234 million, well below the $300 million they had guided to. This is also down from the $288 million in the year ago period, most likely due to the $17 billion in debt Apple took on during the quarter. Apple will now be paying interest expenses, and this was the first quarter it happened. Also, Apple's effective tax rate was 26.87%, which was a bit above their guidance for 26%. On the bottom line, net profit margins were 19.53%, which was exactly what I predicted. Apple did better on the operating side than I was expecting, but the other income and tax rate caused those "gains" to reverse by the time we got down to net income.
Balance Sheet / Buyback Update:
The following table shows Apple's balance sheet and some selected financial ratios, at the end of Q3 compared against last year's period and this year's Q2.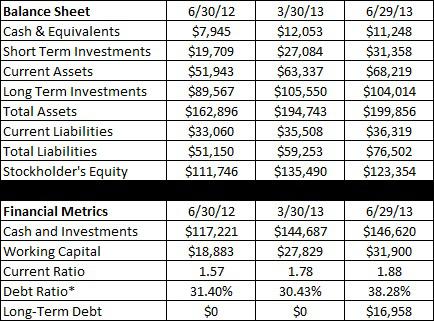 *Liabilities to Assets ratio.
Apple had $106 billion of that cash pile located overseas, which means about $40 billion of that cash was located in the United States. Remember, Apple can't use the overseas cash for dividends and buybacks unless they bring it back to the U.S., which would involve repatriation taxes. That's why Apple borrowed $17 billion to buy back stock, to avoid paying taxes.
There are a couple of key items to note here. Apple's cash and investments pile increased by $1.933 billion. This is despite the fact that Apple took out all that debt, because the company bought back $16 billion in stock during the quarter. Apple had planned to buy back $10 billion originally over three years, to offset the dilution from executive option dilution and other share-based payments. So that $10 billion was not really a buyback, it was an effort to just stop the share count from rising further. At Apple's Q2 earnings report, Apple boosted this plan by $50 billion.
Apple stated that they expected to repurchase all $60 billion by the end of calendar 2015, which means they have about two and one third years left. They have bought back $17.95 billion already, thanks to the huge Q3 purchase, but that means that the average per quarter the rest of the way won't be as much. I was hoping that Apple would have spread out the plan a little bit more, in case there were any disappointments along the way. It seems that Apple thought shares were cheap. That probably won't happen again in fiscal Q4, so investors must realize that. I showed above how the buyback had a tremendous impact on earnings per share.
It's interesting to note how this buyback was executed, and this is something covered on the conference call. Apple spent $4 billion to repurchase shares during the quarter. The other $12 billion was part of an accelerated repurchase. The accelerated purchase program is a bit complex, so here's what they said.
An initial delivery of 23.5 million shares was made under this program with the final number of shares delivered in average price per share to be determined at the conclusion of the program, based on the volume weighted average purchase price of Apple's stock over the program period, which will conclude in fiscal '14.
Q4 Guidance:
Apple gave the following guidance for fiscal Q4:
Revenues between $34 billion and $37 billion.
Gross margin between 36% and 37%.
Operating expenses between $3.9 billion and $3.95 billion.
Other income of $200 million.
Tax rate of 26.5%
This guidance is slightly disappointing in my opinion. I mentioned in my preview article that Apple was up against a tough Q4 comparable, where they had $35.97 billion in revenues last year. Remember, Apple launched the iPhone 5 with about ten days left in the quarter, which provided a nice late revenue boost. So at the midpoint of Apple's guidance, Apple is guiding to a year over year decline in Q4 revenues. They did the same thing with Q3, but still managed to show a $300 million increase. Apple hit the high end of my expected guidance at $37 billion, but my low end expectation was $35 billion.
It's very interesting to note how analyst estimates have changed for Q4 over time. As I've continued to state, Apple analysts always panic into the quarter. They lower estimates again and again, which made the Q3 beat bigger, and made the Q4 guidance look a little better. The following table shows a brief history of the average revenue and earnings estimate for fiscal Q4.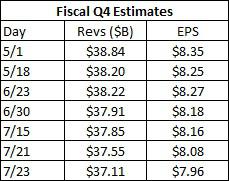 On the last day before earnings, since there were no changes on Monday, the average revenue estimate dropped quite a bit. In the past two weeks, the average has come down by about $750 million. Apple's guidance would have been much more disappointing had the analyst average still been near $38 billion. Again, this is the game analysts can play with any stock, and with Apple, it has gotten quite predictable.
This disappointing Q4 revenue guidance also questions the launch of a potential cheaper iPhone or a revamped iPhone 5S. Now, there have been some concerns that Apple's 5S supply has been limited by component issues. So it is possible that Apple will launch the new phone during the quarter, but might not have as many to sell as they would have hoped. But if they are also launching a cheaper version, or any other new products, you would have expected revenue guidance to be higher, maybe around $38 billion. This means that most launches should be in fiscal Q1 (calendar Q4) or in 2014, something I'll expand on in the next section.
Apple does not provide earnings per share guidance anymore, so we have to estimate where they could be. If you use the midpoints of their Q4 guidance for revenues and gross margins, I come up with $7.34. That is also based on the diluted share count from Q3, so if they buy back any shares, earnings per share will improve. Also, they could come in at the higher end of their ranges, which they did in Q3. Still though, analysts were looking for $7.96 in Q4, so this forecast is probably a bit light. It's even lighter when you consider how much estimates have come down in recent weeks, as I showed above.
Making the long case for Apple:
While there were some disappointments with the Q3 results, it overall was a good quarter. Like I said, it really was a throwaway quarter, and many are focused on Apple's future. Q4 guidance was a little light. So why should investors be long Apple? Let me make my case here.
First, the Q4 guidance. It could have been worse. The guidance was certainly higher than the company's Q3 guidance. The top end of the Q4 guidance was $1.5 billion more than the Q3 top end. That leads me to believe something is coming during the quarter. If nothing was coming, guidance would be in the low $30 billion area, because you would see a continued sales drop-off as we got closer to new products. With guidance in the mid $30 billion range, that means something is coming. Now it could be a supply constrained product, but for now, that's okay. Something is better than nothing.
The second reason is the buyback. Apple bought back a lot of stock in Q3, which significantly improved earnings per share. While I would have liked to see the buyback a little more spread out, Apple made a clear signal. They wanted to return capital to shareholders, and they believed the stock was undervalued. This will improve earnings per share even more in Q4 and Q1 than originally thought, which means we might have to start raising earnings estimates for certain quarters. Raising earnings estimates has not been a phrase used much with Apple in the past year.
Third, the death of the iPhone and saturation of the smartphone market were greatly exaggerated. Apple produced a tremendous sales figure in terms of units, but selling prices were low. Looking back at the Q3 results, it was better for an iPhone blowout than an iPad blowout. The iPhone is much higher margin, which is why gross margins came in towards the upper end of the range, instead of the bottom end like Q2. People still are buying lots of iPhones, and that's good when it is your top product and a higher margin one.
Another reason to be positive is the following quote provided directly in the earnings release, not the conference call. This is what CEO Tim Cook had to say:
We are really excited about the upcoming releases of iOS 7 and OS X Mavericks, and we are laser-focused and working hard on some amazing new products that we will introduce in the fall and across 2014.
For those that believed Apple could not innovate anymore, you may be wrong. Cook did not just say that Apple has some new products coming, he used the phrase "laser-focused". There have been many that have questioned Cook's leadership in the past, and I believe that the above statement proves he does have a clue right now. This wasn't a quote buried in the conference call, it was a direct statement in the earnings release from the CEO.
Also, you cannot forget about the dividend! Apple is paying shareholders $12.20 a year, which represented about a 2.80% yield based on after-hours prices. That yield would be 30 basis points more than a 10-Year U.S. Treasury bond currently.
The final point I'll make here is in regards to my Apple price target that everyone asks about. For those that have read my articles, you know that I used a rolling price target. What does that mean? Well, it means I give a price to earnings multiple to the stock based on the current analyst estimate. So the following table was the last update I had on my price target, in terms of my valuation table.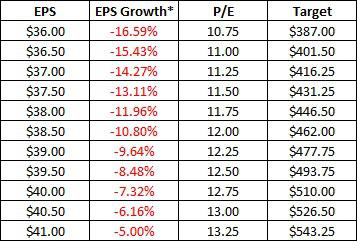 *Adjusted for extra week in previous fiscal year.
The last time I mentioned this table, the average estimate for this year's earnings was $39.60, which I implied meant a price target of $497 after the October report of fiscal Q4. Going into Tuesday's report, the average estimate for the year was $39.32. Apple beat by 15 cents in Q3, but Q4 guidance was a little light. So let's assume $39.25 for this fiscal year. That implies a price target of roughly $485, implying about $50 of upside from where Apple traded in the after-hours session. My belief is that the promise of new product launches would help the stock going forward, and the next three months will certainly be key to watch.
Final Thoughts:
Apple's Q3 report was decent, but not spectacular by any means. While the company sold a ton of iPhones, the average selling price was really disappointing. Mac sales were a bit light, and selling prices were worse. Apple's iPad sales greatly missed expectations, but selling prices were fairly decent in my opinion. Apple's "other revenues" and iPod line also disappointed slightly. Thanks to the iPhone surprise, Apple's margins were decent. The company bought back a ton of shares, which really helped the EPS figure.
In terms of my predictions, I think I did a pretty good job. I was almost dead on with revenues, and that isn't the first time I've been able to say that. My Mac number was fairly close, and my net profit margin figure was spot on. While my iPad and iPhone numbers were a bit off, I wasn't as far off as the analyst community. I was a little more optimistic than most on the iPhone, and a little more negative on the iPad. On the bottom line, I would have been just a penny off had Apple's share count been what I was expecting.
Apple's stock rose about 4% in the after-hours session, which is a fair gain in my opinion. Everyone seems to be focusing on the iPhone sales unit number, and that's not a bad thing to look at. I think that Apple is a decent buy here, and my price target of roughly $485 reflects that. Of course, I have always advised to buy on pullbacks, so if Apple (or the market) pulls back, it wouldn't be a bad idea to buy if shares went back to the $400 to $425 range. Apple's future seems a little brighter today than it did at this time yesterday. I might have been slightly disappointed with some of the Q3 numbers, but I'm a little more hopeful on Apple's future.
Disclosure: I have no positions in any stocks mentioned, and no plans to initiate any positions within the next 72 hours. I wrote this article myself, and it expresses my own opinions. I am not receiving compensation for it (other than from Seeking Alpha). I have no business relationship with any company whose stock is mentioned in this article. Investors are always reminded that before making any investment, you should do your own proper due diligence on any name directly or indirectly mentioned in this article. Investors should also consider seeking advice from a broker or financial adviser before making any investment decisions. Any material in this article should be considered general information, and not relied on as a formal investment recommendation.