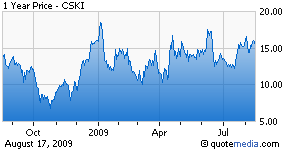 China Sky One Medical (NSDQ: CSKI) reported record high results for Q2 of 2009, and the company reiterated its guidance for full-year 2009. During the second quarter, revenue climbed 36% to $32.2 million, while net income rose 17% to $9.5 million, or 57 cents per share, fully diluted. The results were in line with analysts' estimates, which called for $32.3 million in revenue and profits of 54 cents per share.

China Sky One said it is on track to achieve its 2009 goals of $128-130 million of revenue, a 40% increase, and net income of $38-39 million.

One of the bright spots in China Sky One's portfolio is its relatively new bio-engineering products, consisting of three diagnostic testing kits. Sales of these products rose 72% in 2009's Q2 to $3.7 million.

China Sky One received SFDA approval to manufacture five new products during the period, and it also signed a $10 million agreement with Taiwan Golden Biotechnology Corporation to develop a novel cancer drug, Antroquinonol. The drug is a stronger version of a TCM used in Taiwan; it will be tested as a treatment for liver and lung cancer. The two companies will develop the drug jointly, though China Sky One will have exclusive sales rights for mainland China.

China Sky One has also signed up PricewaterhouseCoopers to oversee its financial reporting and control procedures. The company has been attacked by short sellers, both for the questionable efficacy of weight loss patch and for questions about its financial reporting. One of the short sellers, Manual Asensio, did not think using PWC as a consultant would make a meaningful difference in the validity of the company's financial reports. He wanted PWC to do the actual accounting.

China Sky One ended the quarter with $48.2 million in cash and $66.0 million in working capital. It has no debt. It generated $17.8 million in net cash flow from operating activities in the first six months of 2009.

The company is using much of that money to build a new corporate headquarters, including an R&D center and cord blood stem cell and tissue bank, in the Harbin Song Bei New Development District. The total cost of the project is $13 million, of which about $9.9 million has already been spent.

China Sky One has a market capitalization of $251 million and low price-earnings ratio of just 7.4, based on trailing 12 months results.

Disclosure: none.