Oil is the driving force behind the commodities market right now and with the precious metals now falling into line and moving higher again commodities are attracting attention again. We remain long our oil positions but think that some reorganization within some of our portfolios may be justified. We are currently evaluating the situation but will report to readers as soon as we make a decision one way or another.
We would point out that those who have not added exposure to the Utica drillers might have an opportunity to do so here ahead of the earnings releases and operational updates which generally come out near the end of the quarter, although Gulfport did release production figures yesterday.
Chart of the Day:
We received a question regarding the commodity ETFs yesterday and as this one has been asked repeatedly recently we will address it this morning. The question centered around whether buying the US Oil Fund (NYSEARCA:USO) ETF was a good idea, especially as it has outperformed as of late. Short answer, NO! We dislike the ETFs that focus on the actual commodities and are sometimes shocked at how quickly investors forget the pitfalls of these instruments. For these to work, and to work all the time, the futures market has to be on your side as it pertains to backwardation/contango and your position. We say forget the futures market and simply buy a solid oil company with stable oil production at a minimum (although we would prefer growing production). That is our opinion after seeing so many investors burned trying to play commodities via these funds, especially the natural gas funds.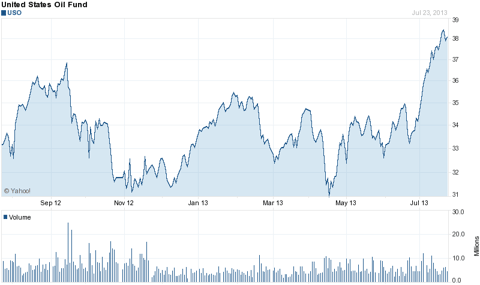 Source: Yahoo Finance
Commodity prices this morning are as follows:
Gold: $1341.30/ounce, up by $6.60/ounce
Silver: $20.28/ounce, up by $0.026/ounce
Oil: $106.94/barrel, down by $0.29/barrel
RBOB Gas: $3.055/gallon, down by $0.0041/gallon
Natural Gas: $3.706/MMbtu, down by $0.037/MMbtu
Copper: $3.228/pound, up by $0.003/pound
Platinum: $1448.00/ounce, up by $4.90/ounce
Oil & Natural Gas
Gulfport Energy (NASDAQ:GPOR) continued higher yesterday as the shares hit fresh 52-week and all-time highs on the back of their operational update (see press release here). The company was able to meet their production estimates this quarter as they reported production of 8.959 BOEPD versus previous guidance of 8.500-9,000 BOEPD estimated production. The numbers came in at the high end of the guidance and one could argue that the company was less optimistic after the last two quarters, but hitting the top end of the guidance and the overall production numbers from the Utica demonstrate that the midstream assets are being built out and Gulfport is tying its wells in.
We have had a very nice run here, but with the resistance we have run into near these levels has paused momentum. One would think that a move through $55/share would take us to $60/share.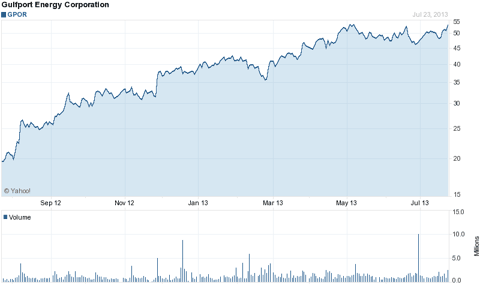 Source: Yahoo Finance
The company increased its acreage position in the core Utica by 8,000 gross acres and will pay for that with current cash on hand. We like that acquisition as Gulfport is one of the few names able to drill long laterals (more on this to follow) and adding these small acreage tracts to their larger overall portfolio indicates to us that they adding property where they need it in order to optimize drilling. The company also reported that the McCort 1-28H well produced 2,701 BOEPD (using an average 7 day sales rate) and was one of at least two wells tied in during the quarter. Based off of the press release it appears that lateral lengths are increasing and that the resting periods that Gulfport is deploying are decreasing, two things which should lead to increased production (over both the short-term and the long-term). We will have to get more on all of this Wednesday August 7, 2013 when the company has scheduled a conference call to discuss the quarter.
The news from Gulfport makes us wonder what Chesapeake Energy (NYSE:CHK) is seeing in their results from the play. Chesapeake is not in the core of the play like Gulfport is, but they are very close and more importantly they have a vast contiguous acreage position which they can drill long horizontals on. The midstream assets have been a problem for everyone, however Chesapeake, along with its joint venture partners, has been building certain key infrastructure pieces in order to remove some of the bottlenecks of bringing production online and getting it to market. If Gulfport is any indication, Chesapeake's numbers from the Utica should be strong.
It has been a volatile ride for investors, but watch for the results from the Utica. If the company can start delivering from another area while maintaining success in their core 'oily' plays then shares ARE set to move higher. We do need to see this resistance taken out first though...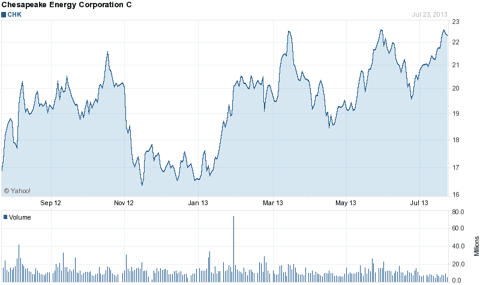 Source: Yahoo Finance
Freeport-McMoRan (NYSE:FCX) provided a beat yesterday as profits came in $0.05 ahead of estimates (press release is located here). The company did miss on revenues, however they raised their estimate for operating cash flow by $300 million to $5.8 billion. Make no mistake, the company had a very low bar set for it due to its exposure to precious metals and copper but a 'eat is a beat' as we were always taught. Margins were strong in the oil and gas segment that the company recently acquired and we would bet that if WTI pricing remains steady, along with metals prices, that the company could have a few more surprises for investors moving forward.
Coal
Peabody Energy (BTU) blew us and probably everyone else out of the water with their earnings of $0.33/share as all the numbers we saw were calling for a new loss and the consensus being a net loss of $0.05/share. The company's cost cutting measures are paying off, but the big beat was the result of a tax benefit and not a turnaround in the company's operations. One thing to watch here is that although the US operations seem to have bottomed out, the Australian operations now seem to be experiencing the pricing pressures that already took place in North America. Realized price per ton fell by 20% in Australia while dropping less than 5% in North America. If China does not see higher economic growth and next quarter we see Australian prices having taken another quarterly hit, then Peabody may have some issues to deal with.
Disclosure: I am long GPOR. I wrote this article myself, and it expresses my own opinions. I am not receiving compensation for it (other than from Seeking Alpha). I have no business relationship with any company whose stock is mentioned in this article.