Pharmaceutical and personal care giant Johnson & Johnson (NYSE:JNJ) reported fantastic second-quarter results. Revenue surged 9% year-over-year to $17.9 billion, easily exceeding consensus expectations. Excluding the impact of one-time events, earnings per share also came in ahead of consensus estimates, growing 14% year-over-year to $1.48. Free cash flow year-to-date is roughly $6 billion, equal to approximately 17% of revenues.
Johnson & Johnson grew at a solid clip in both the U.S. and abroad, with revenue expansion in the U.S. of 8% year-over-year and international currency-neutral revenue growth of 12%. Importantly, the firm is experiencing tremendous growth in BRIC (Brazil, Russia, India, China) nations, as shown below.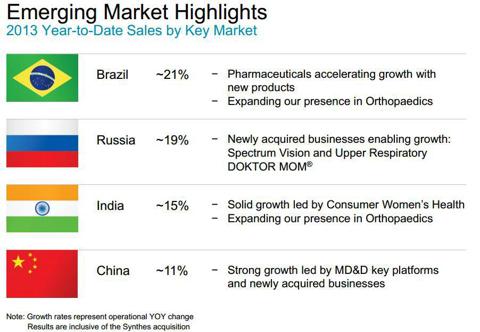 Click to enlarge
Image Source: JNJ Q2 FY2013 Investor presentation
Not surprisingly, growth in China lagged that of the other BRIC countries, consistent with what we've heard from other companies. Nonetheless, revenue advanced at a double-digit clip in the country, and growth in the other BRIC nations should continue to compensate for the reduced rate of expansion in China.
On a segment basis, we're seeing fantastic performance from the firm's 'Medical Devices and Diagnostics (MD&D)' and 'Pharmaceuticals' segments, even though the 'Consumer' products group is growing at a rate roughly in line with global economic growth.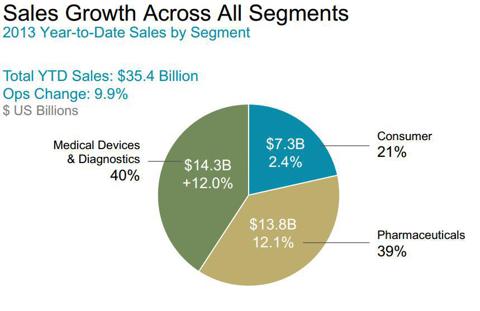 Click to enlarge
Image Source: JNJ Q2 FY2013 Investor Presentation
With the acquisition of Synthes in 2012, however, the firm's revenue mix has shifted largely in favor of the two higher-growth segments.
Performance in the MD&D segment diverged in the second quarter, with operational revenues from diagnostics increasing only 2.5% while devices revenue surged across its various segments. Cardiovascular sales jumped 8% year-over-year, and orthopedics revenue, greatly boosted by Synthes, surged 48% year-over-year. With additional synergies and integration to come, Johnson & Johnson will be able to expand the reach of Synthes' already wonderful business.
As for its 'Pharmaceuticals' division, segment sales are up 12% year-to-date, growing at roughly the same clip as MD&D. Because of the firm's other businesses, investors often forget that Johnson & Johnson has a terrific pharmaceutical operation that is one of the largest in the world. Successful launches of Zytiga, Xarelto, and Incivo helped drive sales growth during the second quarter. Zytiga saw its sales jump 70% year-over-year during the quarter to $395 million. The drug is well on its way to sales exceeding $1 billion in 2013.
Johnson & Johnson is confident in its product-line extensions as well as its drug pipeline. CEO Alex Gorsky sounded particularly excited about a new leukemia treatment, saying on the conference call:
"…ibrutinib became one of the first medicines to be filed with the FDA (under) the new breakthrough therapy designation. And if approved, it will be a first-in-class treatment option for patients who received prior therapy for chronic lymphocytic leukemia and small lymphocytic lymphoma, and also for patients who received prior therapy for mantle cell lymphoma; (the) population today ha(s) very limited options."
Johnson & Johnson's 'Consumer' business was relatively stable during the second quarter, with global sales up 1.1% year-over-year to $3.6 billion. After a string of recalls and manufacturing issues punished the firm during 2012, Johnson & Johnson continues to rebuild its SKU lineup. By year-end, the company believes it will have a significant number of its core OTC brands and SKUs back on the shelves.
Looking ahead, the company raised its full-year earnings guidance to $5.41-$5.47 per share from its previous guidance range of $5.35-$5.45 per share. The firm also announced its third-quarter dividend of $0.66 per share, equal to the prior quarter.
Valuentum's Take
Johnson & Johnson remains a core holding in our Dividend Growth Newsletter portfolio, and our yield-on-cost is now in excess of 4% (with capital appreciation of 37%). Though we're not looking to put fresh capital to work in the company at current levels, we think the firm's long-term tailwinds remain intact.
Disclosure: I have no positions in any stocks mentioned, and no plans to initiate any positions within the next 72 hours. I wrote this article myself, and it expresses my own opinions. I am not receiving compensation for it (other than from Seeking Alpha). I have no business relationship with any company whose stock is mentioned in this article.
Additional disclosure: JNJ is included in our Dividend Growth portfolio.