Peabody Energy (BTU), the leading coal company, reported its Q2'13 financial results yesterday with an earnings surprise. Better than expected earnings were primarily driven by cost control efforts under taken by the company at its Australian and U.S. operating segments. The company also provided favorable EBITDA guidance for Q3'13 and lowered CAPEX for 2013 full year.
Revenues for the second quarter stood at $1.73 billion, down 13% year on year basis. The drop in the revenues was due to lower realized coal pricing. The company was able to sell 60.8 million tons of coal, up 3.6 million tons as compared to Q2'13. BTU posted adjusted Q2'13 earnings of $0.33 cents, above the consensus ($0.05) loss per share. Reported adjusted EPS for the recent quarter was also above the BTU earnings guidance range of ($0.25) to $0.01 per share for Q2'13. Adjusted EBITDA of $254 million for Q2'13 was within management guidance range of $240-$300 million, 8% lower than the consensus. Adjusted EBITDA for the quarter was adversely affected by $32.5 million court charges and $20.4 million loss in Trading and Brokerage operations.
Earnings for the quarter came out to be better than expected due to aggressive cost containment measures and improved productivity at the Australian and the U.S. coal mines; these measures resulted in lower operating costs per ton. Operating costs per ton decreased by 6.2% and 5.5% for Australian and the U.S. operations, respectively. The company also announced that it will further reduce its work force across its Australian coal operations by 170 positions, in response to challenging environment for the industry.
BTU is targeting 3Q'13 adjusted EBITDA in range of $210-$270 million, consistent with consensus estimates of $243 million. EPS guidance for Q3'13 came out to be (0.16)-$0.09, in contrast analysts have estimated a loss per share of $0.15 for Q3'13. The company has lowered its 2013 full year Australian costs guidance range in the mid-$70s per ton as compared to prior guidance of $80 per ton for 2013. Also, the company is expecting a 2%-3% decrease in operating cost for the U.S. operations. CAPEX for 2013 has been reduced by $100 million to $350-$450 million. The ongoing cost containment efforts by the company support its bottom line in the tough business conditions.
BTU reiterated its global sales volume guidance of 230-250 million tons for 2013 full year, which I believe should have been reduced to address the oversupplied market. Given the 16% drop in met coal benchmark price for 3Q'13, production cuts are required for quick recovery in met coal price. Arch Coal (ACI) and Alpha Natural Resources (ANR) have continued to close mines in response to weak met coal market.
Despite weak met coal market, BTU is expected to benefit from increased thermal coal consumption by electricity generators. U.S. coal consumption has increased significantly YTD and stockpile levels at electricity power plants have decreased notably, benefiting the U.S. coal industry. The U.S. coal consumption for electricity generation is likely to grow by 50-70 million tons for 2013 full year. According to Energy Information Administration [EIA], coal fired electricity generation is expected to increase by 2.7% in 2013 year on year basis. The following chart shows the decreasing coal stockpiles at electricity power plants.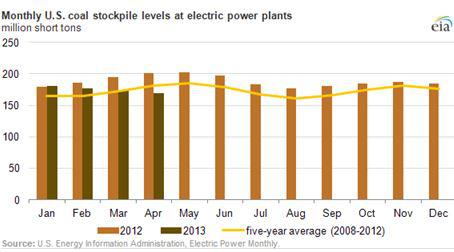 Source: eia.gov
Conclusion
Despite weak met coal price, I believe that continuing efforts to lower operating costs and increasing thermal coal consumption bode well for the company. Also, the guidance for 3Q'13, especially for EBITDA guidance of $210-270 million, will give confidence to the investors. In the current difficult business conditions in the industry, BTU has maintained its efforts to support its earnings and thus remains the best positioned company among its peers.
Disclosure: I have no positions in any stocks mentioned, and no plans to initiate any positions within the next 72 hours. I wrote this article myself, and it expresses my own opinions. I am not receiving compensation for it (other than from Seeking Alpha). I have no business relationship with any company whose stock is mentioned in this article.