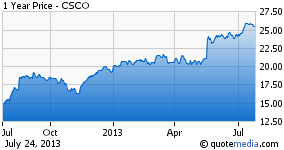 Shares of Cisco Systems (NASDAQ:CSCO) are hardly reacting to the firm's proposal to acquire Sourcefire (NASDAQ:FIRE). The deal is expensive on current valuation multiples but gives the company access to key employees, product and technologies to boost its offerings in the security field going forwards.
The sound strategic rationale of the deal, the very modest valuation of Cisco itself and continued payouts to its shareholders continue to make an investment in the firm appealing.
The Deal
Cisco Systems announced that it has entered into a definitive agreement to acquire Sourcefire, a leader in intelligent cyber security solutions.
Cisco has agreed to pay $76 per share in cash for each share of Sourcefire, including outstanding equity awards and retention-based incentives, valuing the company at $2.7 billion. The offer represents a 29% premium compared to Monday's closing price.
The companies will combine their products, technologies and research teams to provide advanced protection across the entire attack continuum. Sourcefire currently employs about 650 workers.
Sourcefire's solutions, unlike traditional disparate products, are well equipped to protect users and organizations, which access sensitive data on mobile devices and via the cloud. The strategic deal should increase Cisco's research capacity, improve its intelligence and thereby create a better service for its customers.
Cisco's Corporate Development vice president Hilton Romanski commented on the rationale behind the deal, "Sourcefire aligns well with Cisco's future vision for security and supports the key pillars of our security strategy. Through our shared view of the critical role the network must play in cyber security and threat defense, we have a unique opportunity to deliver the most comprehensive approach to security in the market."
Sourcefire generated annual revenues of $223.1 million for 2012, up almost 35% on the year before. Net income fell by roughly a fifth towards $5.0 million.
While Cisco values the company at $2.7 billion, Sourcefire operates with a net cash position of just above the $200 million mark. The adjusted $2.5 billion price tag values Sourcefire's operating assets at 11 times annual revenues.
The deal will be slightly dilutive to 2014's non-GAAP earnings due to purchase accounting adjustments and integration costs.
The deal has already been approved by the board of directors of both companies. The deal is expected to close during the second half of 2013 and is subject to normal closing conditions, including regulatory reviews.
Valuation
Cisco Systems ended its third quarter of its fiscal 2013 with $47.4 billion in cash, equivalents and short-term investments. The company operates with $16.2 billion in total debt, for a solid net cash position of approximately $31 billion. As Cisco has plenty of liquidity, financing of the deal should be easily possible within existing means.
Revenues for the first three quarters of the year came in at $36.19 billion, up 5.3% on the comparable period a year earlier. Net income rose by 26% to $7.71 billion. At this rate Cisco is on track to generate annual revenues of $49 billion on which it could earn around $10 billion.
Trading around $25.50 per share, the market values Cisco Systems at roughly $137 billion. This values operating assets of the firm at $106 billion. As such, operating assets are valued around 2.2 times annual revenues and 10-11 times annual earnings.
Cisco Systems currently pays a quarterly dividend of $0.17 per share, for an annual dividend yield of 2.6%.
Some Historical Perspective
Over the past decade, shares of Cisco have consolidated resulting in relative modest returns for its shareholders. Shares rose from $20 in 2003 to highs around $33 in 2007.
Shares fell back to lows of $15 in 2009 and in 2011 on serious worries about the competitiveness of the firm. After Cisco has restored revenue and profit growth, shares have risen to current levels around $25 per share at the moment. In 2013 alone, shares have already returned some 30%.
Between its fiscal year of 2009 and 2012, Cisco has reported a cumulative revenue growth of around 28% towards $46 billion. Net income rose by 31% in the meantime towards $8.0 billion, with results expected to improve further into its fiscal 2013. Over the time period, Cisco has retired almost a tenth of its shares outstanding.
Investment Thesis
Sourcefire has been a great success. The company was founded in 2001 and went public in 2007 at $15 per share. Shares have five-folded from that period driven by solid revenue growth. Revenue growth, which came in at 35% for the full year of 2012, slowed down to 21% over the past quarter.
The valuation is a bit high, which is not surprising after CEO John Chambers gave Cisco's unit a blank check to reinforce its security offerings. The $2.5 billion deal values Sourcefire at 11 times annual sales, a huge premium compared to Cisco's valuation of 2.2 times annual revenues for its operating assets. Within Cisco's corporate network, Sourcefire has the potential to grow much faster with an expanded sales force, access to important relationships and greater financial resources.
Shares of Sourcefire's competitor Palo Alto Networks (NYSE:PANW) initially jumped upwards on the back of the news. Shares of Fortinet (NASDAQ:FTNT) rose sharply as well, but both companies have seen intra-day reversals.
Some investors bid up shares in these competing companies on hopes of a similar offer made by large players such as IBM (NYSE:IBM), Juniper Networks (NYSE:JNPR) or Symantec (NASDAQ:SYMC). If this does not materialize, these firms have to compete against a much stronger Sourcefire, backed by Cisco.
Sourcefire's intrusion products give Cisco a big win in the market for corporate to government customers, which made up roughly a fifth of total revenues. These revenues are really lucrative as the firm can provide firewalls, intrusion detectors and malware protection at premium prices. Cisco's extensive collaboration with government decision makers could be really helpful as well.
Back in May, after Cisco released its third quarter results I took a look at the prospects for the company. Trading around $24 per share, I concluded that shares offered great appeal at the time.
Today I reiterate my stance. Despite the expensive deal on valuation multiple terms, the absolute amounts are tiny for a firm the size of Cisco. Yet the transaction provides strategic direction, products and technologies to compete in the coming years.
Trading around 10-11 times earnings, after adjusting for the net cash position, shares of Cisco offer great value. The 2.6% dividend yield and share repurchases are whipped cream on top of the cake.
Disclosure: I have no positions in any stocks mentioned, and no plans to initiate any positions within the next 72 hours. I wrote this article myself, and it expresses my own opinions. I am not receiving compensation for it (other than from Seeking Alpha). I have no business relationship with any company whose stock is mentioned in this article.