By Carla Fried
For all the Chicken Little scampering about during the past six weeks, Wall Street analysts remain a pretty upbeat bunch. According to Factset's analysis of price targets, analysts expect the S&P 500 to climb 10.2% for the 12 months through June 2014.
Now, yes, of course, a permanent state of bullishness is a pre-condition of employment for most analysts. Nearly half of current stock recommendations out of the street are Buys and 46% are Holds. That leaves just 5% as Sells. This despite the fact that a quick look at the YCharts Stock Screener reveals that 17% of the stocks in the S&P 500 currently trade at trailing PE ratios that are at least double the index average of 14.
It seems easier to just slap a hold on something than stick your neck out and call out a bad value. And that's not even touching the subject of companies with bad business models (or execution) no matter their valuation.
That said, when the markets are on a roll, as they have been for the past 12 months, a predisposition toward bullishness makes one look smart. According to Factset, in the past 12 months through June, analysts were better at pegging the market's performance than their more measured counterparts, market strategists. Analysts undershot the 18% gain for the S&P 500 by just 3%; strategists were off by 12%. For the record, the strategists expect the S&P 500 to climb just 0.3% over the next 12 months.
Conducting your own financial research is the key to any decision, but if you're looking for some leads, the analyst community expects the most upside over the next 12 months to come from today's laggards. That makes sense as we're in year four of a bull market; with plenty of stocks trading at or near their all-time highs, the best values require rotating into the segments that have been trailing.
That's an argument for taking a look at the energy sector. Analysts are the most bullish on energy stocks going forward; the average 12-month price target for S&P 500 energy stocks is 14% above where the group started in July. Sixty percent of the energy sector is rated a buy, the most of any sector.
Yes, there's a bit of a demand lull as China continues to downshift (but keep in mind that's a downshift to China GDP growth expected to still be in the vicinity of 7%), Europe is still working its way out of the debt morass, and we're defined by the steady-but-slow U.S. GDP growth rate. But this is all about expectations. Things might not be great going forward, but they are expected to be better. And maybe just as important, there's less and less concern about a major global slip into recession at this juncture. Incremental economic upticks translate into more energy demand.
Halliburton (NYSE:HAL) is one of six S&P 500 stocks with a Buy from at least 90% of its analysts. While the PE ratio is nicely below market, you're looking for the oil and gas services company to manage to convert more of its growing revenue base into net operating income growth: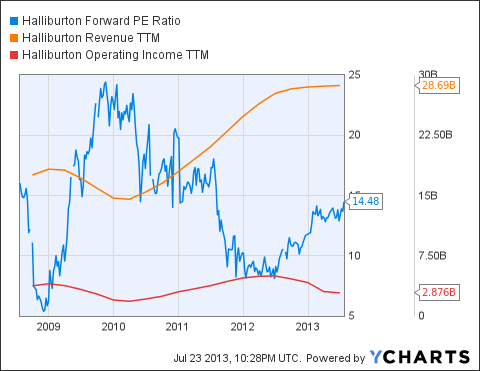 HAL Forward PE Ratio data by YCharts
Just as the cost of finding oil and gas has forced the big energy companies to pony up a lot more in capital expenditures, Halliburton has also had to shell out more. Halliburton's cap ex investments are about 60% higher today than just before the financial crisis.
Continuing the theme of the rosiest outlooks coming from the darkest pockets, analysts expect the basic materials sector within the S&P 500 to rise 13.6% in the 12 months through June 2014.
As this chart shows, it's clearly a call on basic material prices reversing course as global economies continue their slow mend: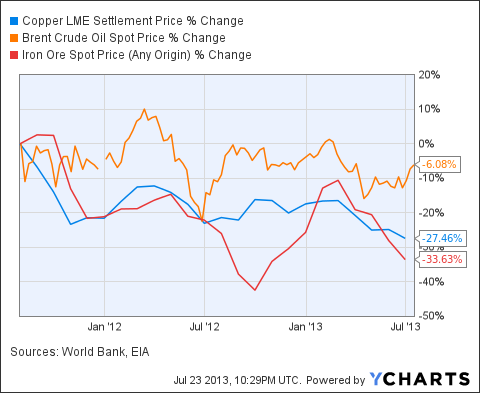 Copper LME Settlement Price data by YCharts
Joy Global (NYSE:JOY) is a company worth checking out. If materials rebound, then this manufacturer of mining machinery could be in line to benefit. Analysts have an average target of $66 a share for Joy Global, more than 30% above its current price. To be clear, this is a rebound story; in the second quarter, the same analysts chopped down their per-share earnings estimate for Joy from $1.58 to $1.37. An intriguing note: in the first quarter of this year, two of the finest value hands around, Brian Rogers, manager of T. Rowe Price Equity Income, and the team of managers at Tweedy Browne Global, opened (small) positions in Joy Global. It will be interesting to see if they added to those positions in the second quarter, as the stock got pummeled on the earnings shift, as seen in a stock chart.
In addition to Joy Global, the other companies with the highest gap between their current price and analysts' 12 month target are Cerner Corp (NASDAQ:CERN) $99 target, Peabody Energy (BTU) $25 target, Consol Energy (NYSE:CNX) $41 target, and Iron Mountain (NYSE:IRM) $40.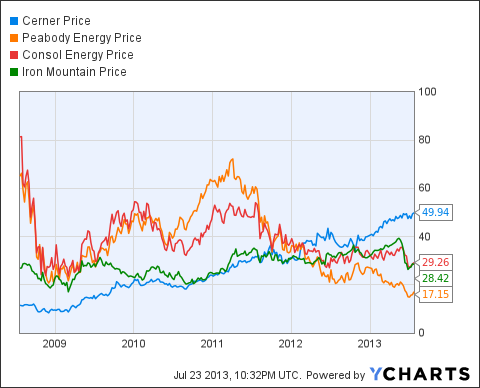 Carla Fried, a senior contributing editor at ycharts.com, has covered investing for more than 25 years. Her work appears in The New York Times, Bloomberg.com and Money Magazine.

Disclosure: I have no positions in any stocks mentioned, and no plans to initiate any positions within the next 72 hours. I wrote this article myself, and it expresses my own opinions. I am not receiving compensation for it. I have no business relationship with any company whose stock is mentioned in this article.