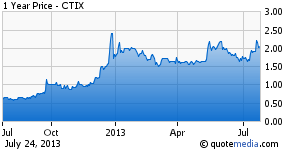 Cellceutix (OTCQB:CTIX) has caught the interest of many investors because of its discovery of and rights to Kevetrin, a novel class small molecule, answering to a long-sought approach to cancer treatment by enabling the p53 mediated control system over the division and multiplication of damaged cells. A previous report by this writer gave an overview of the company's prospects. It pointed out that the real evidence for the efficacy in people of either of the company's two products under development is yet to be shown. Others have compared the prospects of CTIX to that of Pharmacyclics (NASDAQ:PCYC), and a more recent SA post brought up the possibility of it moving from being an unlisted stock to an exchange. These seem to have produced a surge of buying. The company's management itself has in the past made favorable comparison of prospects by dropping the name of Clovis Oncology (NASDAQ:CLVS), which went from $12.50 to now over $75 in less than 8 months. Comparison of price trajectory to PCYC and CLVS is the stuff of dreams (which sometimes come true). The big question is whether CTIX is such stuff and those interested in the medicines as well as those interested in profit are awaiting the results of crucial trials that might point one way or the other.
After having written the previous review, the present writer took another look at facts and reassessed. Here I will comment on four upcoming events that would have a significant impact on what happens to CTIX shares, and the odds of their being successful.
CTIX has two products in play: Prurisol for psoriasis and Kevetrin for cancer. The following events are anticipated:
Hearing from the U.S. Patent Office on Prurisol.
The undertaking of a proof of concept study on Prurisol for treating psoriasis and its results within a few months of study initiation.
Movement of CTIX from unlisted status [Bulletin Board] to a listed exchange [NYSE?].
Preliminary results on the safety of Kevetrin in human cancer patients, with additional data on efficacy and bio-markers.
Let us look at the reasonableness of hoping for good outcomes on any of these.
1. Those who wait for the stock price to rise thinking a patent decision is imminent could be disappointed. By normal procedure, the patent office makes a patent application public after 18 months. This means that it is highly likely that everyone can find out what exactly is Prurisol is within a month. All we know is that Prurisol is a derivative of an existing FDA approved drug. Curiosities about this are about to be satisfied, including mine (I have wondered if Prurisol has any structural connection to ursodeoxycholic acid, aka Ursodiol, because of several reports that state a connection). However, the publication of the patent application only removes the mystery about the compound. It is not the same as approval, and one should not buy CTIX merely because the patent application will be made public. There is no fixed timetable for the granting of patents. The patents for Kevetrin seem to have been granted within two years of application. The two CTIX product applications have this to contrast them that one was for a new compound and that the other is for the chemical modification of an existing compound available as an FDA approved generic. Even so, I think the odds are in favor of the company obtaining the patent. For one, considering the outstanding experience the present management and board have in this regard, one would think that they would know how to go about making a successful patent application. For instance, something called Zerenex, which is Ferric Citrate, received a patent based on the particular mode of synthesis and that was the basis by which Keryx (NASDAQ:KERX) is attempting to protect its market interests by using an otherwise commonly producible salt for a successful Phase III trial. So, although we can't predict the decisions of the U.S. or other national patent offices, the odds of success are high. News of the patent approval is certain to move the stock when it arrives, but that date may not be at hand.
2. The odds are in favor of the Prurisol trial for treating Psoriasis to be successful. From all reports by the company, the Prurisol proof-of-concept trial should be getting under way. A hyper-optimistic date for results is the beginning of October, but even a December date is not that far away. Will the human trial results be as impressive as the xenograft trials with mice? The reason for confidence on this simply from the pre-clinical data. I also think that the company would not bring in a distraction from its focus on Kevetrin and cancer if there was not good experimental and other basis for going after this. With a new drug the crucial first question is safety, which issue is mitigated in the case of Prurisol because of its stated chemical relationship to what has been already in clinical use. Although CTIX fans seem to be hoping to hear of total cure of psoriasis in all patients, a much lesser level of success is adequate for the stock to gain in value. Taking the pre-clinical data at their face value, the odds are heavily in favor of the Europen PoC trial panning out and boosting the stock.
3. It is too soon to buy, expecting exchange listing to boost stock prices. When an unlisted pink sheet or bulletin board stock gets listed, that is associated with an improvement in stock price. For instance, very recently, a company called Methylgene that traded on the Toronto stock exchange [symbol MYG] and was available only on the Pink Sheets in the U.S., underwent a reverse split, registered in Delaware, and listed itself on the NASDAQ as Mirati Therapeutics (NASDAQ:MRTX). Although this was on the heels of failure on a Phase II trial for an anti-fungal product, and a 50:1 reverse split, the stock, thinly traded as it is, has gone up in price. So listing has its clear benefits for liquidity, efficiency, and price. However, I do not see the rationale for that decision to precede at least one successful clinical trial for CTIX. I think those who bought CTIX last week based on such a notion prompted by a SA article are regretting it already.
4. Prior data is in favor of Kevetrin showing enough safety so that I think the Phase I trial, when completed, will advance the compound and the stock. Here I have taken a careful look at the numbers published previously. With Kevetrin, the situation is the opposite of Prurisol. There is a greater reason to be confident about effectiveness. The unknown is toxicity. One of the facts that stands out when one peruses the reported Phase I data is that the first cohort was started at a very low dose compared to that in the reported pre-clinical studies. The beginning low dose makes sense when this is the first use in a live human of a new compound. However, we wonder if and when it will get to concentrations enough to produce therapeutic benefit. As has been pointed out on forums elsewhere, the beginning dose for the Dana-Farber trial was only a 60th of the dose used to generate the positive pre-clinical data (200mg/kg in mice) reported. Also, the pre-clinical studies employed intraperitoneal administration and the Phase I study uses iv infusion. The two modes of administration are likely to be associated with different effects in regard to drug behavior and distribution, as well as toxicity.
Dosage is considered better correlated to body surface area, and that is how the Phase I dosage has been reported. The first round was 10mg/m2. The relationship between mg/kg and BSA in various animals and people has been worked out (FASEB J. 22, 659-661 [2007]) and 200mg/kg in mice corresponds to 600 mg/m2 in humans. Here are two big questions to which we should find the answer when the Phase I trial is complete and results are reported: can patients tolerate a dose of 600mg/m2, and is that high a dose necessary for effectiveness? Will Kevetrin have anti-cancer effect at doses at which adverse effects are tolerable for the majority of patients? Here I find the following reported toxicity to dogs and rats to be encouraging.
A GLP [=good laboratory practice] repeated dose toxicity study in rats with 5 weekly doses of Kevetrin, in the range of 60 to 120 mg/kg given intravenously showed a NOAEL [=no observed adverse effect level] of Kevetrin of 90 mg/kg.
A GLP repeated dose toxicity study in dogs with 5 weekly doses of Kevetrin, in the range of 5 to 60 mg/kg given intravenously showed a NOAEL of 5 mg/kg.
According to this, no adverse effects were observable in rats at a dose of 90mg/kg and in dogs at 5 mg/kg. Here is where CTIX owners would want people to be more like rats than dogs because 90 mg/kg in rats translates to a BSA based dose of 540mg/m2, almost the same as the reported dose with positive data in mouse model studies, but 5 mg/kg in dogs translates to 100 mg/m2 which is a sixth of that. I am afraid that though behaviorally we often approach the rat measures, physiologically the dog is closer. Even so, these are NOAEL, meaning, no observed adverse effect level. There is room to go higher where some adverse effects may be seen. The full Phase I data from the study under way at Dana-Farber needs to be awaited on this, but if I had to bet (which is what a buyer is doing now) based on what has been reported, the odds are in Kevetrin's favor to show benefit at tolerated doses.
As has been written by many before, there are many good reasons to be excited about this company and its products, both from the perspective of cures and from that of investment. If Kevetrin is successful, I think it will only be the first step in a development process that one may compare to penicillin going to ampicillin and amoxicillin, where the company's patents might afford wide protection from competition. However, caution is in order for that first step. This is a new molecule. The pharmacokinetic and safety data in humans is only beginning to be collected.
In a way, to speculate on this kind of stuff ahead of actual data may seem rash, and if you feel that way, you are really reading the wrong kind of articles related to stocks. You want established companies with a record of revenue and profit, even growth. This one ain't there yet. One is not sure if it will get there. If and when it gets there one should be able to buy it at 10 times today's share price, but with the mind more at ease about one's investment.
Disclosure: I am long OTCQB:CTIX. I wrote this article myself, and it expresses my own opinions. I am not receiving compensation for it (other than from Seeking Alpha). I have no business relationship with any company whose stock is mentioned in this article.