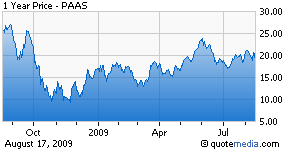 I will discuss the Pan American Silver Corp. (NASDAQ:PAAS) second quarter conference call held on 12 August 2009 by providing the conference call's major themes in point form. In listening to the conference call, I did not place heavy emphasis on detailed financial information. For example, I am not too fussed about such items as noncash foreign exchange losses. Instead, I listened to how the company performed over the last quarter and expected to perform for the duration of the year. For example, I am focused on the company's silver cash cost. Because I believe the company is well managed by seasoned and competent professionals and because of my concern with potential inflation, Pan American Silver remains one of my core holdings.
In addition to transcripts of the company's conference call (see Seeking Alpha for the transcript and company's website transcript (PDF, 76 kb)), I used the company's press release (PDF, 47 kb). The press release is well worth reading for a quick snapshot.
General Comments
New quarterly production record of 5.8 million ounces of silver, a 28% increase year on year;
Gold is the company's most significant byproduct at 18% of total revenue;
Consolidated cash cost remains at $5.99 per ounce of silver;
$23.5 million in operating income;
Cash flow from operating activities was $32 million or $0.37 per share; and
Quarterly adjusted net income was $13.5 million or $0.16 per share.
Manantial Espejo, Argentina
Outperforming projections in large part because of additional gold output;
Over 1 million ounces of silver at a cash cost of negative $0.93 per ounce, which is the result of about 18,500 ounces of gold production that more than covered all operating costs;
Although the plant experienced some mechanical problems, it processed over 144,000 tons of ore, which is nearly 80% of plant design capacity; and
Named Argentine 2009 Mining Company of the Year by the primary Argentina Mining Press and Argentina's association.
Peru
Produced slightly greater than 1.9 million ounces of silver, which was slightly ahead of target;
Cash costs were much higher at $10 per ounce than the expected $8 per ounce;
High costs were attributable to Doe Run smelter shut down;
Anticipate producing slightly above 2 million ounces per quarter at our Peruvian operations for the second half of 2009 at approximately $9.50 per ounce; and
Company awarded 2008 Peruvian Company of the Year from the Peruvian Association of Civil Companies.
Mexico
Alamo Dorado mine produced 1.4 million ounces of silver at a cash cost of $4.23 per ounce;
Smelt over 4,000 ounces of gold production that was forecasted at 3,300 ounces;
Alamo Dorado overcame the five day suspension of operations in May because of the influenza outbreak;
La Colorada mine produced 835,000 ounces of silver at a cash cost of $7.23 per ounce, 12% below expectation; and
Expect continued solid performance from both mines.
Bolivia
Startup of our San Vicente project in Bolivia yielded production of over 616,000 ounces of silver at a cash cost of just over $9 per ounce;
Projected cash costs to decline to below $7 per ounce in Q3; and
Mine is operating well and Company looks forward to better results in the near future.
General Comments
2009 silver production forecast is 21.5 million ounces, excluding Quiruvilca mine, which is moving toward care and maintenance;
Cash costs are forecast at $6.00 per ounce of silver;
2009 gold production forecast is meet or exceed 85,000 ounces;
Continue to ramp up San Vicente mine in Argentina; and
Drill and develop the La Preciousa project, within an hour's drive from Durango, in Mexico.
Questions and Answers
I found only two noteworthy questions and answers.
Company might engage in acquisitions to keep growth continuing; and
For the La Preciousa project, a feasibility study might be ready within three years.
---
My Overall General Impressions
Wrapping up, I am long Pan American Silver because I believe that it is an extremely well managed company. As mentioned in my prior articles, I further believe that there is a strong chance that with central bankers printing money as fast as they can, there will be inflation once the true recovery takes hold. Higher inflation will cause higher commodity prices, including higher silver prices. Put differently, there will be a greater increase of dollars in circulation tomorrow than an increase of gold and silver in existence. And that should bode well for the shareholders of Pan American Silver.
Unless my fundamental outlook changes or Pan American Silver begins disappointing, it will remain a core holding. That said, it is a volatile stock, and those that are able to aggressively might wish to pick their opportunities. For example, on 13 August 2009, the day after the earnings release and conference call, Pan American Silver jumped $1.94 or about 10% to $20.74. Moreover, as I write this article, the stock is down $1.93 or about 9.5% to $18.37.
Disclosure: I am long Pan American Silver Corporation shares.