The Estée Lauder Companies (NYSE:EL) recently reported dismal fourth quarter results. The company has been hit hard by recent economic turmoil as consumers with lower disposable income are limiting their purchases to just the essentials (conference call transcript here). Consequently, the company is facing sluggish demand for Skin Care, Makeup, Fragrance and Hair Care products, thereby negatively impacting both top and bottom-lines.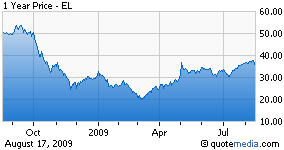 Earnings per share (excluding one-time items) for the quarter under review came in at 20 cents, in-line with the Zacks Consensus Estimate, but fell 67.4% year over year compared to 61 cents reported in the prior-year quarter. On a reported basis, Estée Lauder reported net loss per share of 9 cents. Management expects EPS (excluding one-time items) for the first quarter of fiscal year 2010 to be in the range of 23 cents to 30 cents.

Consolidated revenue for the quarter plunged 16.4% to $1,682.8 million amid weak global retail demand on account of the economic recession. Top-line growth is typically constrained by low volume growth and limited pricing power. Excluding foreign currency translation, revenues fell 9.7%. Moreover, departmental stores and retailers are now reluctant to keep excess stocks of the products due to waning consumer discretionary spending.

Consolidated revenue for the first quarter of fiscal 2010 is expected to fall in the range of 2.0% to 5.0% (excluding foreign currency translation). Foreign currency translation is expected to adversely impact revenue by nearly 3.0% to 4.0%.

By product categories -- Skin Care sales dropped 12.9% to $687.8 million, Makeup sales declined 11.8% to $665.2 million, Fragrance product sales fell sharply by 35.1% to $220.4 million, and Hair Care product sales tumbled 9.8% to $104.5 million.

By region -- sales in The Americas fell 14.3% to $774 million; in Europe, the Middle East & Africa sales were down 24.0% to $624 million. However, in the Asia/Pacific region, sales went up by 1.8% to $292.9 million.

To combat the downturn, in February of this year, management announced a four-year strategic plan (fiscal years 2010 - 2013) to cut costs by $450 million to $550 million, trim headcounts by approximately 2,000 employees, or 6% of the work force, realign and optimize the structure of the geographic regions to better leverage scale, improve productivity and reduce complexity, which should accelerate sales growth.

Management expects savings in the range of $40 million to $50 million in the first quarter of fiscal 2010, and $175 million to $200 million during fiscal 2010.

At the end of the fourth quarter of fiscal year 2009, the company had cash and cash equivalents of $864.5 million, and long-term debt of $1,387.6 million representing a debt-to-capitalization ratio of 45.8%.