American Dairy Inc. (NYSE:ADY) reported second-quarter results on Friday after the market close. GAAP net income logged a growth of 59.1% year over year to $7.6 million, or 40 cents per share.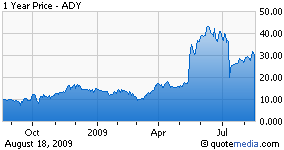 Net income from continuing operations grew 26.2% to $4.3 million, or 24 cents per share, topping the Zacks Consensus Estimate by 17 cents.

American Dairy is a leading producer and distributor of premium infant formula, milk powder and soybean, rice and walnut products in China. The company, which operates through wholly owned subsidiary Feihe Dairy and other subsidiaries, has 200 milk collection stations, 2 dairy farms and 6 production facilities. The company has capacity to produce approximately 1,220 tons of milk powder per day and a distribution network of over 84,000 retail outlets across China.

The Beijing-based company posted a 10.4% year-over-year expansion in sales to $41.2 million. Growth was driven by a significant augmentation in the distribution network by approximately 34,000 outlets compared to the year-ago quarter. Milk powder, which generated nearly 78% of total sales, saw its volumes surge 85.4% year over year to 4,519 tons, although the average selling price (ASP) fell 4.6% to $7.10 per kilogram (kg). Raw milk powder, which accounted for 10.2% of revenues and is a low-margin product, recorded a 61.3% year over year decline in volumes to 1,720 tons accompanied by a 36.2% decrease in ASP to $2.43 per kg.

American Dairy's gross profit nearly doubled year over year to $24.1 million, primarily due to a 31.3% decrease in COGS (cost of goods sold) to $24.8 million caused by a 24% drop in the cost of fresh milk. Gross margin expanded 2510 basis points (bps) to 58.6% chiefly on account of strong volumes growth in high-margin milk powder coupled with a decline in volumes of relatively lower-margin raw milk powder.

Cash and equivalents at the end of the quarter was $42.2 million, compared to $11.5 million in the same period last year. The growth was primarily caused by a 361% growth in cash from operations to $19.5 million coupled with an inflow of $38.9 million related to the divestment of subsidiary, Heilongjiang Moveup Co. Ltd. American Dairy formed Moveup in Oct 2007 to acquire Ausnutria Dairy (Hunan) Co. Ltd., a deal, which fell through on account of regulatory issues.

The company also raised long- and short-term debt with a combined worth of $27.7 million. American Dairy primarily deployed the cash generated towards capital expenditures, including biological assets ($29.9 million) and repayment of short-term debt ($26.9 million.)

In an effort to further bolster its financial flexibility, the company has struck a deal to raise $63.0 million through a private placement of 2.1 million shares of common stock to Sequoia Capital. The deal also permits Sequoia to nominate a member to American Dairy's board and also provides for the issue of additional shares if certain 2009 and 2010 earnings targets are not met.

Looking ahead, the dairy company plans to expand production capabilities and enhance its distribution network into rapidly growing first-tier Chinese markets. Accordingly, full-year sales are expected to range between $330 million and $360 million.

Meanwhile, the Zacks Consensus Estimate on the company's full-year earnings has moved down by 26 cents, or 7.8%, over the past month and is currently pegged at $3.08 per share. The most accurate estimate is slightly bullish at $3.14 per share.