The current International Business Machines (NYSE:IBM) isn't your mom and dad's IBM from yesteryear, but the dividend it pays is. The company currently yields 1.95% but has been paying a growing dividend for the past 18 years. The Oracle of Omaha Warren Buffett has been accumulating shares of this business services company and currently holds a 6.14% stake in the company with about 68 million shares. The company most recently reported on July 17, 2013 and beat on earnings but missed on revenues. The stock is nearly flat (up 1.79%) in 2013 and is lagging the S&P 500, which has gained 18.67% in the same timeframe, and with that in mind I'd like to take a moment to evaluate the stock on a fundamental, financial, and technical basis to see if it's worth picking up IBM right now for the technology sector of my dividend portfolio.
Fundamentals
IBM currently trades at a trailing 12-month P/E ratio of 13.87, which is inexpensively priced, but I mainly like to purchase a stock based on where the company is going in the future as opposed to what it has done in the past. On that note, the 1-year forward-looking P/E ratio of 10.61 is currently inexpensively priced as well for the future in terms of the right here, right now. Next year's estimated earnings are $18.38/share and I'd consider the stock cheap until at least $275.70. The PEG ratio (1.32), which measures the ratio of the price you're currently paying for the trailing 12-month earnings on the stock while dividing it by the earnings growth of the company for a specified amount of time (I like looking at a 5-year horizon), tells me that IBM is fairly priced based on a 5-year EPS growth rate of 10.53%.
Financials
On a financial basis the things I look for are the dividend payouts, return on assets, equity and investment. IBM boasts a dividend of 1.95% with a payout ratio of 24.6% while sporting return on assets, equity and investment values of 13.6%, 82.4% and 31.9% respectively; which are all respectable values. The really high return on equity value (33.9%) is an important financial metric for purposes of comparing the profitability, which is generated with the money shareholders have invested in the company to that of other companies in the same industry. The really high return on investment value (31.9%) is an important financials metric because it evaluates the efficiency of an investment that a company makes and if an investment doesn't have a positive ROI then the investment should not be made. In addition to a high return on equity and investment, if maybe you feel the market will retract a little more and would like a safety play then the 1.95% yield of this company is good enough for you to take shelter in for the time being.
Technicals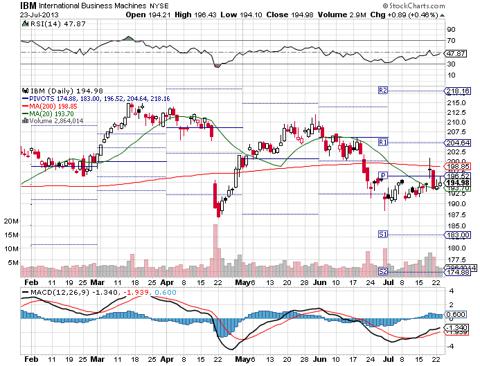 Looking first at the relative strength index chart [RSI] at the top, I see the stock muddling around in middle territory with a value of 47.87 but with upward trajectory, which is a bullish pattern. To confirm that, I will look at the moving average convergence-divergence (MACD) chart next and see that the black line is above the red line with the divergence bars flattening out in height, indicating the stock may trade sideways for a couple of days. As for the stock price itself ($194.98), I'm looking at $196.52 to act as resistance and the 20-day moving average to act as support. If the stock can't break through the $196.52 resistance I see it going down to the 20-day moving average and then possibly down to $183. However, if it can break through the $196.52 resistance level I think it can shoot for the 200-day moving average and then up to $204.64. The ultimate risk/reward ratio plays out to be -6.14% to 4.95%.
Recent News
On July 17, 2013 IBM reported earnings of $3.91 per share, which beat estimates by $0.14 and revenues of $24.92 billion, which fell short by $450 million.
The company was downgraded to "hold" by Goldman Sachs on fears that IBM's higher margin revenue streams may decrease in the short term. We know what happened last time when a company (Apple) with high margin products was losing revenue streams; a stock price drop happened.
Conclusion
IBM is still inexpensively valued based on future earnings. The company is fairly priced based on future growth prospects, and I'd like to see higher short-term earnings growth to make it a bit more attractive or see the price drop. The potential for short-term earnings growth may not come to fruition considering the basis of Goldman's downgrade of IBM though. Financially, the payout ratio is extremely low and the company makes wise decisions with its shareholders equity and investment decisions. The technical situation of how the stock is currently trading is what is telling me that it can trade sideways for a bit but I think ultimately it can move upwards. I'm not going to create a position in the stock for now and the thing stopping me from doing that is the 1-yr forward-looking earnings estimate of 9.1%. Personally I like to see a minimum value of 10% before creating a position in a stock. Other than that one earnings stipulation this looks to be an excellent company with room to grow the dividend by leaps and bounds.
Disclosure: I have no positions in any stocks mentioned, and no plans to initiate any positions within the next 72 hours. I wrote this article myself, and it expresses my own opinions. I am not receiving compensation for it (other than from Seeking Alpha). I have no business relationship with any company whose stock is mentioned in this article.
Disclaimer: These are only my personal opinions and you should do your own homework. Only you are responsible for what you trade and happy investing.