While domestic (U.S.) stocks represented by the S&P 500 are higher by over 20 percent through July 22, 2013, the largest, most popular exchange-traded funds, VWO and EEM are both off roughly 11% year-to-date through the same period.
Investing in emerging markets has been rough in 2013.
Why?
China's bumpy transition to a new growth phase with increased focus on domestic consumption, as opposed to massive infrastructure investment & export dependency, has lead to lower GDP forecasts (although we would kill in the U.S. for 7.5% GDP). Based on recent reports, exports from China to Europe and the United States have weakened due to sluggish global economic conditions. Last, concerns about alleged credit and real estate "bubbles" (and the Chinese Government's efforts to take some air of out them), have made investors clearly skittish. It doesn't help that the largest emerging markets ETFs possess significant exposure to China, which hasn't helped performance.
The slowdown of commodity purchases (due to weaker global growth) in China and other emerging market countries, has resulted from worsening conditions and lower expectations for emerging market economic growth.
The spike in intermediate and long-term U.S. interest rates and the proposed, looming "taper" by the Federal Reserve created a sucking sound as money was rapidly pulled, in a crescendo, from "risk-on" investments like emerging market bonds and emerging markets stocks in fear of the impact of rising rates on global economic eco-systems.
Generally, an increase in the U.S. dollar has lead to emerging markets weakness as commodities, metals especially, no longer represent a greater store of value compared to a stronger fiat, reserve currency. From the chart below, notice the period (blue arrow) as emerging markets and the dollar, represented by UUP (dollar bullish ETF), were positively connected.
The U.S. Dollar and emerging markets are like inverse "ships in the night." The dollar's weakness is usually positive for emerging markets. As the dollar strengthened in Q1, we held off on our purchases into emerging markets. In May and June, they moved in the same direction (down). When the dollar hit resistance in July, emerging markets bottomed and from a short-term perspective, emerging markets can continue to perform here especially if the dollar can consolidate or not further strengthen.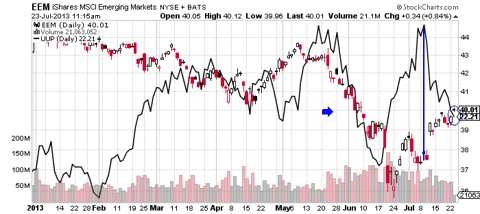 Clarity, in its allocation models has been dramatically underweighted in emerging markets beginning the fourth quarter of last year; as of July 23, 2013, our portfolios hold 10% of an international allocation to emerging markets. But has the selling gone too far? It appears to be so.
Challenges remain from a long-term investment standpoint. Shorter term, however, we may begin to see improvement in performance as risk appetites have returned based primarily on the fact that Ben Bernanke (in our view) will NOT be pulling back on bond purchases this year as some have predicted.
Also, according to Lipper's, there have been record outflows reported from emerging markets equity funds. From a contrarian perspective, it's tough to buy low, but that's a discipline of the most successful investors.
Observations:
China's rebalancing from investment toward consumption has a long way to go and there will be many hiccups along the way. According to Michael Pettis, in his book The Great Rebalancing, policymakers will face an incredible challenge to raise consumption from 34% of GDP to 50% which will still leave China with the lowest consumption rate of any major economy. It's a long story to get into here but keep in mind, demand for goods from China will need to decrease and more robust social safety nets will need to be initiated to correct the imbalance in China's personal consumption growth.
The U.S. dollar may continue to strengthen, despite its recent weakness, as our budget deficit concerns remain under control and our economy is still known as "the cleanest dirty shirt" in the global laundry basket.
Emerging market stocks were clearly oversold. Nobody wanted them. As the appetite for risk assets returns, we've seen a recent rebound in demand for these stocks. Like a rubber band pulled too far apart, we may see a temporary snap back in prices.
Velocity of money is still historically (stubbornly) weak, and with no signs of inflation, and unemployment remaining solid above the Fed's target of 6.5%, there is less risk of a tapering by the Federal Reserve this year.
As a result of the prospect of lower global GDP growth, we may see bond yields retrace which will motivate investors to increase "risk on" behavior, thus increasing demand for emerging markets stocks and bonds.
Continuation of bond purchases by the Fed may slow down (or decrease) the strength of the U.S. dollar at this juncture, which would be positive for commodity-based economies like emerging markets. Over time, there has been a negative correlation between the strength of the U.S. dollar and emerging markets stocks (as mentioned previously).
The Shiller P/E, (a cyclically-adjusted price earnings ratio over the past ten years) for emerging markets, is more attractive at 13x compared to 24x for U.S. stocks as of July 22, 2013.
Emerging markets represent the riskier portion of an overall portfolio asset allocation. However, having a controlled percentage of your international segment invested in these markets, can boost returns if you believe like we do, that these economies will ostensibly experience wage increases and as their populations seek better standards of living, they should spend more too.
Joshua M. Brown recently published a piece titled "The Case for Brazil, the World's Most Hated Stock Market" from July 18, 2013, on his popular blog "The Reformed Broker," that caught my eye.
Josh references the case for investing in Brazil (if you have the risk attitude and patience). Josh outlines the favorable demographics and massive consumer base which possess more "disposable income than ever."
Specifically, we favor using exchange-traded fund ECON which targets a growing middle class in emerging markets, as a tactical addition to our portfolio allocations.
Pros:
ECON has experienced a lower standard deviation (a measure of risk) compared to broader-based ETF offers like EEM, or Vanguard's VWO even though it only holds 30 large-company stocks. For example, for the two-year period from January, 2011 to January 2013, the standard deviation of EEM was 18.96 vs. 13.44.
As of March 31, 2013, the country breakdown favors Mexico (19.7 percent), Brazil (17.5) and South Africa (17.2). Only 5.6 percent is invested in China which as I indicated, will face headwinds working down their chronic trade surplus.
If you're seeking to take advantage of a growing middle class in emerging markets, ECON holds 49.5 percent in consumer goods and 49 percent in consumer services.
Over 51.1 percent of the total portfolio is held in food and staples retailers, beverages, food products and media.
Compared to EEM or VWO, ECON from a performance perspective, has held up much better this year, due to less exposure to the China markets and pro-cyclical industries such as financials, technology and energy. As of July 22, 2013, ECON is down 1.09 percent for the year; EEM is off 10.55 percent, VWO is down 10.12 percent through the same period.
Cons:
ECON isn't cheap with a total annual operating expense of .85. There's a fee waiver of .46 in effect through July 31, 2013. If the waiver does not get extended (I expect it will), total expenses would jump to 1.31 percent which would make this offering unappetizing (no pun intended). In comparison, VWO's annual expense is much more attractive at .18 percent.
As I wrote, the Shiller P/E on emerging markets is attractive. The trailing P/E for ECON is 21.59x, which makes it less appealing from a valuation standpoint.
ECON's concentration is a double-edged sword as it can increase or hurt performance. More than 25 percent of the Fund's assets are in issuers conducting business in the same industry, per EGShares' semi-annual, annual reporting.
Short term, you may earn higher returns in a broader-based selection due to favorable valuations. If the negative China economic story is fully priced into the market, you may experience a greater bounce. ECON would not fully participate due to its low exposure to China.
I would not consider ECON a "core" portfolio holding to capture emerging markets' exposure. Even EGShares references this ETF as "thematic."
In a Market Insights piece for the Financial Times dated July 24, 2013, Russ Koesterich, Global Chief Investment Strategist at BlackRock mentions:
"Emerging markets trade at a discount of approximately 30 percent to developed markets. Three of the four BRIC countries (Brazil, Russia, India, China) are trading at less than 10 times earnings (the exception is India). Emerging markets still face many headwinds, but the risks appear to be priced in."
Maintaining our positions in emerging markets is advisable; increasing them for clients with the appropriate risk attitude, will be, in our opinion, beneficial for returns through the end of the year.
Disclosure: I am long ECON. I wrote this article myself, and it expresses my own opinions. I am not receiving compensation for it. I have no business relationship with any company whose stock is mentioned in this article.