The sizzling summer rally has boosted stock prices to new all-time highs and this week's earnings beat by technology titan Apple Inc. (NASDAQ:AAPL) should have been a catalyst for additional upside momentum in the broader market. Today AAPL shares are zooming more than 5% higher and are currently more than 12% off of their June low. In prior quarters, positive Apple earnings would have immediately been a boost to global markets. However, with many stocks already stretched to all-time highs we are not seeing the same follow through that many probably anticipated.
The ETFs that are seeing the most notable strength today are obviously technology oriented plays such as the PowerShares QQQ (NASDAQ:QQQ), Technology Select Sector SPDR (NYSEARCA:XLK), First Trust NASDAQ Technology Dividend Index (NASDAQ:TDIV), and iShares U.S. Technology ETF (NYSEARCA:IYW). Apple makes up 11.5% of QQQ, 13% of XLK, 7.5% of TDIV, and 15.6% of IYW. The overweight allocation to Apple in these ETFs is because they are primarily based on market cap weighted indexes that skew their holdings toward larger companies.
My favorite ETF in the technology space right now is the First Trust NASDAQ Technology Dividend Index which focuses on stocks that are paying regular income to shareholders. I recently profiled the attributes of this fund and why I believe it should be on your watch list for both a dividend and capital appreciation play.
As a sector, technology has generally lagged this year primarily because of the underperformance of Apple's stock price. Year-to-date XLK has gained 10.64% while the broader S&P 500 ETF (NYSEARCA:SPY) has been propelled 19.52% higher. Getting only half of the total performance of the S&P 500 Index is not typically what you see with growth oriented stocks technology stocks in a mature bull market. Instead we are seeing notable strength in healthcare, consumer discretionary, and financial stocks.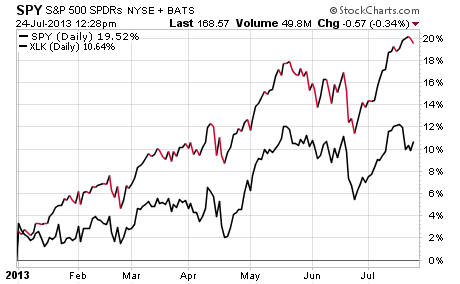 The lack of follow through in the broader market after such a widely owned and tremendously loved stock such as Apple beat expectations should be cause for some concern at this stage. It may be a signal that we have reached a near-term top and will see additional economic and earnings data ahead that will drag stock prices lower. At this juncture I am recommending that you proceed with caution on adding any new money to stocks and may want to look at banking some gains on any highly appreciated positions that you still hold.
That is not to say that I am recommending you sell everything right here, but I am cautious about how much farther this rally can run given how stretched stocks are. Currently SPY is sitting 11% above its 200-day moving average and 91% of stocks in the S&P 500 Index are trading above their long term trend lines.
If stocks falter, we may see a reversion to the mean that sends the major averages heading back down to test the technical support of these trend lines. With that in mind, I am planning on using weakness in stocks as a buying opportunity to put money on the sidelines back to work at more advantageous prices.
Disclosure: I have no positions in any stocks mentioned, and no plans to initiate any positions within the next 72 hours. I wrote this article myself, and it expresses my own opinions. I am not receiving compensation for it. I have no business relationship with any company whose stock is mentioned in this article. David Fabian, Fabian Capital Management, and/or its clients may hold positions in the ETFs and mutual funds mentioned above. The commentary does not constitute individualized investment advice. The opinions offered herein are not personalized recommendations to buy, sell or hold securities.