Las Vegas Sands Corp (NYSE:LVS) has been a traders delight over the course of its public history. The company issued its IPO in late 2004 and then spent the majority of '05 through '07 trading from a low of $34.30 to an eventual high above $133. There were multiple opportunities to actively trade this stock and potentially capture even more than the 287% trough to peak.
But as the stock powered higher, concerns were being raised about the debt level which was increasing rapidly. On June 11, 2007, ZachStocks laid out the bearish case for LVS based on the excessive leverage and potential for investor disappointment in coming quarters. The article was a few months early as it took some time for the market to turn against this darling. But after the first leg lower when many value investors were anxious to get their hands on a cheaper stock, we stated that buying LVS lower was still a gamble. The call was spot on, and eventually LVS hit a low of just $1.38 per share.
Fast forward to this summer and LVS had become one of the most heavily shorted names on the NYSE. On July 13, we listed LVS as one of the stocks with potential to mount a run based on bearish sentiment surrounding the name. Within one month, the stock had quickly doubled as shorts covered on good news. The bottom line is that LVS can be an extremely volatile name, but when played correctly it can generate significant trading profits.
So why did LVS rebound so sharply over the past month? Was it simply short sellers getting tired of their position, or is there fundamental strength? Well, when looking at the future earnings expectations for the company, there is very little to get excited about. But the exciting part of this story resides on the balance sheet, not necessarily the income statement (at least for today). As I stated, one of the most concerning issues with this stock was the excessive debt level which at one point threatened to put the company out of business.
On Thursday, LVS announced that they were finally able to amend a $3.3 billion (yes, billion with a B) credit facility which was used to develop the Macau properties. Under the terms of the new agreement, the company will be able to go for six quarters with relief from covenants and in return will have to pay a higher interest rate (LIBOR plus 5.5%). LVS will also be able to sell up to $1 billion of senior secured notes provided it uses the proceeds to pay down the credit facility. This would make sense if the company were able to get financing at better rates than the somewhat punitive LIBOR plus 5.5%.
The most exciting part of this announcement is that the company will likely be able to go ahead and issue an IPO on the Hong Kong exchange for the Macau business. This could bring in significant capital which would be available for paying down the credit facility even further. At the same time, it establishes another market for LVS properties and provides more liquidity should the company need to raise capital for more projects.
This action represents an important step forward in our plan to maintain and improve liquidity. The amendment significantly increases our financial flexibility and permits us to pursue a potential listing of a minority interest in our Macau operations on an Asian stock exchange. ~Sheldon G. Adelson, Chairman & CEO
Liquidity is extremely important as the company has relied extensively on outside capital to fund its growth. As liquidity concerns are resolved and management is able to turn its attention to developing and managing properties (instead of funding them), I believe we will see significant adjustments in earnings expectations. The prospects for LVS include a long-term strategy which will take several years. But as markets discount forward earnings, LVS as a stock should begin to stabilize and grow to reflect the extensive empire that Adelson is building.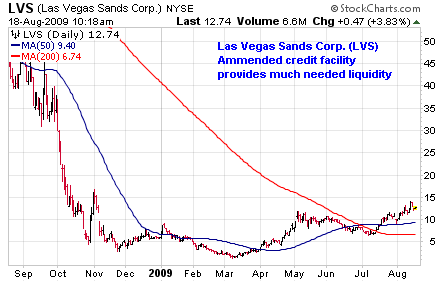 Disclosure: Author does not have a position in LVS