China Architectural Engineering Inc. (CAEI) posted second quarter earnings of 5 cents per share, compared to 14 cents in the prior-year period, reflecting lower revenues and higher SG&A expenses.

Quarterly revenues of $30.6 million were down 26% year over year due to the suspension of the Singapore project. The company said that it had to terminate its Singapore project due to the uncertain global economic outlook and the limited company resources.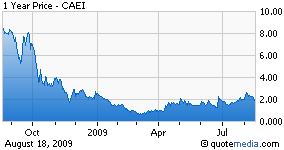 Despite a 25% drop in gross profit during the quarter, CAEI posted a 50 basis point increase in gross margin to 32.7%. The higher gross margin reflects the company's increased leverage from its advanced design capabilities and higher design revenues in the mix. However, operating margin fell to 12.5% from 21.2% in the prior-year quarter due to higher SG&A expenses. SG&A expenses in the quarter were up 33% due to the expansion of operations, including investments in human capital and other costs associated with the overseas business expansion since 2008.

The company had a total backlog of $550 million as on June 30, up from $136 million at the end of the first quarter. The previously announced Nine Dragons Resort project represents $500 million of the backlog.

In June 2009, the company entered into an agreement with Shanghai Nine Dragon Co. Ltd. to undertake major projects located in the Nine Dragon Resort, Zhejiang, including a seven-star hotel, a marine park and luxurious villas. The projects are expected to commence in the second half of 2009 and be completed within three years.

In addition, the company was awarded three government contracts earlier this month. The total value of these contracts is approximately $11.2 million. Two of these contracts are for the Changsha Riverfront Cultural Park Museum and Changsha High Speed Train Station projects, while the third contract is for the brand new Terminal 3 at Shenzhen Bao'an International Airport.

Over the next few years, the company expects to benefit from the stimulus package of $586 billion announced by the Chinese government. Historically, CAEI has been a large recipient of government projects. Given the company's research and development capabilities and strong relationship with the Chinese government, we believe the company will benefit significantly from the government's investment in infrastructure.