Shares of Geron Corporation (GERN) traded down 10% during early trading on Tuesday due to a report that the FDA placed a clinical hold on the company's investigational new drug application for a cell therapy that treats spinal cord injuries. The FDA, according to the report, placed the hold while it reviewed new information supplied by the company.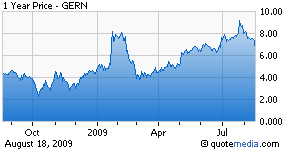 Geron has been a great stem cell play for those that have been in the stock since it traded for under two dollars as it reached a high of over nine dollars not too long ago. That being said, the company still has a market cap of nearly $600 million while having nothing in the pipeline past early Phase II trials.

However, while - in my opinion - the market cap is high considering the early stages of pipeline development, the potential of Geron's oncology and regenerative medicine pipeline is huge, and that's what has investors buying.

I don't like paying so much per share for companies that are still highly speculative - as is Geron - so I'm still holding off before I purchase shares of GERN. I'd rather pay more per share when I know that Phase II trials were completed with positive results than to take on expensive risk now before any of the pipeline treatments have had a chance to be tested in mid to late stage trials.

We saw what happened to the stock on perceived bad news after the spinal cord treatment clinical halt, and that treatment hasn't even been tested in humans yet; if any of the ongoing human trials are met with bad news, then the stock could take a significant plunge - and that is expensive risk if you've bought in while the company had a $600 million market cap or higher.
I'll continue my 'wait and see' approach with GERN - see how at least one Phase II trial plays out, but I'm still not a buyer just yet - even after Tuesday's dip. However, if the stock dips to four or five bucks for any reason, then I'll re-consider my stance.

Disclosure: No positions.