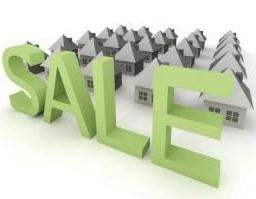 Outstanding homebuilder industry sales and pricing news for June was just released, yet homebuilder stocks so far have not reacted. The news is exceptionally good because expectations have been so negative (i.e., the "surprise" factor is high).
From Reuters: New home sales hit five-year high, prices soar
New U.S. home sales vaulted to a five-year high in June, showing no signs of slowing in the face of higher mortgage rates.

Single-family home sales increased 8.3 percent to a seasonally adjusted annual rate of 497,000 units, the highest level since May 2008, the Commerce Department said. Sales rose 1.3 percent in May.

Compared with June last year, single-family home sales were up 38.1 percent, the largest increase since January 1992.

The third straight month of gains in new home sales, which are measured when contracts are signed, suggested the housing market was gaining more muscle and should allay concerns that higher mortgage rates could slow down momentum.
This mortgage fixed-rate concern has been the driving factor behind homebuilders' recent stock declines (see my recent articles, listed at the article's end).
Therefore, with the proof that new homebuyers are undeterred by the higher mortgage fixed-rates, we would expect the pressure to lessen and homebuilder stocks to rise. However, thus far today - nothing.
A unique situation makes this a special opportunity
In addition to the non-reaction to good news, we have a unique timing situation in our favor: Two of the largest U.S. homebuilders report their June-ending quarterly earnings tomorrow morning (pre-market opening): D.R. Horton (NYSE:DHI) and PulteGroup (NYSE:PHM). Below is how these companies' stocks have fared this year relative to the stock market. The May-July drop came with the mortgage fixed-rate rise.
(Stock chart courtesy of StockCharts.com)
Knowing that June's new home sales were excellent, we have an insider-type of advance insight - meaning those earnings estimates analysts created without today's data are very likely understated -perhaps significantly. Moreover, positive surprises have been common for the recent quarters. Here is how the 20+ analysts have viewed each company's prospects:
D.R. Horton
Quarter ended Sep-12 $0.28 estimate, $0.30 actual (+ 7%)
Quarter ended Dec-12 $0.14 estimate, $0.20 actual (+43%)
Quarter ended Mar-13 $0.19 estimate, $0.32 actual (+68%)
Quarter ended Jun-13 $0.34 estimate (range: $0.29 to $0.40)
Quarter ended Sep-13 $0.40 estimate (range: $0.34 to $0.47)
PulteGroup
Quarter ended Sep-12 $0.20 estimate, $0.30 actual (+50%)
Quarter ended Dec-12 $0.31 estimate, $0.34 actual (+10%)
Quarter ended Mar-13 $0.15 estimate, $0.21 actual (+40%)
Quarter ended Jun-13 $0.30 estimate (range: $0.19 to $0.44)
Quarter ended Sep-13 $0.42 estimate (range: $0.25 to $0.61)
The bottom line
Today, we have a rare opportunity of receiving key information just prior to an earnings release - and having the market ignore its importance. So, what do others know that we don't - i.e., why aren't investors buying homebuilders now that the main worry has been proven overblown? I believe it's due to three factors:
First, lack of investor interest/focus. A main ingredient in successful contrarian investing is buying when investors are looking elsewhere. Judging both from weak performance this year and the paucity of positive homebuilder articles (supported by the comparatively few Seeking Alpha readers that clicked on my homebuilding articles), investors are not focused on homebuilding stocks.
Second, other news. Many times, we've seen important news relegated to the back pages because of other, more interesting news. Today is a good example, with Apple's earnings report/commentary, the Royal birth and messy political news taking over the top line news. Of the industries, technology is far and away the most popularly discussed today. As a result, the valuable Reuters homebuilding report had only a fleeting presence on the Yahoo! Finance front page.
Third, market tone. When the market's moving up, investors and traders like to shop around for action, watching the news carefully. With today's down market following stocks' recent uneven slowing, such activity has likewise slowed.
Therefore, today looks to be a great time to speculate on homebuilding stocks. My favorite is D.R. Horton as I described in D.R. Horton: Built To Ride Housing's New Upswing.
My previous articles discussing mortgage rate rise and homebuilder outlook:
Disclosure: I am long DHI. I wrote this article myself, and it expresses my own opinions. I am not receiving compensation for it (other than from Seeking Alpha). I have no business relationship with any company whose stock is mentioned in this article.