If you want to invest in hedge funds in the U.S., you have to be an "accredited investor" with a net worth of at least $1 million not including your house, or an annual income over $200,000 a year for the last two years ($300,000 if married). Even if you do qualify, hedge fund management fees are quite steep and there are often lockup restrictions that limit how and when you can sell your shares.
But there is a way for any investor to participate in hedge funds at a discounted price. The First Opportunity Fund, Inc. (FOFI.PK) is a closed-end fund that trades in the OTC market. FOFI has positions in hedge funds that total about 33% of the fund assets and are managed by Wellington. There were two hedge fund positions held by the fund as of March 31, with about $50 million in each.
Bay Pond Partners, managed by Nick Adams, has been a top-performing hedge fund and is currently closed to new investors. But retail investors (including non-accredited investors) can gain access to the Bay Pond Partners hedge fund at a discount buy buying it on the OTC market. There are also no lockup restrictions, and the shares can be sold at any time. Nick Adams must see some value in FOFI, since he personally owns over $7 million of FOFI stock acquired in 2012.
First Opportunity Fund -- Hedge Fund Positions (March 31, 2013)
Wolf Creek Partners LP $50.8 million (16.7%)
Bay Pond Partners LP $50.8 million (16.7%)
First Opportunity Fund -- Top 10 Stock Holdings
| | |
| --- | --- |
| Wells Fargo | 5.11% |
| JP Morgan Chase | 4.74% |
| Freeport-McMoRan | 4.63% |
| Cisco Systems | 4.39% |
| Intl. Business Machines | 4.00% |
| Kohl's Corp. | 3.85% |
| Chevron Corp. | 3.80% |
| Sanofi ADR | 3.03% |
| Johnson & Johnson | 2.46% |
| Forethought Financial Group- Class A | 2.20% |
Aside from the hedge funds, the remainder of FOFI is invested in a few blue chips along with a heavy concentration in small savings and loan stocks. The fund is managed by Boulder Investment Advisors, which is controlled by Stewart Horejsi. Horejsi and his family own large positions in FOFI through the Alaska Trust Company totaling about 39.7% of the stock outstanding (11.4 million shares).
The top four shareholders are:
Lola Brown Trust 1B -- 4.77 million shares
Stewart Horejsi Trust #2 -- 2.17 million shares
Susan L. Cicora Trust -- 1.74 million shares
Mildred B Horejsi Trust -- 2.73 million shares
FOFI trades on the OTC market and is not very liquid. The average trading volume is only about 16,000 shares per day. If you review the SEC Edgar records from 2010 through 2012, you will see many pages of insider buys of FOFI by the above trusts along with Nick Adam. Most of the buys are in "chunks" of about 5,000 shares with an occasional larger block trade of 10,000 shares or more.
What are the chances for a significant narrowing of the discount? There is no incentive for activists to get involved, because the Horejsi family controls 40% of the total stock. But I find it quite interesting that the persistent insider buying in the 2010-12 time period has stopped. There have been no new insider buys since January 2013. It is possible that the Horejsi trusts have already acquired the desired amount of FOFI shares at a large discount, and may now be interested in seeing the shares appreciate closer to the net asset value.
In the last shareholder report (as of March 31, 2013), there were some encouraging comments from the new portfolio manager, Brendon Fischer:
...we are in the process of implementing a variety of actions that we will expect will allow us to better serve the Fund's shareholders and hopefully reduce the Fund's share price discount to net asset value per share. While many of these initiatives are still being analyzed and developed, it is too early for us to discuss them in detail at this time.
I am looking forward to the next shareholder report where we may see some more details on how the discount will potentially be narrowed. One possibility is to introduce a managed distribution policy. Other possibilities are voluntary tender offers or increasing the size of share buybacks. Each of these approaches would help boost the NAV performance and produce "alpha" due to the large discount to net asset value.
Before Horejsi's management company assumed control of this fund, it was called the First Financial Fund and traded under the ticker FF. The fund manager was Nick Adams. It held mainly small banks, savings and loans and insurance companies. For many years, FF had one of the top performance records in the closed-end fund universe. Some of the stocks from FF are still held by FOFI and are called the "legacy portfolio." The name of the fund was changed in October 2008 from "First Financial Fund, Inc." to "First Opportunity Fund, Inc." when the ticker also changed from FF to FOFI.
In December 2012, FOFI announced that it entered into a secured credit agreement with BNP Paribas with a maximum commitment amount of $30 million. The credit facility has a floating rate of interest tied to short-term interest rates. This will allow the fund to use leverage in the future. FOFI has been a low-beta fund since it acquired positions in the Wellington hedge funds, but when the leverage is deployed we should see somewhat higher volatility, and potentially higher returns. There may be more information on the use of leverage in the next shareholder report.
FOFI Performance
| | | |
| --- | --- | --- |
| Year | NAV | Market Price |
| 2008 | -45.79% | -52.2% |
| 2009 | 21.39% | 18.27% |
| 2010 | 19.76% | 23.42% |
| 2011 | -4.91% | -16.29% |
| 2012 | 16.65% | 23.63% |
| YTD | 8.74% | 6.50% |
First Opportunity Fund
Expense Ratio: 1.14%
Total Net Assets: $319 million
Current Discount to NAV = -25.4%
Six-Month Average discount = -23.2%
Six-Month Z-Statistic = -1.21 (more than one standard deviation below the mean)
Annual Portfolio Turnover: 27%
Leverage: Authorized to use leverage December 2012
Average Daily Trading Volume = 16,000 shares
Average Daily Trading $ Volume = $135,000
FOFI is an interesting way to participate in hedge funds for retail investors. It can be used by investors who are looking for exposure to the financial services sector. FOFI traditionally trades at a large discount to net asset value, and at the current time this discount is even wider than usual.
FOFI is fairly illiquid and sometimes trades with a wide bid-ask spread. But if you are patient, there are often opportunities to purchase FOFI when the spread narrows to only a penny, with decent size on the bid and ask. It is not suitable for short-term swing trading, but can be a good way to gain exposure to financials at a discount in a diversified portfolio.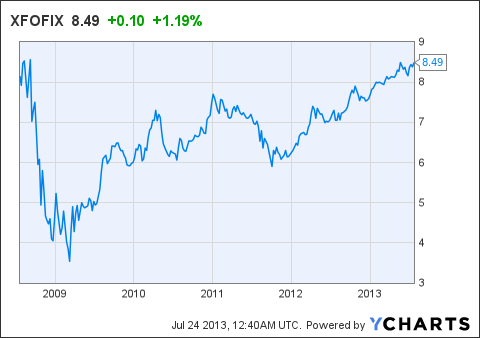 Disclosure: I am long FOFI.PK. I wrote this article myself, and it expresses my own opinions. I am not receiving compensation for it (other than from Seeking Alpha). I have no business relationship with any company whose stock is mentioned in this article.