Real-time Monetary Inflation (per annum): 4.3%*
According to the U.S. Bureau of Labor Statistics [BLS], your grocer paid a little less for the food put on store shelves last month. The Producer Price Index [PPI] for finished goods fell 0.9% in July. Contributing to the decline was a 1.5% drop in food prices. Wholesale energy prices also fell last month, dipping 2.4%.
Year-over-year, the PPI for finished goods plummeted a record 6.8% in July. The ripples upstream in the supply chain were even deeper: Intermediate goods tumbled 15.1%, while crude goods fell 44.8%.
If you look at the chart below, you'll see how inflation's been rung out of the food chain over the past year. July's fall in crude food prices represents the largest decline since December 2008. Plainly, there's not a whole lot of pricing power commanded in the wholesale food sector.
PPIs For Food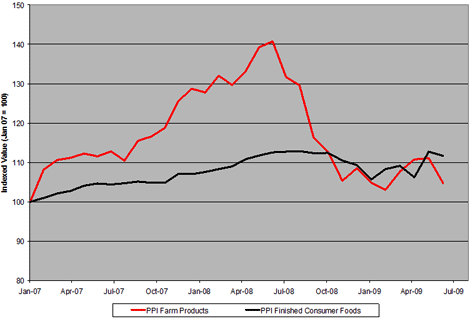 Despite the overall decline in food prices, critically important (at least for Hard Assets Investors readers) breakfast food futures were higher over the past quarter. Prices for Breakfast Index components rose an average 5.7% for the three-month period ending July.
Breakfast Index (July '09)
Commodity

Contract Month

01-May-09 Price

31-Jul-09 Price

3-Month Change

Annualized Change

Sugar #11

October '09

14.95 ¢/lb

18.61 ¢/lb

24.5%

143.1%

Cocoa

December '09

$2,400/tonne

$2,926/tonne

21.9%

123.4%

Coffee

December '09

120.95 ¢/lb

131.00 ¢/lb

8.3%

38.2%

Orange Juice

November '09

91.25 ¢/lb

94.80 ¢/lb

3.9%

16.7%

Butter, AA

September '09

132.50 ¢/lb

127.00 ¢/lb

-4.2%

-15.8%

Wheat

December '09

$5.9300/bu

$5.5575/bu

-6.3%

-23.1%

Pork Bellies (Bacon)

February '10

88.25 ¢/lb

81.25 ¢/lb

-7.9%

-28.5%

Milk, Class III

August '09

N/A

N/A

Average

5.7%

36.3%

bu = bushel; tonne = metric ton (2,200 lbs)
Beverage ingredients topped the list with sugar and cocoa racing fastest on supply concerns. Meanwhile, pork bellies continued to weaken along with wheat prices.
The bottom line?
Looking ahead, you may end up paying more to wash down those ever-cheapening bacon sandwiches.
*Note: To provide a longer-term perspective, we've pushed back the base for our real-time monetary inflation indicator to May 2006. The base previously was January 2008. The indicator represents the average annual rate of monetary inflation over the period. The current 12-month inflation rate is -0.3%.