Lydian (OTC:LYDIF) is widely considered to be one of the most economically robust late stage gold deposits in the world and would be on the top prospect list of the majors. It has 2.3 million ounces P+P (proven and probable), 2.5 million ounces M&I (measured and indicated) and a 1.8 million-ounce inferred deposit called Amulsar in Armenia. The deposit has been actively adding a million ounces a year, and an update is due. Conversion from inferred to M&I has been running 93%. A total 20,000 meters of combined resource conversion, resource expansion and exploration drilling is in progress at the project this year. Recoveries are very high, close to 100%.
There are 130 million shares outstanding and $30 million in cash for an enterprise value of $85 million at 88 cents US. I grade this valuation as very nominal and inadequate to value a project with an $800 million NPV and a 33% IRR. Amulsar is a high-margin, relatively low-capex, simple oxide project. The production plan is for 250,000 ounces using a 10-tonne throughput at $469 an ounce cash cost. Capex is only $270 million.
Note that mineral extraction is 60% of Armenia's economic activity, and this activity is not something new. Armenia's mineral law was put together with World Bank guidance, and in turn the bank is set to participate in project financing. Armenia will enjoy a substantial tax collection on the project.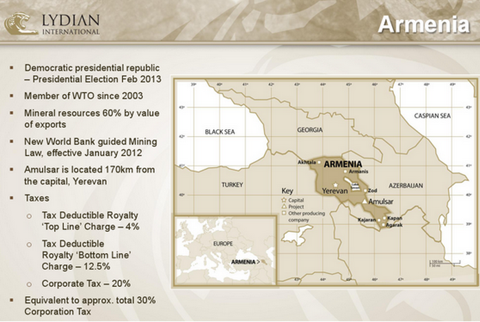 Click to enlarge
Here are some of my notes taken on Lydian's presentation from the European Gold Forum.
"The infrastructure is excellent and the government is cooperative, the nearby communities especially so. There are 115 local men being trained for working and running equipment at Amulsar, which is a God send to families in villages where men often leave to work in Siberia. The nearby villages stay intact, no relocation. Armenia's mining law was worked out with the World Bank, which also helps finance the country's projects. Fourteen banks have visited the site and have conducted due diligence. There is a 30% tax, which is not out of line. Mineral extraction comprises 60% of Armenia's economic activity. The permitting process on Amulsar is advanced."
Having gone 95% through its feasibility study including supporting site visits from the World Bank and other officials including Armenian, late in the day Lydian has been hit with an uncertainty (a bureaucratic "resolution" see below) that prompted a quick trigger 35% downdraft in the stock price. This came one week after Lydian received local community approval and appeared in victory lap mode. In terms of making a speculative call on this, I would only add that by all accounts Armenia is committed to the project and the insertion impact zone of this may be a technicality. Regardless investors are shooting first and asking questions later.
Given the effort and labor put forth by Armenia, the international development community, the nearby communities, and Lydian, this feels surmountable and worth a speculative high reward bet that it will be resolved. In full disclosure the firm is located on the Isle of Jersey (and I am in Hawaii) and I have not had a conversation, but offer this with the sense the stock will not stay here long, and readers can make that call to management should they choose. Any feedback would be appreciated.
"According to the text of the resolution, the borders of the catchment basin have been expanded to include the horizontal zone 3,000 metres on each side of the axis to the Vorotan-Sevan tunnel. Based on the company's understanding of the resolution, if projected to surface, the modified catchment basin includes the company's currently proposed location for its heap-leach processing facility. Furthermore, the resolution states that this part of the catchment basin is to be classified as the immediate impact zone to Lake Sevan. This impacts the company's current mine layout plans as mineral processing activities are not permitted in this immediate impact zone."
The company has made inquiries with the Armenian government regarding the resolution and is seeking to better understand the impact the resolution will have on the currently established Amulsar mine layout, including permitting and community approval of that layout, development plans, and related activities such as the preparation and timing of any new feasibility study.
In response to the Company's inquiries, the Government of Armenia has invited Lydian to participate in a joint working group with it. The working group process will almost certainly result in a delay to the delivery and publication of the FS. The Company understands that the working group will also concurrently review Lydian's Environmental and Social Impact Assessment. The working group is expected to begin working within a week, with a view to reaching a conclusion in an expeditious manner.
Disclosure: I am long OTC:LYDIF. I wrote this article myself, and it expresses my own opinions. I am not receiving compensation for it (other than from Seeking Alpha). I have no business relationship with any company whose stock is mentioned in this article.