By Amy Merrick
There are those who spend their sunny summer days indoor, staring at a computer screen. And then there are the girls in bikinis and board shorts, the boys in baggy pants and Vans, who are at the beach or the skate park-or at least dressed as if they could be there.
Zumiez (NASDAQ:ZUMZ) caters to the latter crowd, selling clothes for surfers and skaters (and plenty of poseurs, too). The retail chain has carved out a successful niche by focusing on merchandise that hasn't been duplicated by Amazon's (NASDAQ:AMZN) powerful ecommerce engine.
Shares of Zumiez have wobbled since first-quarter net income dropped 44%, from $4.5 million to $2.5 million. The company blamed lousy spring weather -- surf's not up! -- and expenses related to buying European retailer Blue Tomato. This stock chart shows the slippage: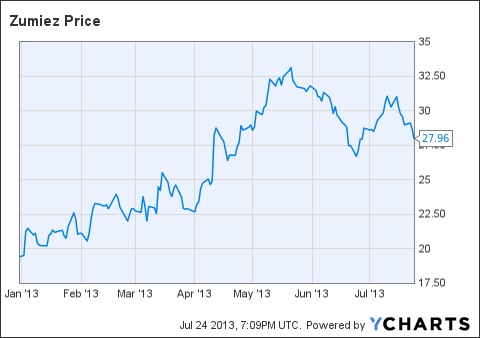 YCharts, proclaiming Amazon the Suicide Bomber of Retail (it trashes other companies' profits, as well as its own), has extensively covered the competitive retail landscape and how Amazon has altered it. TJX (NYSE:TJX) sidesteps amazon by stocking goods the online giant doesn't have. We've written recently about Amazon's threat to Staples (SPLS) ; how some Amazon-resistant stocks are crushing the market; eBay's (EBAY) competition with Amazon ; and Ulta's (ULTA) vulnerability to Amazon.
In categories like electronics, Amazon is wiping out the landscape-witness Best Buy (NYSE:BBY) in its death throes. But apparel doesn't work the same way. Analysts at William Blair found in a survey that most teens and college students -- the demographic glued to its iPhones -- actually buy less than 25% of their clothes online.
There are a couple of reasons. For one thing, fit matters, and it's a pain to return unflattering clothes. Second, the trip to the mall, banal as it may seem, is still an important social experience.
So far, Zumiez has managed to stay out of Amazon's way. Comparing Zumiez's entire online assortment to Amazon's, the William Blair analysts found only a 27% overlap. For Best Buy, the overlap is a painful 72%; for Target (NYSE:TGT), it's 47%.
This lack of competition is one reason Zumiez has been able to maintain its lofty profit margins, as this chart shows, besting of late American Eagle (NYSE:AEO), Aeropostale (NYSE:ARO) and Abercrombie & Fitch (NYSE:ANF):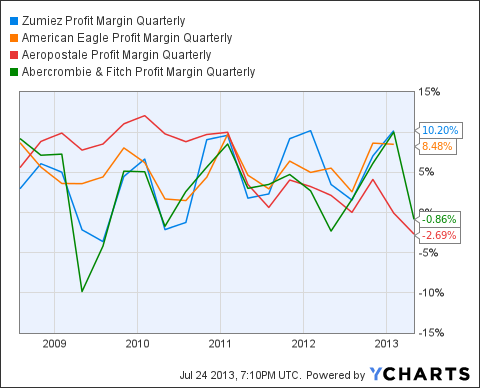 ZUMZ Profit Margin Quarterly data by YCharts
There are some risks, as the William Blair analysts point out. More than 80% of Zumiez's sales come from well-known third-party brands such as Billabong and Roxy. If Amazon decides to target this opportunity -- and kids start buying more clothes online -- Amazon could steal some customers. For now, though, Zumiez is riding a profitable wave.
There's competition, then there's basic investment analysis. Even after the dip in Zumiez shares, its PE ratio remains a big higher than some competitors.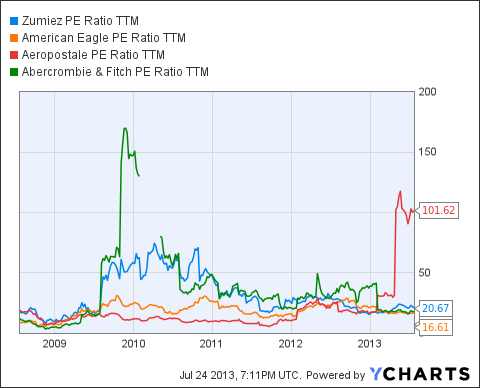 ZUMZ PE Ratio TTM data by YCharts
But it's growing faster, too.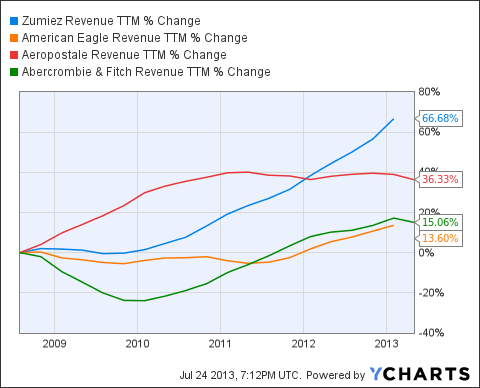 ZUMZ Revenue TTM data by YCharts
Amy Merrick, a contributing editor at YCharts, is a former staff reporter for the Wall Street Journal, where she spent 11 years writing about the Midwest economy, state and municipal finances, and the retail and banking industries. Her work has been published in the Poynter Institute's Best Newspaper Writing series. She can be reached at editor@ycharts.com. You can also request a demonstration of YCharts Platinum.
Disclosure: I have no positions in any stocks mentioned, and no plans to initiate any positions within the next 72 hours. I wrote this article myself, and it expresses my own opinions. I am not receiving compensation for it. I have no business relationship with any company whose stock is mentioned in this article.