The pursuit of growth appears almost irrevocably embedded in the organizational DNA of Weatherford International (NYSE:WFT). Whether through acquisition or organic means, the company seems forever intent on expanding its scope, scale and market share in the global oilfield.
Accordingly, revenues rose an astonishing 271% over the five years ending 2008, almost two-and-a-half times the average growth recorded by its competitors Baker Hughes (NYSE:BHI), BJ Services (BJS), Halliburton (NYSE:HAL), Smith International (SII) and Schlumberger (NYSE:SLB) over the same period.
At this rate, in the not-too-distant-future the term "Big Four" may in fact sub-plant "Big Three" in industry's lexicon for referring to the industry's largest integrated suppliers [click here to read our latest thoughts on the industry's Big Three].
Clearly, Weatherford remains on the move. It is, however, another question altogether as to whether this pace of growth is necessarily the best thing for customers. Our view is that its lower ratings in EnergyPoint Research's independent customer satisfaction surveys over the years are, at least in part, the result of the kinds of organizational disruptions and disconnects that can often accompany unrelenting expansion.
Since EnergyPoint performed its first survey in 2004, we've collected over 650 customer evaluations on Weatherford and another 4,100+ evaluations on its peers.
And our analysis of these results suggests Weatherford is still viewed by some in the industry as an amalgamation of acquired companies that lacks the consistency in quality, service and culture of some of its peers. Below are comments from survey respondents over these years that seem to support this contention.
Manager at supermajor, 2004:
Weatherford is suffering from the buy-out blues. They have bought several companies and do not service many of them well especially on liner hanger side of things. They need to standardize on a few things and staff to meet the customer's needs. They are totally understaffed at present.
Engineer at supermajor, 2005:

Since Weatherford undertook the purchasing of many competitor companies, staff from those companies appear to have become very disillusioned and the quality of certain product lines is not what it has been. It appears that instead of prices dropping they have increased due to larger parent company overheads.
Engineer / specialist at supermajor, 2006:
Weatherford suffers from a lack of experience and training in their core fields. Whilst purchasing companies they seem to have lost sight of one of the most important things of a business -- looking after and retaining staff (their most important asset). They also lack vision in certain areas where their facilities and equipment are not up to our standards. As they lose staff they do not have trained/experienced staff to train them.

Engineer / specialist at supermajor, 2007:
I believe that Weatherford (like many other large companies) has grown too fast and does not fully realize what they have taken on. Staff are moved into areas that they are not familiar with…and as such the service to the customer slips. There doesn't appear to be the same control of the company that there was in the past.
Engineer / specialist at supermajor, 2008:
The organization is still spread too thin with poor morale. Needs to consolidate and focus their efforts before going off and buying other companies.
Manager at major, 2009:
Will use Weatherford on non-critical jobs. Too much turnover and "mix and match" approach to make them the vendor-of-choice for more demanding jobs. Never really sure if they are doing what's best for them or for me. Company is getting too big to manage.
When it comes to its ratings and rankings versus peers, Weatherford's hint of improvement -- something we thought we detected, and even reported on, several months ago -- seems to have evaporated as of late [click here to read our January 2008 commentary on Weatherford]. For example, as the graph below shows, the company's overall indexed scores in the category of performance and reliability appear to have stagnated as of late.
In addition, although Weatherford's international operations represented virtually all of its growth in operating earnings in the two years ending 2008, the survey data unfortunately indicate the satisfaction of at least some of its customers in these high-growth markets has a ways to go.
This is the case whether compared to peers in international markets or to its own ratings in the U.S. & Canadian markets.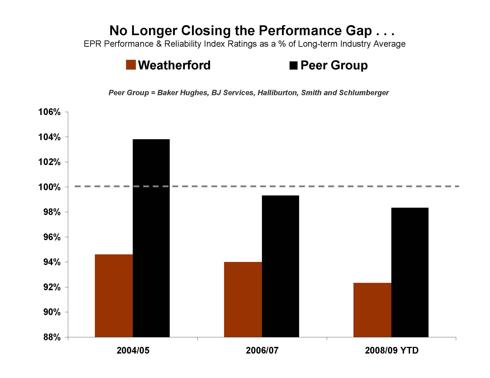 Click to enlarge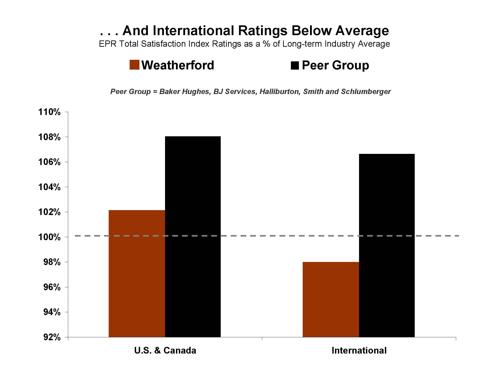 Click to enlarge
Disclosure: No positions