By David Urani
June new-home sales from the Census Bureau are out, and we got a 497K annual rate. That's an 8.3% increase month to month, and a 38% increase year over year; the consensus estimate called for 481K. This is the highest rate of sales since July 2008, and there were gains in all regions except for the Midwest.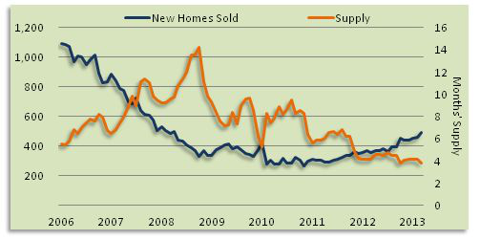 Inventory rose slightly to 161K from 159K, but effectively remains very low at a 3.9-month supply, which matches the cycle low from January. Consequentially, there remains the impetus for builders to continue to construct. Homebuilders have already been stretching themselves to get inventory out there amid supply shortages, and this latest data suggests there is as much a need for new construction as ever.
There was also Meritage Homes (NYSE:MTH) whose Q2 EPS beat by $0.27 while posting revenues up 55% year over year, blowing away the consensus, along with a 49% increase in new order value and a 23% increase in average sales price. The Q2 report from Lumber Liquidators (NYSE:LL) was also encouraging today, with revenues up 22% including a 14.9% increase in comparable-store sales.
All of these data and earnings were quite impressive and you really couldn't ask for anything more, yet the Street continues to hold firm to a negative bias that came about ever since speculation began about the Fed raising rates (MTH even traded flat on that huge earnings report). True, mortgage rates have risen, but we are still not seeing evidence that that has manifested in a meaningful decline in sales. With respect to those mortgage rates, the MBA this morning reported that last week's average 30-year rate dropped 10 basis points from the previous week to 4.58%.
Nevertheless, housing-related stocks were down today, with the Dow Jones U.S. Home Construction index down 3%.