Introduction
Williams-Sonoma (NYSE:WSM) common stock could be near a multi-year high and it makes sense for investors to take profits now due to higher costs, lower consumer spending power, and over-expansion into new markets and businesses. Since the last time I recommended the company in Sep. '12, its shares have appreciated by over 30% compared to gains of 15% for the S&P 500 and about 5% for Bed Bath & Beyond (NASDAQ:BBBY) and Walmart (NYSE:WMT) (see graph).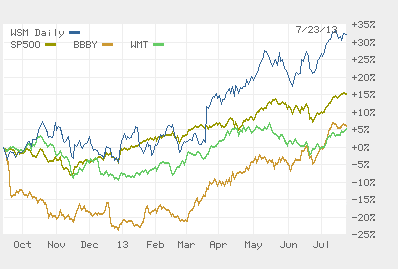 Williams-Sonoma finished the first quarter of its fiscal '13 year with $252.5 million in cash, a level not seen since 2009. At the same time, Williams-Sonoma is expanding into two new international markets (Australia and United Kingdom), acquired Rejuvenation (and its 3 stores in the Northwest for $25 million) and launched the Mark and Graham brand, which will likely put further pressure on cash flow. Given this aggressive expansion and the uncertain economic environment, investors could be served better if they exit Williams-Sonoma's positions in the near future.
Valuation
| | | | |
| --- | --- | --- | --- |
|   | WSM | BBBY | WMT |
| Price-to-earnings (est.) | 21.1 | 15.3 | 14.7 |
| PE-to-growth | 1.5 | 1.3 | 1.5 |
| Gross margin | 37.6% | 39.5% | 24.7% |
| Revenue growth (last quarter vs. same period in 2012 comparable stores/brand) | 7.6% | 6.5% | -1.7% |
| Price-to-CFO | 17.5 | 13.6 | 10.3 |
| Price-to-book value | 4.5 | 4.2 | 3.6 |
| Price-to-sales | 1.4 | 1.5 | 0.5 |
Source: Reuters, CapitalIQ, SEC filings, author's calculations.
CFO - cash flow from operations.
As seen from the above table, Williams-Sonoma has slightly better revenue growth than Bed Bath & Beyond and is well ahead of Walmart. Based on the other measures, it has the number two or three position. It is significantly overvalued based on price-to-CFO and PE compared to both Bed Bath & Beyond and Walmart. Earnings and cash flow generating ability are two of the most important measures for consumer goods retailers. Williams-Sonoma products are the most discretionary products while Walmart and to some extent Bed Bath & Beyond products are less seasonal and more value priced. Increasing inflation and uneven economic recovery are likely to put more pressure on Williams-Sonoma's margins and cash generating abilities. On the positive side, Williams-Sonoma does have well-developed direct-to-consumer and retail channels.
Expansion
Williams-Sonoma's overseas expansion in London and the launch of a new brand, Mark and Graham, seem risky at this time. The company already has franchises in the Middle East and operates a few stores in Australia. However, franchises require minimal investment and risk. In addition, entering a new country with only one store is not likely to contribute positively to the company for a few years.

Brand logo
One of the reasons Williams-Sonoma has been so successful is that it has been able to sell its brands in stores and direct-to-customer (through catalogs and on the internet). The company offers its latest brand, Mark and Graham, only through catalogs and the internet. This is a departure from the current business model and it could be less successful than its previous brands that it launched internally (Pottery Barn Kids and Teens and West Elm).
In addition, the personalized gift giving space is competitive and crowded. Many successful companies that launched products outside of their competencies have failed (Amazon.com with LivingSocial and Microsoft with Zune, for example). The odds of success with Mark & Graham seem to be against Williams-Sonoma.
Cash shortage possible
As mentioned earlier, Williams-Sonoma finished its first fiscal quarter with about $253 million in cash. Due to its international expansion and the launch of Mark and Graham, cash was $123 million less than at the end of the first fiscal quarter in 2012. The second and third quarters are usually cash-flow negative due to the seasonality of the business. Based on the past two years, Williams-Sonoma is likely to use an estimated $430 million in cash in the second and third quarters of its fiscal 2013.
Obviously, Williams Sonoma is likely to run into cash shortage in the near future and it will need the "help" of its $500 million credit facility. This cash issue could worsen if the economy deteriorates, inflation rises faster than it is currently, and/or its expansion efforts do not go according to plan.
In addition, Williams-Sonoma recently raised its quarterly dividend from $0.22 per share to $0.31 per share (a 41% rise). While this increase has made the shares more attractive to income investors, it may not be the best long-term decision, given the company's efforts to expand.
Finally, Williams-Sonoma is actively repurchasing shares. It recently announced a new 3-year $750 million buyback plan. While the company has control over share repurchases and it does not necessarily have to fulfill the repurchase plan, once a company starts repurchases, it is difficult to stop. For example, Williams-Sonoma repurchased 3.96 million shares for about $155 million during its fiscal 2012 while employees exercised over 500,000 stock options, converted 1.2 million stock award rights, and received the rights to over 400,000 of restricted stock units. The dilution from these stock awards makes over half of the share repurchase ineffective. Any withdrawal of repurchases will cause stock awards to dilute current shareholders.
Conclusion
Williams-Sonoma is a well-run company with great brands and products. However, due to the following major reasons, investors should consider selling Williams-Sonoma:
Expensive shares based on a number of valuation measures.

Recent stock outperformance.

Uncertainty related to the company's growth initiatives.

Rapidly decreasing cash reserves - the company may have to borrow and/or suspend its dividend/share repurchase plans.

Uncertainty with the economy and the consumers.

Rising inflation rate.
It seems that Williams-Sonoma is overly concerned about its share price due in part to its incentive stock award plans. However, it seems that at this time, investors are better served if they wait on the sidelines and see if the above conditions reverse or become more favorable before reinvesting.
Disclosure: I have no positions in any stocks mentioned, and no plans to initiate any positions within the next 72 hours. I wrote this article myself, and it expresses my own opinions. I am not receiving compensation for it (other than from Seeking Alpha). I have no business relationship with any company whose stock is mentioned in this article.