Apollo Global Management, LLC (NYSE:APO) and its subsidiaries are leaders in providing alternative investment management solutions globally. The company is primarily engaged in efficient raising and investing of funds from private equity investors, real estate funds as well as capital markets. The company is also involved in managing accounts on behalf of endowment and pension funds, as well as other institutional and high net worth investors.
The company undertakes to invest funds on investors' behalf, with the main aim of increasing their wealth, and charges a management fee directly correlated to the amount of assets managed. It also charges advisory and transaction fees for the investments made, along with interest income based on the performance of the funds it undertakes to manage. Since its inception in 1990, the company has become one of the world's largest alternative investment managers.
Segment Information for Apollo
The company has diversified its portfolio, which ranges from private equity to credit and real estate and believes in capitalizing every opportunity across its integrated platform. This helps the company insulate itself not only from a downturn in any particular sector, but also from any bad result stemming from the economic cycle that any one segment may be exposed to. The company has successfully ventured into the following three areas:
Click to enlarge images.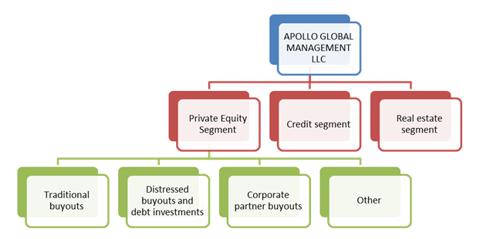 Private Equity Segment: The company has expertise across nine core industries through private equity investments, with assets worth $39 billion as of March 31, 2013. The company always aims at striking the right chords. With a stream of private equity at its disposal it has successfully invested in the debt of quality business houses, targeted at converting the debt into equity, thereby adding value to the distressed company through active participation. The company aims at not only securing the wealth of its shareholders and multiplying it, but also at providing its expertise to the particular companies it provides financing, thereby being more than just a money lender in the whole process. The latest commitment the company has made is that of $15 billion in Fund VII, which closed in December 2008.
Credit Segment: The company aspires to leverage its integrated platform through its philosophy of creating value for every investment made. The company is engaged in the high-margin credit business, where its expertise is used to generate attractive investment returns. The credit activities of the company span across a broad spectrum of credit activities from non-performing loans, mezzanine debt, distressed debt, senior bank loans, and structured credit to other value-oriented fixed income products.
Real Estate Segment: The company is also active in promising and profitable sectors such as hotels and lodging, logistics and leisure. It is so confident about its real estate arm that it has a separate entity with the name Apollo Global Real Estate (AGRE), a dedicated business to pursue real estate investment opportunities independently.
Key Takeaways
Apollo is very optimistic about its deal for Realogy Wager, planning to obtain almost double the amount it had invested in Realogy Holdings Corp. (NYSE:RLGY) against the backdrop of the U.S. housing market rebound. The company has been instrumental in investing at the right time, when financial crisis hit the market when the housing loan bubble burst in 2008, leading to a fall in the real estate. This is a complete turnaround of what the investment had been three years ago, which was in a potential state of being completely wiped out. The company has adopted its traditional technique of first extending debt to the company in need, and then converting it into equity. This process was made at the right time, sometime in October last year, when the economy and the real estate market showed signs of improving. The company has turned around a potential loss into a 100% gain on the $1.34 billion investment made. The proceeds include $1.2 billion from the selling of its stake in April's stock offering.
In a series of good news for the company, a federal judge on Thursday dismissed a long running suit that has been troubling Apollo for some time. The company was alleged, along with other buyout firms, to have wrongly colluded with companies to keep down prices it paid for the companies it bought during its stint of takeovers since last decade. This deliberate underpricing may negatively affect the value of the acquiring firms' shareholders, by declining an opportunity to pay them the actual value of shares held by them. The issue has been that buyout firms secretly colluded not to compete among themselves in a bid to buy out problematic companies, thereby underpricing them. However, charges could not be proved against Apollo. This has saved the company from any litigation costs or penalty charges, and has not led to a negative image for Apollo. It has always been viewed as a company that rightfully carries a buyout without jeopardizing its investors' money.
A market expectation of 15% annual return seems to be very low as compared to the returns posted by Apollo. The company achieved a return of 14% in Q1 2013. The return cannot be said to be a windfall nor a bolt out of the blue, since it has witnessed similar exceptional returns in the past -- namely a 9% return in Q4 2012. The company is currently aiming at an IRR of 26%. The 15% market assumption is already taking into consideration the all-time high sentiments currently prevailing in the market, indicating that the benchmark the company has beaten is realistic. The company has been successful in generating fee related earnings of $0.15, against the market estimate of $0.12, and advisory fees soared as much as 74% compared to the corresponding previous quarter figure.
The company has also been able to report solid returns on its investments, outperforming its peers. The $10.1 billion investment in 2006 Fund VI has been able to report returns of a whopping 70 cents on every dollar invested, generating an IRR of 10%. However, it should be noted that the above examples of Apollo are the general ones, and not the ones which have generated exceptional returns. The decision is in no way prejudiced, as Apollo has also made a 2008 vintage fund investment of $14.7 billion, generating a return of 84 cents on every dollar (a net IRR of 28%). It is these investments Apollo has in its portfolio that give confidence to its investors of an upward surprise in the future. The industry in general has generated returns of approximately 16.3% since 1986. However, Apollo has topped the industry by generating an IRR of 26% since 1990.
Concerns
The company has a beta of 2.6, meaning that any variation in market will have an amplified effect on the stocks of the company. Therefore, in case markets go awry in the near future, it is Apollo that will be taking the hit more than any other stock. However, this should not be considered negative since if markets go up, it is Apollo that will reap the maximum benefits in such a case.
| | | | | |
| --- | --- | --- | --- | --- |
| S. No. | Company Name | Market traded | Ticker name | Beta value |
| | | | | |
| 1 | Apollo Global Management LLC | NYSE | APO | 2.6 |
| 2 | Kaiser Aluminum Corp | NASDAQ | KALU | 1.24 |
| 3 | KKR & Co. L.P. | NYSE | KKR | 2.21 |
| 4 | Och-Ziff Capital Management Group LLC | NYSE | OZM | 2.1 |
| 5 | Virtus Investment Partners Inc | NASDAQ | VRTS | 2.26 |
| 6 | Franklin Resources, Inc | NYSE | BEN | 1.55 |
| 7 | U.S. Global Investors, Inc | NASDAQ | GROW | 2.04 |
The company is also reported to face significant key man risk, since it is heavily dependent on its founders Leon Black, Joshua Harris and Marc Rowan. Also, Apollo faced action by the U.S. Congress on its publicly traded partnership status. Talks have been held to raise tax specifically for this type of structure, thereby jeopardizing the future earnings of the company. If the interest the company generates is taxed directly, it would negatively affect the IRR capacity of the company's funds. However, such change would have general repercussions, since it would hit the entire industry if it came into effect.
The company has also been often accused of minimum amount of transparency it shows in its investments, or the nature of its underlying assets. This raises serious doubts among investors as to the performance of the assets, and whether the company would be able to perform well given the size of its investments. Also, since the company is engaged in distressed buyouts, along with providing debt to troubled companies, there is increased onus on the company to prove the credibility of the end uses of investors' money, along with providing sufficient assurance that the money is being invested in meaningful and prospective areas.
Conclusion
In my opinion, Apollo stock is a strong buy, mainly because it recently received a market outperform rating since it posted a better-than-average IRR. In its May 6, 2013 quarterly report the company beat market estimates. It has such a strong outlook that it expects to report distributable earnings of $0.75, vs. the market estimate of $0.60.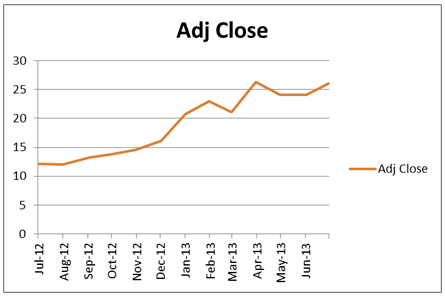 Furthermore, the company has shown a positive trend since last year. And even though it slightly reversed in the middle of its upper trajectory, it seems robust in the long run.
Recommendation Trends

Current Month

Last Month

Two Months Ago

Three Months Ago

Strong Buy

0

4

4

3

Buy

0

7

5

4

Hold

0

1

3

5

Underperform

0

0

0

0

Sell

0

0

0

0

Data provided by Thomson/First Call
The company has also received positive responses from the market, with analysts continuously assigning "buy" or "strong buy" positions in the stock. Moreover, it is armed with a better-than-expected earnings estimate, which can be seen as increasing in the future. This is against the backdrop of increasing revenues the company is confident it will generate.
Disclosure: I have no positions in any stocks mentioned, and no plans to initiate any positions within the next 72 hours. I wrote this article myself, and it expresses my own opinions. I am not receiving compensation for it (other than from Seeking Alpha). I have no business relationship with any company whose stock is mentioned in this article.