Telecom operator Cellcom Israel Ltd.'s (NYSE:CEL) second-quarter net income grew 15% year over year primarily driven by robust demand for content and value-added services. The company reported earnings of $70.7 million, or 72 cents per share, compared to $61.5 million, or 60 cents in the year-ago quarter. Adjusted earnings per share came in at 71 cents, beating the Zacks Consensus Estimate by 9.2%, or 6 cents.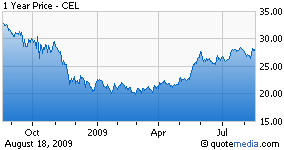 Cellcom is the largest cellular provider in Israel in terms of subscribers, and offers a broad range of value-added services including cellular and landline telephony, roaming services for tourists and additional services such as music, video and mobile office. Total revenue logged a marginal 0.5% year-over-year growth to $410.3 million chiefly due to a 0.7% increase in revenue from services to $362.3 million.
The expansion in service revenue was mainly caused by a robust 30.6% expansion in content and value-added services, including SMS, revenues to $53.3 million. However, overall performance was partially offset by airtime price erosion coupled with a decline in roaming revenues due to a slump in tourism amid the global economic downturn.
The company added 20,000 net new subscribers during the quarter with its total subscriber base reaching 3.228 million, while subscriber churn rate (turnover rate) improved 10 basis points (bps) to 4.6%. The subscriber growth was primarily driven by a 5.3% year-over-year expansion in 3G base to 877,000 subscribers, a result of regular introduction of innovative and advanced handset support. Monthly average revenue per user (ARPU) recorded a decline of 3.5% year over year to $36.7, mainly due to low roaming revenues on account of a sluggish tourism environment.
Cost of revenues during the quarter was $209 million, same as last year, as a drop in royalties to the Israeli Ministry of Communications was offset by higher costs associated with content and value-added services caused by increased usage by customers.
SG&A expenses decreased 2.2% year over year to $87 million and by 60 bps, as a percentage of revenue, to 21.8%. The reduction was primarily attributable to tight expense control initiatives by the company, especially related to advertising expenses and salaries. Accordingly, operating income grew 2.7% year over year to $113 million, while operating margin rose 60 bps to 27.5%.
Cellcom generated free cash flow of $102 million, a growth of 33.3% over the same period last year, mainly due to a rise in cash from operations to $133 million, compared to $115 million last year. The company utilized $43 million towards capital expenditure and $79 million towards payment of dividend.
The company, in an effort to expand its presence in Israel, the company has submitted a non-binding bid for the acquisition of smaller rival MIRS Communications Ltd., a subsidiary of Motorola Inc. (MOT), which has a market share of about 4-5%. Rivals Partner Communications Company Ltd. (NASDAQ:PTNR) and Pelephone, owned by Bezeq Israel Telecom Ltd. are also in the fray to acquire MIRS.
Meanwhile, Cellcom has also entered into a non-exclusive agreement with Apple Inc. (NASDAQ:AAPL) for purchase and distribution of 3G iPhone handsets in Israel over a period of 3 years.
The Zacks Consensus Estimate -- derived from 6 covering analysts -- on the company's full-year earnings has moved down by 5 cents, or nearly 2%, over the past month to $2.80 per share. The most accurate estimate is even bullish at $2.88 per share.