UDR Inc. (NYSE:UDR), a leading multifamily real estate investment trust (REIT), recently formed a joint venture with Kuwait Finance House, one of the leading Islamic banks in the world, to invest $450 million in multifamily properties in key markets in the U.S.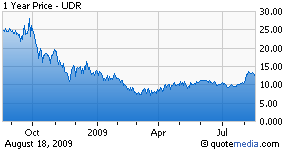 The joint venture partners will contribute equity of $180 million, 70% of which will be contributed by Kuwait Finance House, while the remaining will be contributed by UDR. The JV will seek to tap new pastures and will expand UDR's portfolio into markets with high entry barriers.

The venture will focus on income-producing assets, primarily targeting 'class A' properties that are less than 7 years old and have a minimum value of $20 million. UDR will receive asset and property management fees from the joint venture, thereby enhancing its top-line growth.

UDR is among the best-positioned apartment REITs in the current scenario. The company had earlier upgraded the overall quality of its portfolio by selling smaller market, older properties and replacing them with newer assets in better long-term markets.

Most the company's current portfolio is in California, Florida and on the Atlantic Coast. These are areas where housing costs have soared in the past few years, and despite the drop in home values, the rent vs. own spread still remains high. Furthermore, the housing meltdown will continue to help apartment REITs and we expect this sector to remain comparatively stable in the coming quarters.