One of the more unusual aspects of gold and silver markets this year has been the flow of metal into and out of the major U.S. ETF products - the $40 billion SPDR Gold Shares ETF (NYSEARCA:GLD) and the $7 billion iShares Silver Trust (NYSEARCA:SLV).
As gold has continued to flow out of the GLD trust in recent days, silver has now been added to the SLV trust for the fourth straight week. This raises interesting questions about the source of demand for precious metals in the U.S. and the answers have bullish implications.
As shown below, another 144 tonnes of silver was added to the SLV trust on Wednesday, the largest addition since January and the latest in a series of increases since the silver price dipped below $19 an ounce last month. This brings the net additions to the trust in 2013 to 343 tonnes, or more than 3 percent, despite a decline of more than 30 percent in the price of silver.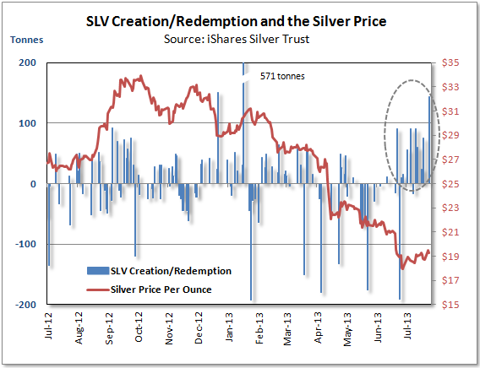 Click to enlarge
Compare this to the GLD ETF where metal holdings have declined by just over 30 percent as the price has dropped more than 20 percent and you have a real head-scratcher for silver.
I've written about this before at length, most recently in The Curious Case Of Physical Demand For Silver Versus Gold. At the time, it was suggested that owners of GLD and SLV are two distinctly different types of investors and, after reviewing the ownership data from Nasdaq as shown below, that is clearly the case.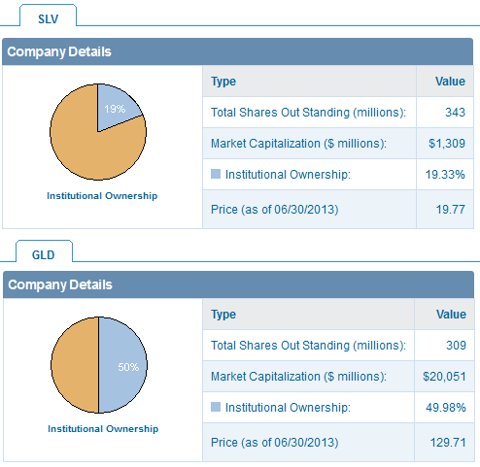 Click to enlarge
After steady price appreciation since 2001, many U.S. money managers and hedge funds bought GLD in recent years and, after it failed to move higher last fall, they began selling. This accelerated during the April mauling of precious metals and the selling continues to this day as gold has now exited the GLD trust during 30 of the last 32 weeks.
This shouldn't come as too big of a surprise since most institutional investors in the U.S. never really liked gold as an investment and their recent preference for stocks has clearly paid off.
Institutional ownership of SLV on the other hand is just a fraction that of GLD and this goes a long way in explaining the flows for the two trusts. Even at its lowest point in May, SLV holdings had only fallen by about two percent for the year and, after the recent additions, holdings are now three percent higher in 2013.
While lower prices have added to the selling pressure for GLD, they've done just the opposite for SLV, but that's because the investors who own these two ETFs are fundamentally different.
GLD is largely owned by money managers (even more so earlier in the year), many of whom either think "gold is just a trade" or who grudgingly bought gold for clients after being pestered about it for years as the gold price rose. In contrast, SLV is largely owned by retail investors and most of them are in this for the long haul.
How is this bullish for precious metals in general and silver in particular?
Despite institutional investors who, in recent months, have seen little or no use for precious metals, there is still strong and growing demand for gold and silver by U.S. retail investors. That's clear to see in coin and bar sales this year as well, so, it's not just the Chinese and Indian people who continue to see value in precious metals during these uncertain times.
Moreover, most American SLV investors are "strong hands," meaning that they are far less likely to dump their shares than are money managers. If they didn't sell when the silver price fell from $30 an ounce to $20 an ounce earlier this year, they're clearly in it for the long term, like the Chinese and Indians.
It seems that many retail investors in the U.S. are a lot more like investors in Asia than investors on Wall Street.
Lastly, the good news for American retail investors in both SLV and GLD is that, someday, Wall Street will be back buying these ETFs. The argument that precious metals are now "tainted" and will never again see the kind of interest from Wall Street as they did a few years ago rings hollow to me.
When a catalyst does finally arrive to push gold and silver prices sharply higher, U.S. hedge funds and money managers will return in droves. Most of them probably didn't like the idea of buying precious metals last time and they won't like it next time, but they'll still buy the stuff because the price will again be going up.
Disclosure: I have no positions in any stocks mentioned, and no plans to initiate any positions within the next 72 hours. I wrote this article myself, and it expresses my own opinions. I am not receiving compensation for it (other than from Seeking Alpha). I have no business relationship with any company whose stock is mentioned in this article.
Additional disclosure: I own gold and silver coins and bars.