When you look for stocks that have outperformed the market it doesn't take long for investors to notice the huge run that Netflix (NASDAQ:NFLX) has been on. Just this year Netflix has rewarded investors with gains over 185% and is the top performing stock in the S&P 500. The graph below shows the monster run that Netflix went on.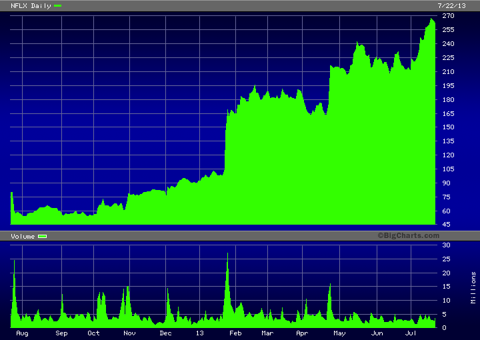 *Chart from BigCharts
Since last year, Netflix has given investors a whopping return of over 400%. Hopefully those investors were patient enough to hold on to this very profitable run. However, now just might be the best time to start selling those shares. Why? Let's take a look at some of the reasons below.
Been There Done That
Investors who tend to watch stocks closely have most certainly experienced what I have experienced. That is of course seeing what history has shown us, as well as looking to profit off those trends.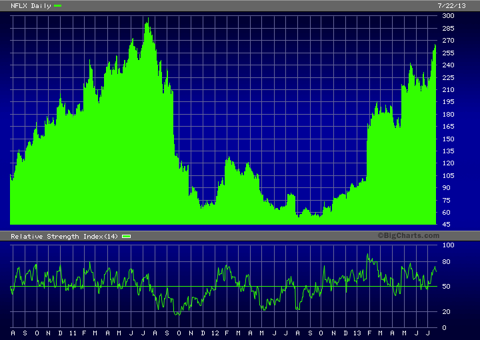 *Chart from BigCharts
As you can see, Netflix is almost right back to where it was just two years ago. During its fall from grace, Netflix lost more than 80% of its value, but has since stormed back, giving investors new hope. However, I have seen this play out many times before as it looks to me that Netflix's ride is almost over. Just because you put lipstick on a pig does not mean that it's not a pig anymore. You can slice it up any way you want but the fact of the matter is, nobody should be fooled at this point.
Technical Indicators
Investors seem to either love or hate technical indicators. However, investors need to realize that there are still a number of investors that still trade based on chart indicators. One of my favorites (and one commonly used) is the RSI (Relative Strength Index). As you can see on the chart above, the RSI of Netflix is near 80, signaling that Netflix is extremely overbought and will likely fall down before it goes back up. An RSI reading over 70 signals that the stock is overbought and a reading under 30 signals that a stock is oversold. Because Netflix is a momentum stock, investors need to be careful as the price of the stock can rise or fall quickly.
Netflix Vs. The Competition
Well that didn't take long. From Roku to Amazon (NASDAQ:AMZN), Hulu to HBO, and now Apple (NASDAQ:AAPL) and Google (NASDAQ:GOOG) -- everybody and their dog seems to be getting into the online streaming business these days. Of course the argument could be made that since it's such a big market, there's plenty of room for growth. However, because Netflix went international for growth it seems obvious that the market (U.S.) for online customers has become fairly saturated. Because Netflix's DVD by mail segment is going down the tube, it cannot afford to lose ground on its online streaming business. So how does Netflix compare to its peers?
| | | | | | |
| --- | --- | --- | --- | --- | --- |
| | Trailing P/E | Forward P/E | PEG | 1 Year EPS Growth Rate | 5 Year EPS Growth Rate |
| Netflix | 623 | 138 | 32.0 | -92.92 | -21.16 |
| Broadcasting & Cable TV | 14.1 | 18.4 | 10.8 | +25.51 | +9.87 |
* Data From Scottrade
Looking at the table we can see that Netflix, when compared to its peers, looks more and more like a bubble that is about to burst. Does anyone remember the dot-com bubble? I do, and Netflix seems to fit that category nicely.
Another company that I haven't mentioned yet, that threatens to take down Netflix, is Redbox (NASDAQ:OUTR). Redbox specializes in the vending of rental DVDs, video games and Blu-Rays via interactive kiosks. Redbox has become fairly popular with consumers with roughly 40% of the DVD market share and now looks to capitalize on its users. A good example of this is what Qihoo (NYSE:QIHU) has done with its user base. Because of its huge user base, Qihoo transformed from being just a mobile security provider to a search engine business that has taken China by storm.
Redbox looks to do the same with its user base. Just last year, Redbox began testing its own video streaming service, dubbed Redbox Instant. The service is a joint effort between Redbox and Verizon (NYSE:VZ). Redbox Instant brings added competition to the Internet streaming business. Because of its huge user base, Redbox will be able to lure its customers to Redbox Instant. Below is an image of Redbox Instant.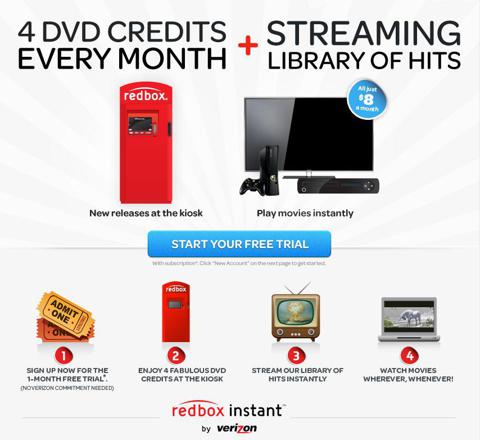 * Graphics from Redbox
As Netflix continues to grow and to add content, they are subsequently competing with the services of a variety of content owners. Netflix acquires content from a variety of companies such as Warner Bros. (WB) which is a subsidiary of Time Warner (NYSE:TWX). Time Warner owns HBO which competes against Netflix. As a result, WB might hesitate to sign deals with Netflix or may simply demand higher prices to better serve the interests of HBO. Investors should be concerned that Netflix still heavily relies on others for content.
During its annual report, Netflix has outlined the risk factors of its business saying, "...The market segment for consumer paid commercial free Internet streaming of TV shows and movies has grown significantly. A decline in our rate of growth could indicate that the market segment for online subscription-based entertainment video is beginning to saturate. While we believe that this segment will continue to grow for the foreseeable future, if this market segment were to saturate, our business would be adversely affected."
Netflix also stated, "The ability to provide subscribers with content they can watch instantly depends on studios and other content providers. The license periods and the terms and conditions of such licenses vary. If the studios and other content providers change their terms and conditions or are no longer willing or able to license us content, our ability to stream content to our subscribers will be adversely affected."
Earning Results
Netflix added 630,000 new subscribers to its U.S. streaming service, bringing the total number of domestic subscribers to 29.8 million. Even though Netflix added customers, it still fell short of Wall Street expectations of 700K- 900K. Analyst Arvind Bhatia of Sterne Agee said, "It's a mixed quarter, not good enough for the stock to move up a bit."
Michael Pachter of Wedbush Securities said, "Netflix's domestic subscriber additions were "disappointing," as Netflix missed the high end of analysts' forecasts calling for 880,000 new subscribers." Pachter went on to say that if Netflix's third-quarter subscribers do not meet expectations, he estimates that the stock price would probably be cut in half. Analyst Brett Harriss of Gabelli & Co went further saying, "guidance looks a little light" and "Netflix needs to add a substantial amount of subscribers to justify the current valuation."
Andy Hargreaves of Pacific Crest Equities chimed in as well saying how surprised he was to see that Netflix's stock wasn't taking even more of beating in the wake of the new-subscriber numbers.
While Netflix beat analyst expectations on both the bottom and top lines, the results did not justify what the stock has done over the course of the year. So how does Netflix compare to some of its competitors in terms of subscribers? The table below tells the story.
| | | |
| --- | --- | --- |
| | Netflix | HBO+Cinemax |
| U.S Customers | 29.8 million | 41 million |
| International Customers | 7.75 million | 114 million |
| Total | 37.5 million | 155 million |
Looking at Netflix's competition we can see that Netflix has a long way to go to catch up to the other giants in the field. HBO and Cinemax has more than five times the number of customers that Netflix has. According to the Wall Street Journal, Netflix made $17.1 million in profit last year while HBO made more than $1.5 billion.
Some reports have HBO worth around $15 billion which is about how much Netflix is currently valued at by the market. Looking at the chart above, it's obvious that Netflix is nowhere (customers etc.) near HBO. That is one of the reasons why I feel that Netflix is not correctly valued and is overpriced.
Brand Identity
Have you ever wondered what kind of influence a company's brand name has on its customers? Well look no further than what Netflix has done over the years.
During the summer of 2011, Netflix's stock was reaching new highs. Soon after that, Netflix announced that it was breaking up its services into two groups with its DVD-by-mail service and its online streaming business. That announcement along with the 60% rise in costs upset hundreds of thousands of subscribers. Netflix was stained from that point on and has yet to recover from where it was in 2011. The image below tells the story.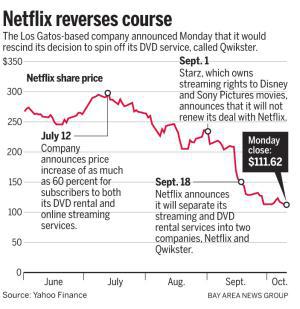 *Source Yahoo!Finance and MercuryNews
Netflix has made it known that it wants to treat its customers right saying, "To build a strong brand we believe we must continue to offer content and service features that our subscribers value and enjoy. We also believe that these must be coupled with effective consumer communications, such as marketing, customer service and public relations. If our efforts to promote and maintain our brand are not successful, our ability to attract and retain subscribers may be adversely affected."
Insider Selling
If you haven't already noticed by now, insiders are selling as many shares as they can get their hands on. This should be a huge red flag for Netflix investors. If the leaders and executives of the company are taking their money out of the company, why should you keep your money in?
Investors will probably point out that there are many reasons that officers might sell their shares. For instance, they may need the money to pay their children's tuition, buy a new house or to satisfy a debt. While this may be true, I'm not buying it this time as many insiders are selling millions of shares within such a short period of time.
Remember that insiders have access to every bit of information that you could ever want. So if they are selling shares then why aren't you? So much insider selling in such a short period of time has to be in the back of investors' minds as it's usually a warning sign that a fall is about to take place.
I don't mean to bash Netflix, but it seems as though insiders have no faith in the stock continuing on at these levels. I've seen insider selling before and this one takes the cake. Just look at the figure below as insiders have sold more than $221 million worth of stock. Does that sound like confidence in a company that looks to be growing "rapidly."
*Source www.secform4.com
On top of that Netflix has huge amounts of institutional selling going on. If you don't believe me then look at the chart below. Over 16 million shares or 48% have been sold by institutions. Does this sound like a sound investment now?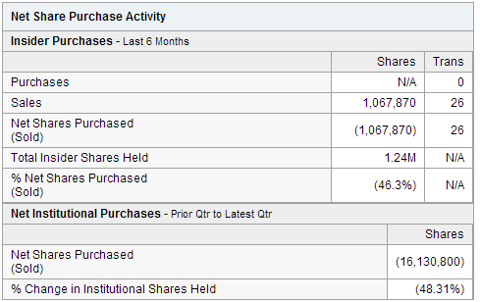 *Source Yahoo!Finance
Pachter, who's been quite bearish on Netflix, is dumbfounded that Netflix's shares have climbed as high as they have. Pachter has told investors to watch out for the company's increasing debt load and negative free cash flow. Pachter stated, "We believe the company has virtually no chance of generating positive (free cash flow) for the year, and we are lowering our (2013) expectations as a result. In addition, we do not see this as a one-off, but believe that Netflix will continue to generate negative cash flow going forward, driven by the company's ever-increasing streaming commitments."
Conclusion
Over the last couple of weeks, I have been telling investors to be on the lookout for part two of the Netflix crash. Remember Sir Isaac Newton's famous words, "What goes up must come down." Netflix for a moment looked to defy gravity, but as we all know, gravity always wins.
One of the major drawbacks that I have about Netflix, is that the collection of movies and TV series available for streaming is not that great. When my wife and I go over to a friend's house it takes quite a bit of time to pick out a movie because Netflix does not have a big enough collection in its library to choose from. If Netflix wants to add customers to keep their business alive it will have to add a lot more content to its library. In order to do so it will have to come up with a lot more money than it currently has. Looking strictly at a short term view the odds do not look great for Netflix as it needs to time to build its base.
Remember that Netflix is up over 400% from its lows and expectations have been sky high. With another less than stellar earnings performance, now might be a great time to start a short position in Netflix. With such a massive gain in share price comes big expectations and Netflix certainly did not deliver that. The guidance for the upcoming quarter was not great either and it looks like Netflix will not add new content till the latter end of the year. Remember it takes a good amount of time for consumers to get hooked as it takes a consistent flow of shows to get customers converted.
I feel that Netflix is overvalued and have a sell rating on the stock with a $160 price target. I feel that growth will slow down as the competition in online streaming heats up. Also what happens when the growth starts to slow in Netflix, what will they do? Will they raise rates again like they did in 2011 that crashed the stock? Netflix also has huge amounts of debt which will likely continue if they want to add content for customers. Let's not forget that Netflix has negative cash flow currently and looks to have many problems going forward over the next few years dealing with that. I feel that $160 is about fair value for Netflix which would represent a 40% decrease (or gain for shorts) from its closing price of $261.96 on Monday.
Investors are always reminded that before making any investment, you should do your own proper diligence on any stock mentioned in this article and to make sure you are comfortable with your investment strategy. Have a great day and as always, I look forward to hearing your thoughts or questions that you might have.
Disclosure: I have no positions in any stocks mentioned, but may initiate a short position in NFLX over the next 72 hours. I wrote this article myself, and it expresses my own opinions. I am not receiving compensation for it (other than from Seeking Alpha). I have no business relationship with any company whose stock is mentioned in this article.