AP Moeller Maersk (OTCPK:AMKAF) and the container shipping industry is very interesting to buy into for investors who have a 12- to 18-month time horizon. The industry is in such bad shape, it must be time to buy!
There has been a lot of negative discussion about the end of the 'golden age of containerization' as the volume growth of over 9% CAGR in container volumes shipped from 1980 to 2008 is seen as a thing of the past. The container shipping industry has suffered from 4 years of high supply growth. In fact half the current backlog of container ships is due to come online in 2013.
Shipping rates have been extremely volatile and for Q2 2013 rates on the Asia to Europe route were down 50% Year on Year (YoY). Despite this back drop the stock price of AP Moeller Maersk is up 11% Year To Date (YTD). This shows that this terrible industry back drop has been accounted for in market expectations and there is light at the end of the tunnel as look into 2014 and 2015.
Supply growth of container ships is set to slow in 2014 and dramatically so in 2015. Meanwhile the current ships being delivered are larger and much more cost efficient. For example the Maersk Triple E carries 18,000 TEU & offers 20% unit cost efficiencies. Demolition of older ships has picked up pace in H1 2013 and could take 120 basis points off supply growth in 2013.
Looking out into 2015, the industry will likely be faced with a similar demand backdrop (3-4% growth), whilst supply growth in 2015 will be anemic, as will the outlook for supply growth at that point. The shipping fleet will be more efficient and larger, driving economies of scale. The Panama Canal expansion in 2015 effectively lifts a supply bottleneck that will drive its own demand; new shipping routes will be created as larger vessels will be able to traverse the Panama Canal.
Please see below for a detailed write-up where I examine some of the key drivers discussed above.
Golden age of containerization is over but that is known
The golden age of containerization is over as widely reported from UNCSTAD to Soren Skou, the CEO of the container shipping business Maersk Line, who commented recently "the reality is that our industry has to get used to lower growth than we had in the past."
Up to 2008, the growth of the world container traffic was a continuous process, with growth from 28.7 million TEU in 1990 to 152.0 million TEU in 2008, an increase of about 430%. This corresponds to an average annual compound growth of 9.5%, driven by increased container throughput as well as growth of global trade. This will normalize towards 4 - 5% annual growth according to the CEO of Maersk Containers.
The maturation of container traffic can be linked to the maturation of the global economy. This involves a number of factors such as limits to the exploitation of comparative advantages in manufacturing.
There is also the top down thematic of manufacturers and retailers moving away from the reliance on China as a global production location and towards geographically local supply chains. This process is known commonly as near-shoring.
Near shoring is an overarching thematic but I am doubtful it will have a significant impact on trade near term as a lot of the re-industrialisation trends in the U.S. are focused on more energy intensive industries. Also investor expectations are not for a near 9% growth rate to be achieved again especially near term, as such I am not expecting demand weakness to be a downside surprise factor for stock prices.
The most important factor for shippers is balancing supply with this new demand picture. This imbalance with high levels of supply growth has driven extreme rate volatility and lower shipping rates. Given I expect demand outlook to be in the 3-4% range, it is supply and shippers reducing capacity that will be the key driver for rates and container shipping stocks.
Below shows the rebound in container handling volume since 2009. There has been growth.

The below Drewry Global Supply / Demand Index, with 100 being a balanced market, shows how Supply has exceeded Demand for several years.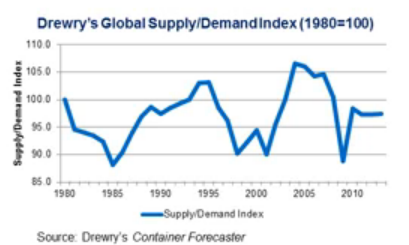 Supply Growth in Container Shipping
Estimates for growth of the world's container fleet in 2013 range from 5.5% to 7.5%. In sum it is expected 1.6 million TEU of new capacity will be added to give 32.9 million TEU of total capacity. Over 40 ships of at least 10,000 TEU are being delivered in 2013 as the trend to larger ships and associated economies of scale continues. This compares to WTO forecasting 3.3% world trade growth in 2013 showing how supply is once again ahead of demand.
The below slide shows that rate of supply growth about to slow going into 2014, 2015 and 2016.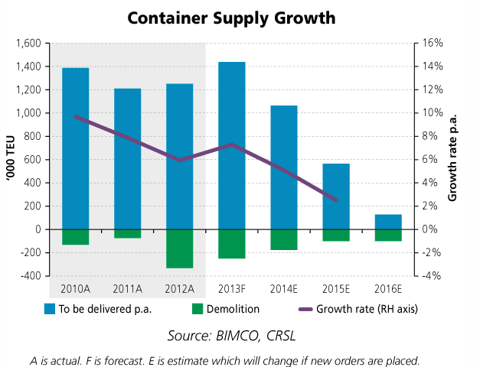 As well as tracking industry supply growth, it is also relevant to look at the industry's response to the current depressed environment such as scope for industry consolidation.
The top five players hold 45% of market share, this is up from 35% in 2004. M&A in container shipping occurred in spikes such as when Maersk bought P&O Nedlloyd in 2005. Current conditions are arguably ripe for consolidation however stronger carriers are using low rates and their cost advantage to squeeze out weaker competitors for good.
There are however signs of greater cooperation. The P3 alliance announced between Maersk, MSC, CMA CGM should come into effect in 2014 if approved by regulators. This will be the first alliance between historically fierce rivals and will control 45% of the key Asia- Europe route.
Cost Reduction
The trend towards larger vessels has been driven by a desire to reduce unit costs. The economies of scale larger vessels offer is shown below: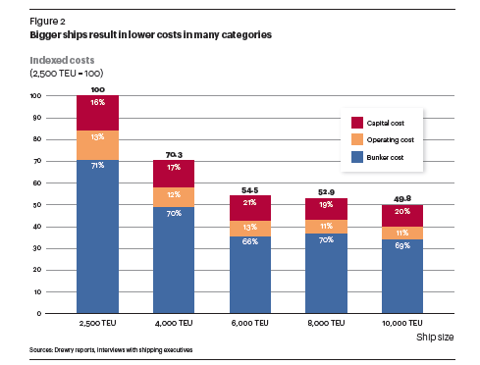 Maersk Line managed to reduce its unit costs by 7% YoY in Q1 2013 and generate a $203m profit. It demonstrates the scope for shippers to be proactive to deal with the volatile environment and depressed rates. Ironically it is the order book of larger vessels that is adding to the supply issue in the industry. However this is also reducing unit costs for shippers, suggesting lower long run transport costs for importers and exporters.
Tracking Freight Rates
Unusually high levels of freight rate volatility have characterized the recent period. Demand and Supply in container shipping is rarely in balance due to lags for new capacity ordered to come on line. New ships are usually ordered when demand is strong. Recent macro uncertainty has made it even harder for carriers to match up demand and supply. The race to bigger ships has lead to the cascading of capacity from East-West to other routes. Volatility of rates remains a persistent feature.
Recent Freight Rates along major East-West Routes can be seen below.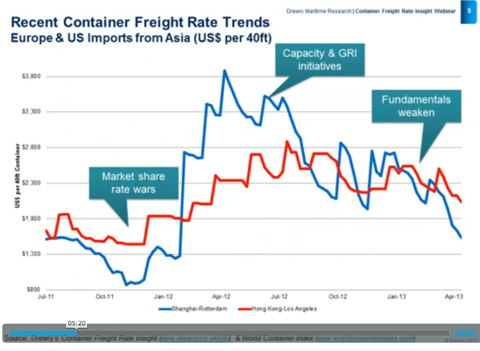 At the end of 2011 the carriers were suffering from serious cash burn, as such carriers withdrew capacity from the market and prices rose in H1 2012. Then capacity expanded in H2 2012 in anticipation of more demand. Despite the volatility in 2012, rates were pretty much flat Year on Year for East-West trade.
Since the Chinese New Year in February 2013, rates declined significantly as more capacity entered the market. In fact rates continued declining into May and June 2013 with the Q2 2013 average rate for Asia-Europe over 50% lower YoY.
A similar decline is observed in the Global Freight Rate Index for 40 foot containers as below. Drewry's Global Freight Rate Index, a weighted average across all main trades excluding intra-Asia, recorded its fifth consecutive month of declines in June, to post a 5% month-on-month fall to $1,783 per 40ft. The index reached its lowest level since September 2009, at the depths of the last worldwide recession.
Global Freight Rate Index (US$/40ft)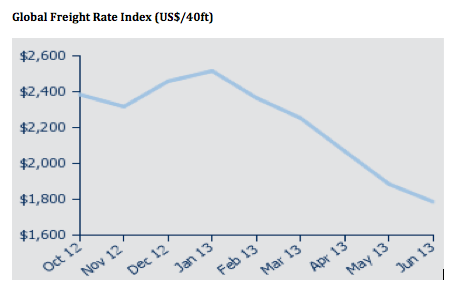 Pricing on North-South and intra-regional trade fell as rising ship deliveries added to the cascading of capacity from east-west trades.
Routes contributing to the index's fall were the eastbound transpacific and both legs of the Asia-Europe trade, as well as imports into South Asia, Middle East, South America, Africa and Oceania. Trades experiencing rising rates were few and far between, but pricing from Far East Asia into South Asia recovered in June, as did exports from Africa.
Since July 2013 there has been an attempted $1000 Gross Rate Increase on the Asia - Europe route as carriers look to increase rates on several routes. It remains to be seen the extent these stick. This still leaves Asia - Europe rates tracking down 25% YoY. A similar Gross Rate Increase has been attempted on Asia- West Coast routes as below: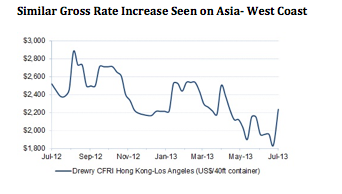 Investment implications for container shipping stocks: So bad, it is time to buy
The container shipping industry is in such bad shape. After several years of supply tracking ahead of demand, a shift down in demand growth expectations to the 3 - 5% range from historic growth rate of 9% in container volumes, extreme volatility in freight rates with East-West rates even falling 25% YoY at July 2013, it begs the question why a famous investor like Wilbur Ross is so busy acquiring shipping assets.
Given it is ultimately a cyclical industry, I believe we are at or near the zenith and stocks will start to rally when things are looking their darkest. Long run investors in the container shipping industry able to look out to 2015 will see more balance in demand and supply. There is also going to be a long period where supply growth will be very low given the heavy curtailing of orders over the last few years.
The industry proved in H1 2012 that it was able to reduce capacity in order to increase freight rates, even if just for a few quarters. After the dire move in freight rates in H1 2013, could this occur again in H2 2013? The $1000 Gross Rate Increase in East-West routes taken in July is an obvious attempt of the industry trying to reassert itself.
Another point is that shipping rates overall are less volatile than that of the Asia - Europe route, which is the most watched by industry investors. In fact a few routes are seeing improvements in rates such as North South routes in the Americas.
It is interesting to see an attempt at creating an Alliance between three of the largest shippers, which could come to fruition in 2014 and should be able to offer a bit more stability to rates.
Another positive point relates to the Panama Canal Expansion. In 2015 there is going to suddenly be a few more long distance Asia-America routes onto which large ships can be deployed. A larger fleet able to sail directly to the Gulf Coast and East Coast of the U.S. is likely a big positive for the industry. Removing a supply bottleneck will create its own demand.
Ap Moeller Maersk is a contrarian buy for long-term investors
As can be seen at the company's Q1 2013 presentation [pdf] despite the industry backdrop the group delivered a Q1 reported profit of $790m, with Maersk Line delivering $203m of profit. The group delivered a reasonable ROIC of 8% especially when considering the 'bad news' around shipping containerization.
In terms of Maersk Line unit costs fell 7% YoY in Q1 2013. Freight rates at an average of $2770 USD/ FFE were only down 4.7% YoY & 2.7% QoQ. Volumes were tracking down 4% YoY. This is a reasonable performance with arguably some positive dynamics given the industry backdrop.
Maersk did react to the volatile market and lowered its slots available on the Asia-Europe route. In Q1 2013 Maersk took delivery of 5 Triple E vessels with 18,000 TEU capacity but 20% unit cost efficiencies. Maersk is due to take delivery of 20 such vessels in 2013, increasing the cost efficiency of the fleet.
Maersk Line expects its full-year result in 2013 to be above $461m profit generated in 2012, due to further unit cost reductions. Demand for seaborne containers is expected to increase 2 - 4% in 2013.
Maersk Oil delivered $346m of the group's $790m reported in Q1. The supportive oil price environment of late will help this side of the business operationally.
Maersk Line also noted that it has not placed any new building orders for ships in 2013. This augurs well for the long-run cycle.
Maersk trades on EV/IC of 0.8x vs ROIC of 8% just delivered in Q1. As ROIC increases over the next 12 - 24 months due to greater stability in freight rates, lower unit costs, expect Maersk to track much higher.
The backdrop for container shipping has been so negative I believe now is the time to buy stocks geared into the shipping rate cycle. As investors look 12 to 18 months out there are brighter days ahead.
Disclosure: I have no positions in any stocks mentioned, and no plans to initiate any positions within the next 72 hours. I wrote this article myself, and it expresses my own opinions. I am not receiving compensation for it (other than from Seeking Alpha). I have no business relationship with any company whose stock is mentioned in this article.